Dressing for Spring Weather Preschool Lesson: Dress-Up Activities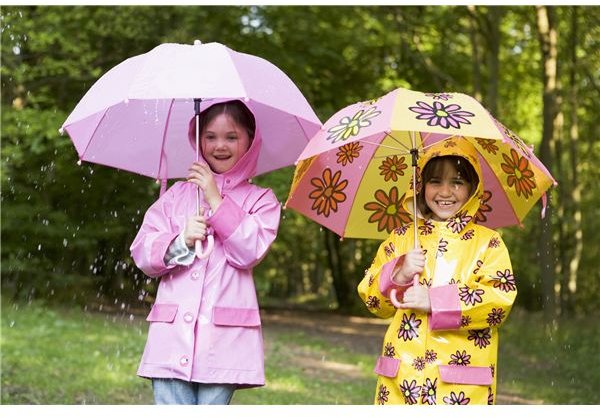 Dressing for Spring Weather
Learning to dress properly for different types of weather is a great preschool objective and an essential self help skill for preschool age children.
Spring is full of weather changes, from sunny warm days, to rainy, windy ones. While teaching about Spring weather, don't forget to cover what kind of clothes we should wear. Your preschoolers can practice using both real clothes from a dress up set, and by dressing a doll at circle time. Put these two activities together and your preschoolers will know how to dress in the proper clothing no matter what the weather.
Teach
Start circle time with a look at the current weather. Once you have identified the weather conditions outside, talk about everyone's clothing choices for the day. For example, if it's a rainy, chilly day, ask about what kind of coat everyone wore to school. You'll probably hear that some children wore rain coats and carried umbrellas. Talk about the outfits they have on. Point out a child who is wearing something appropriate for the weather, like jeans and a sweater.
This discussion can actually take place on a regular basis during circle time, whenever you discuss the weather of the day. Discuss other types of weather patterns and appropriate clothing as well. You could use deductive reasoning techniques as part of your teaching. For example you could ask, "If I was wearing a raincoat, rain boots, and carried an umbrella, what is the weather outside?"
Here are a couple of good reading choices to help teach preschoolers how to dress for the weather:
What Will I Wear, by Huck Scarry
Hello Sun, by Dayle Ann Dodds
Dressing for the Weather this Spring
Prepare the Activity:
Make a large weather dial from cardboard. Divide into 4 sections, and draw 4 different weather scenes, including a windy day, sunny day, rainy day, and snowy day scene. In the center attach a red dial with a paper fastener, so that the dial can be turned to any scene.
Objective:
Students will practice dressing appropriately for 4 different types of weather that occurs in the spring.
You Will Need:
For Circle Time Activity:
red construction paper (to make pointer dial)
paper fastener
any doll
doll clothes to fit the doll: shorts set and tennis shoes, rain coat, hat, and galoshes, coat, mittens, toboggan, and snow boots, and pants, shirt, and light windbreaker-type jacket.
For Center Time Activity:
A collection of clothes for various weather conditions in sizes that will fit your preschoolers.
Procedure:
Circle Time:
At circle time, turn the weather dial to choose one of the four weather scenes. Pick a child to come up and dress the doll in an outfit that is appropriate for the weather. Before dressing the doll, discuss why each piece of clothing is important for that kind of weather. Repeat for each of the four springtime weather scenes. This activity will prepare the students for the following center activity.
Center Time:
This center time activity is easy to set up and fun for students. Simply place a plastic trunk of preschool sized clothing in the center along with the weather dial that was used with the previous circle time activity. Students will turn the dial to each weather scene, then dress themselves for each weather scene.
Assessment:
Teacher will observe students during circle time and center time for understanding of the concept of dressing appropriately for the four different types of weather.
Preschoolers are learning how to dress themselves, manipulate buttons, zippers, and snaps. In this weather preschool lesson dressing provides plenty of opportunities to practice these skills as well. Dress up play is always fun for young children, and it's a great way to provide fine motor skills practice as well as facilitate the development of adaptive skills like dressing for the weather.
This post is part of the series: All About Spring for Preschool
Celebrate the season of Spring in your preschool classroom with themes, crafts, activities, bulletin board ideas and more!