Continents Lesson Plan With Map and Globe Activities for Younger Students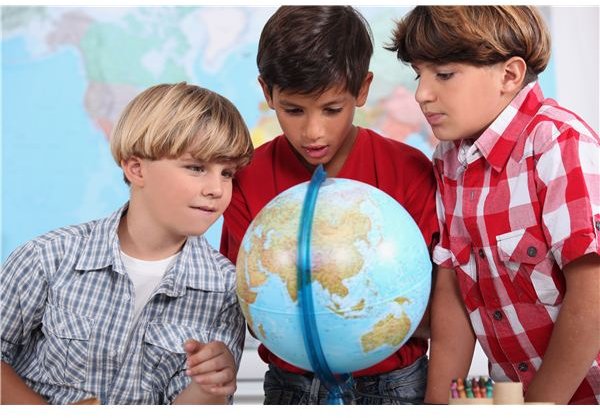 Circle Time: All About the Continents
Show a world map and globe and point out the seven continents: Asia, Africa, North America, South America, Antarctica, Europe and
Australia. An interactive activity to help the children remember the names of the continents is to sing this song to the tune of "My Darling, Clementine".
"There is Africa, South America, North America is where we live.
Europe, Asia and Australia…Antarctica where penguins live."
Since children love to sing and clap, this activity teaches social development and elements of movement, such as rhythm in the "The Continental Clap" with ideas found in the Core Knowledge Sequence program. This reinforces the names of the continents with another drill type song.
"The continents are seven lands. We'll say them as we clap our hands."
Africa…Af..ri..ca, where the elephants, giraffes, and lions live.
(As you call out the continents, the children will clap to the syllables of each .)
Associate something found on each continent that will help the child remember its location on the map or globe. Africa, is where the elephants, giraffes and lions live there. South America has tropical forests and one of the the longest rivers in the world, the Amazon River. North America is where we live. Europe and Asia is together on the map, but Australia is an island where the kangaroo and koala bear live. Antarctica is way down below, frozen and home to the penguins.
Read the book, North American: True Books, Continents, by David Petersen.
Activity
When teaching the Learning About My World Unit: The Continents, gather the children in a circle and toss an inflatable globe ball. As each child catches the "globe", he or she will say the name of one continent.
Suggested Books
North America: True Books, Continents by David Petersen
The Seven Continents by Wil Mara
Welcome to North America! by April Pulley Sayre
This post is part of the series: Learning About My World
This geography unit consists of a series of lesson plans adaptable for kindergarten through 3rd grade, focusing on the town, state, country, continent and planet.