Elements of High School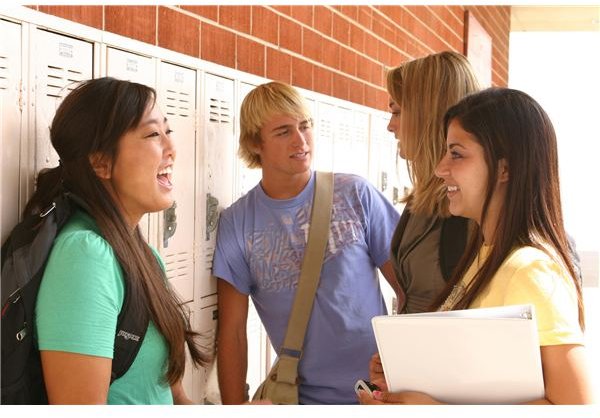 These tips for starting high school are meant to be a well rounded guide addressing some of the issues that new high school students face so that you, as the parent, can be prepared. In this section we will address the academic issues while the next one addresses more social issues.
Students are going to find a drastic academic change as they reach high school. Use the tips below to make sure your child is prepared for the first day of high school.
Help your child to pick the right classes to take by discussing their goals with them. Their post high school plans should be reflected in their high school schedule.
Create a specific study area and time for studying. This area should be suitable for the study needs of the child and be respected by others.
Adjust household chores to make room for the extra time that your child will need to complete their academic goals. It's not fair to overly burden the child as they adjust to a new routine.
Make sure your child has the academic tools that they need to complete their studies.
Explore career options that fit the child's area of interest so that they can see where their academic goals will take them.
Try to make yourself available in such a way as to be able to assist them with their homework or find someone who can.
High School Today
One of the things that parents have to realize is that the high school that they knew and the high school of today only have one thing in common; puberty. Otherwise, the differences are vast and numerous. Even some of the subjects have changed as high school students are pushed toward taking college prep courses and technology courses that probably didn't exist when you and I went to high school. Not only that, but there are peer pressures that are relatively new, along with all the old ones. In short, high school can mean an immense amount of pressure coupled with the changes that teenagers go through.
So, you can either strap yourself in for a long and bumpy ride or you can do your best to prepare your family for the high school years. At the very least, you can use the tips for starting high school to make the entire family ready for the first day.
Tips
The first day of high school may be the day you see your child become someone you don't know. They want to leave elementary school behind them and make sure that they are in with the "cool" crowd, or at the very least, not in the "out" crowd. The tips below may help ease some of the anxiety that you and your child are feeling on this day.
Don't be offended if your child doesn't want you to take them to school or hug them at the door. It doesn't mean they don't love you or are going the way of the wrong crowd. Is simply means they are growing up.
Make sure they have everything they need so they aren't embarrassed by a lack of supplies.
High school can be a gauntlet run for a self esteem. Do your best to make sure that your child feels good about themselves. Having a healthy self esteem means that they are more likely to make good choices as well.
Ask your child what fears they have about high school. Talk with them about these fears. Validate how they feel and encourage them to be confident in their abilities. Most importantly, ask them what they need from you.
Try to remember how you felt about high school. Empathize with your child.
Let your child know that you trust them and have faith in their abilities.
No one likes to be confronted as soon as they get home from school or work. When your child gets home, give them a few moments before you ask how their day was.They may even approach you!
Try to keep the child active the day before the first day of high school. They may be anxious enough to have a hard time sleeping. If this is the case, then being active during the day may wear them out enough to help them sleep at night.
By using these tips for starting high school, your student is sure to have a successful first day!
This post is part of the series: First Day of School Tips
Use this series of first day of school tips to make sure that you and your child are prepared for the first day of school. From school supplies to the right haircut, you can make sure your child is ready to go!