Jewish Art Projects for Early Childhood: 4 Shavuot Crafts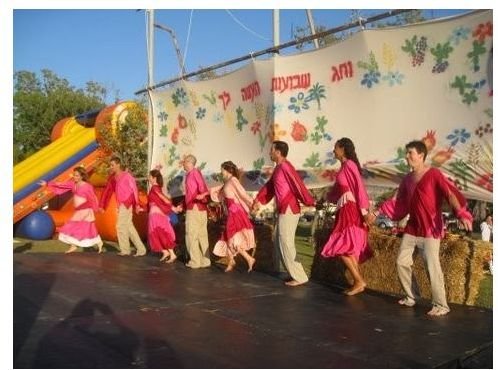 Building Mount Sinai
On Shavuot in late May or earlier June, the Jews received the Torah on Mount Sinai. The medrash (homiletic text) discusses the beauty of Har (Mount) Sinai on that day, as it was covered with flowers and greenery. You can recreate Har Sinai with the first of these early childhood Shavuot crafts.
Turn a plastic or foam bowl upside down and let kids paint the entire bowl with green paint. After the paint dries, cover it with a layer of glue and give students small pieces of colorful tissue paper to crumple up and stick to the mountain. These will be the beautiful flowers that covered Har Sinai. Alternatively, you could give students small buttons, sequins, beads or other small objects to glue to the mountain in lieu of the tissue paper. This craft makes the perfect centerpiece for the Shavuot seuda (feast), which usually has plenty of dairy-based traditional Jewish dishes.
Your Own Torah
Cut colored oak tag into rectangles that are about a foot tall and six inches wide. Each child should receive one rectangle, four Popsicle sticks and plenty of aleph bais stickers. Older children in the class may be able to arrange the four Popsicle sticks so that they look like the handles of a sefer torah (torah scroll), although you may have to do this step for younger children. Then, encourage students to stick aleph bais stickers all over the sefer torah to represent the Hebrew letters and concepts found in the Torah. Students can save these torahs for a few months and eventually dance with them on Simchas Torah (the holiday that comes on the second-to-last day of Sukkot).
Shavuot Flowers
There is a custom on Shavuot to decorate your home with flowers for the holiday, specifically because of the fact that Har Sinai was decorated in flowers on the day that the Torah was given. Give out three coffee filters or cupcake liners to each student and let them decorate them with markers, sequins or other craft materials. When they finish, lay the three filters or liners on top of each other and gather their centers together by pinching them between your thumb and forefinger. Wrap a green pipe cleaner around the pinched area for the stem. If you let students make a few of these, they can make their own vases (see below) to place them in, as well.
Flower Vases
On Shavuot, homes are often filled with flowers. Let your students make vases to hold all of the beautiful Shavuot flowers they will probably see. Before this Shavuot craft project begins, you will need to soak the labels off clear glass jars. Give each student a jar and some small bowls of finger paint. They can then finger paint their jars to make beautiful Shavuot vases. When the paint dries, students can add stickers or other art supplies to the outside of the vase. If you would like, you can instruct students to put their Shavuot flowers they made into these flower vases.
Safety Note: Make sure to supervise children closely at all times during this project to make sure that the glass jars don't fall and break. Alternatively, you can use plastic jars.
These early childhood Shavuot crafts are the perfect way to engage young children in preparation for the holiday of Shavuot. Tell them "Yasher koaḥ!" for all their hard work!
References
This post is part of the series: Jewish Holiday Crafts for Preschool Kids
Crafts are a great way to get preschool kids interested in the Jewish holidays. Take a look at these Jewish holiday crafts for preschool kids to get some unique ideas about how to celebrate Rosh Hashana, Yom Kippur, and Sukkot with children.