Decorated Jerry Cans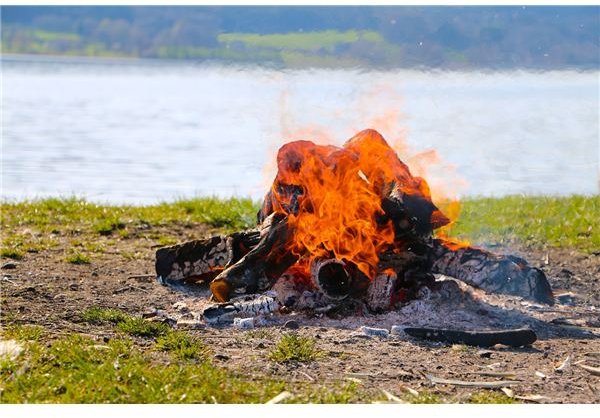 Many campers enjoy the campfires and pow-wows that are common camp activities. One of the first lessons that campers should learn, even before they learn how to build their own campfires, is the importance of having a "Jerry can" full of water nearby at all times. Let groups of campers brainstorm ways to decorate their own white Jerry can, using waterproof paint, permanent markers, and homemade stencils. Then give each group their own white Jerry can (or large white paint bucket) to decorate. These crafts will be used all summer long, and campers will love using them around the campfire.
Tie Dying Fun!
Some of the best craft projects for summer camp use tie dying to create colorful pieces of clothing. Although most campers have made a tie dyed shirt before, consider letting them tie dye white cotton hats, socks, or even headbands. Better yet, let kids make their own bunk signs on a large piece of cloth by tie dying it and then writing on it with permanent marker or paint.
Nature Picture Frame
Many nature crafts are surprisingly easy to make, and nature picture frames are no exception. Simply cut out 7 x 9 rectangles from a piece of tag board or cardboard (old cardboard boxes work well for this). Then show students how to use a ruler to measure two inches from each side to create a 3 x 5 hole, and cut it out with sharp scissors or a craft knife.
The remaining border makes the perfect picture frame. You can spray paint or splatter paint the frame outside one day, and spend the next day on a nature walk finding objects to glue on the frame, such as pinecones, acorns, twigs and bark. (Alternatively, you could paint these items or cover them with glitter on the same day as you paint the frames.) These frames are the perfect holders for fun camp pictures of the outdoors!
(See this article for some more fun nature walk activities.)
Make Your Own Stationery
Kids love making their own stationery. First, hand out printer paper in light colors so that each camper receives at least one. Give out large sponges and show campers how to draw simple outlines of pictures on them, such as hearts, diamonds, lightning bolts, or snakes. They can use stencils to draw more complicated shapes, if they are available. They can then cut the shapes out of the sponge, dip the sponge shapes into paint, and press them around the border of the paper. This is an especially appropriate project for overnight camps where students are encouraged to write home often.
These craft projects for summer camp will keep your campers busy, and will allow them to use their creations either at camp or at home – or both!
This post is part of the series: Summer Fun for Kids
Looking for some fun ideas to use this summer with your kids? This series has activities, games, and projects that your kids will love.