Academic and Social Inclusion: Tips for Educators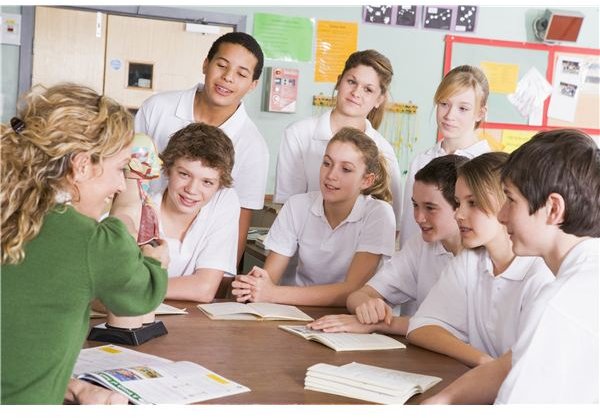 Welcoming All
Inclusion is no longer a nicety offered only in schools where curriculum is an experiment. Inclusion in the classroom is mandated by law in many places.
How do educators who do no
t specialize in special education incorporate students with special needs in a way that feels welcoming?
First, learn what modifications are needed for the student.

Second, talk to the experts (Special Education administrator, Occupational Therapist, Physical Therapist, Speech Therapist, etc.) asking for suggestions.

Third, remember that all students succeed when encouraged; advocacy is not limited to parents or activists. Do not set limits simply because a child has a learning difficulty or a physical handicap.

Fourth, don't hesitate to group a student with special needs with other students. Inclusion isn't only about academics; it also requires that the student with special needs is allowed to participate with peers, socially.

Finally, allow students to try things on his/her own without intervention. Sometimes, a way to accomplish a task is discovered by the student without assistance.
Some modifications can be made ahead of time, such as rearranging classroom space to incorporate a wheelchair, while others may not be realized until a student is actually in the classroom. For instance, it may not become obvious that a student is in need of a special device to aid in writing until after they begin to write.
Creating an Inclusive Classroom
Educators know that from year to year the classroom dynamics change. One year, a class may have several students with special needs, while the following year there may not be any students with special needs. Therefore, it is wise to prepare the classroom before the year begins.
Several ideas for creating an inclusive classroom include:
Whenever possible, have classroom space in which it is ease to maneuver.

Remember that, both in schools and the classroom, inclusion is not simply about students with difficulties; it is also about students who excel above grade level (gifted students) and students where the language in the classroom is their second language.

Have a variety of manipulatives, large and small so that students with difficulty in gross motor control do not have to struggle to do work, or feel excluded because they cannot participate in a project.

Have books in the classroom library that include information, characters and themes on or about people with learning difficulties and/or physical handicaps as well as bilingual books and books about students who excel.

Always answer questions from the student about a difficulty or handicap honestly. If you do not know the answer, tell the student you do not know but will find out; research the answer with the student who asks the question.

Know how to use any assistive equipment or assistive technologies your students will need. There will be times when other "experts" will not be available to aid you.

Include all students in the curriculum, including presentations, performances, and outings.
Inclusive Curriculum
Inclusion is more than a welcoming classroom. An inclusive classroom means all students can participate in the learning. This can be accomplished with ease through preparation and forethought.
Depending on the subject, the classroom teacher should prepare to have all students participate. This may mean acquiring special supplies or equipment, beforehand. For instance, if one of the students has difficulty with gross motor skills and the class is creating models to display for science class, supplies that can be manipulated by the student should be on hand so that he/she can make a model, also. Alternatively, students can work in groups with each child being given a job. If there were a student who has difficulty seeing, then a job that will not require sight, such as cutting out objects or working with small items, would allow the student to feel part of the team.
Often, adults assume that students cannot do something because of learning differences or physical handicaps. However, research and experience has shown that when students are offered the opportunity to try something, they more often than not figure out a way to do what needs to be done. For example, a group of students is given the task of creating storybook. One of the children has learning difficulties cannot write or speak; however, the student has an icon chart that she/he points to in order to communicate. Students in the group ask their peer questions about the plot and incorporate the answers into the story based on the icons the student points to on their chart. Everyone is part of the project!
The Revolving Door
In many schools, students are taken out of the classroom for various therapies or special classes. This is not inclusion. However, it may be necessary due to lack of space within the classroom or other limiting factors.
Classroom teachers should try to incorporate these absences into the daily routine so that the student leaving can miss as little group involvement as possible. For example, if a student needs to go to physical therapy for an hour every other day, the classroom teacher could plan for independent work for the rest of the class during this time. Students could be doing silent reading, or journal writing. Then, when the student returns, the class could resume group work, thereby "including" all the students.
Inclusion Conclusion
Law mandates academic and social inclusion in schools. Preparing classrooms to incorporate all students into the curriculum takes time and energy. Classroom teachers know it is not an easy task, but with preparation, training, persistence and planning, along with a sincere belief that all the students will succeed, all students will succeed.
References
This post is part of the series: Inclusion in Schools
Today's school systems are continuously moving towards inclusion, rather than homogeneous grouping. This series includes several articles on inclusion, including inclusion strategies, benefits of inclusion, and reverse inclusion.