Spanish Vocabulary Practice for Secondary Grades: Terms for New Year's Celebrations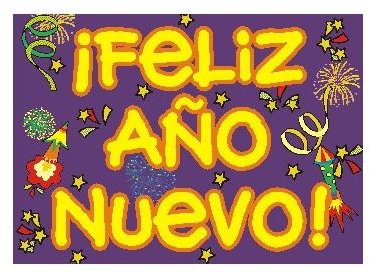 New Year's Terms - Celebration
Celebrate the New Year in Spanish! Learn some vocabulary to help you ring in the new year.
Celebrate the New Year – Celebrar el año nuevo
College football – El futbol universitario
Fireworks – Los fuegos artificiales
Happy New Year! – ¡Feliz año nuevo!
Have a prosperous New Year! – ¡Prospero año nuevo!
January 1st – El primero de enero
Midnight – La medianoche
New Year – Nuevo año
New Year's Eve – La nochevieja
New Year's gift – El aguinaldo
New Year's Party – La fiesta de año nuevo
New Year's resolution – La resolución de año nuevo
Rose Bowl Parade – El desfile del Torneo de las Rosas
Toast the New Year with champagne – Brindar el año nuevo con champán
Making Resolutions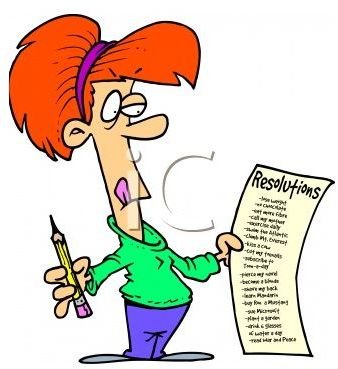 Appreciate my good health – Apreciar mi buena salud.
Be kind to everyone – Ser amable a todos
Be more organized. – Ser más estructado
Drink Less Alcohol – Disminuir el consumo de alcohol
Eat Right – Practicar una buena alimentación
Get a Better Education – Obtener una mejor educación
Get a Better Job – Encontrar un mejor trabajo
Get Fit – Hacer ejercicios
Lose Weight – Bajar de peso
Love and respect my parents – Amar y respetar a mis padres.
Quit Smoking – Dejar de fumar
Reduce Stress At Work – Reducir el estrés en el trabajo
Save Money – Ahorrar dinero
Study More – Estudiar más
Take a Trip – Viajar
Suggested Classroom Activities
A New Year's Resolution Translation Assignment
See the Spanish-language web articles below that can be assigned in sections for translation to English. One student could be assigned to read a portion in Spanish, followed by another student who can translate the section to English:
Meditaciones – "Resoluciones de Año Nuevo"
Resoluciones para Año Nuevo (A Prayer)
A Matching Quiz
Consider adding a "New Year's Resolution" Matching quiz to a regularly scheduled quiz. (See the suggested matching quiz below.)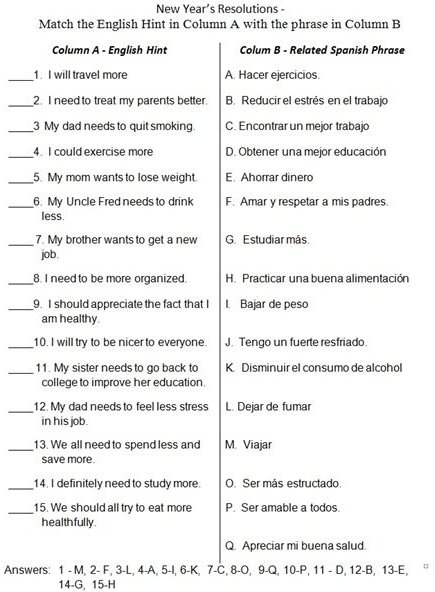 Download
Download the Spanish New Year's Terms & Matching Quiz Here. (Click the link to download.)
References
Curt works as a Spanish Tutor.
This post is part of the series: Spanish Vocabulary for U.S. Holidays
Students can build vocabulary through specialized Spanish vocabulary lists. This series lists Spanish Vocabulary words related to holidays in the USA and has downloadable Spanish vocabulary word lists and matching quizzes.