Spanish Vocabulary Practice with Christmas Terms, Including Activity and Quiz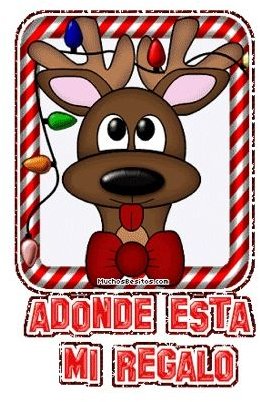 Christmas Spanish Vocabulary List
The two Christmas vocabulary lists below are divided into a general (secular) group and another that emphasizes the religious aspects of the holiday.
Christmas Terms - List 1
Celebrate Christmas - _celebrar la Navidad_

Christmas cake - el pastel de Navidad
Christmas card - el saludo navideño, la tarjeta de Navidad
Christmas decorations - adornos de Navidad
Christmas dinner - la comida de Navidad
Christmas Eve - La Nochebuena, la víspera de Navidad
Christmas gift - el regalo de Navidad
Christmas holiday - La Pascua
Christmas Holidays - las vacciones de Navidad
Christmas is just around the corner - La Navidad está en puertas.
Christmas lights - las luces navideñas
Christmas party - la fiesta navideña
Christmas sales - las ventas navideñas
Christmas shopping - las compras de Navidad
Christmas stocking - el calcetín de Navidad
Christmas time - la navidad
Christmas tree - el árbol de Navidad, el árbol de Pascua
Christmas wreath - el ramo de Navidad
For Christmas - por Navidad
Holly - el acebo
Merry Christmas - ¡feliz Navidad!
Merry Christmas and a Prosperous/Happy New Year! - ¡Feliz Navidad y Próspero Año Nuevo!
Mistletoe - el muérdago
My best wishes for Christmas - mi buenos deseos para Navidad
New Year - Año Nuevo
Poinsettia (flower) - flor de Navidad
Rudolph the Red-Nosed Reindeer - Rudolph El Reno de la Nariz Roja
Santa Claus - Papá Noel, San Nicolás
Season's greetings! - ¡Felices fiestas!
Send a Christmas greeting - enviar un saludo navideño
Sleigh - el trineo
Sleigh bell - el casabel
Spend Christmas with - pasar las Navidades con
Tinsel - el espumillón
What did you get for Christmas? - ¿Qué te regalaron para Navidad?
Wish Merry Christmas - desear Feliz Navidad
Christmas Terms - List 2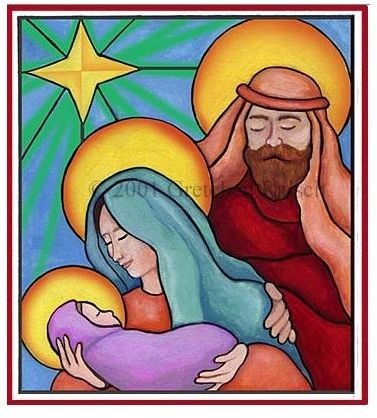 Angels - los ángeles
Baby Jesus - el niño Jesús
Balthasar, Gaspar, Melchior - Baltasar, Gaspar, Melchor
Christmas carol - villancico
Christmas spirit - el espíritu navideño
Christmas story - el relato navideño
Crib - el pesebre
Donkey - un burro
Gold, frankincense and myrrh - oro, incienso y mirra
Jerusalem - Jerusalén
Mary and Joseph - la Virgen María y José
Midnight Mass - la misa del gallo
Nativity scene - el nacimiento, un belén (Belén = Bethlehem)
Shepherds - los pastores
The Three Wise Men - los Reyes Magos
Suggested Classroom Activities
A vocabulary Grouping Exercise
♦ List 1 can be broken down into arbitrary categories of (1) Christmas "things" (tinsel, sleigh bell, etc.), (2) greetings (Merry Christmas, etc.) and traditions (gifts, mistletoe, parties, etc.). Divide the class into three groups and give each group the vocabulary list. Each group is to confer and mark the list according to their respective grouping. When the marking is complete, students can take turns adding one item to a list on the board. Ask the class to say the Spanish term aloud as it is entered.
A Matching Quiz
♦ Consider adding a vocabulary matching quiz (based on these terms) to a regularly scheduled quiz. (See the suggested matching quiz below.)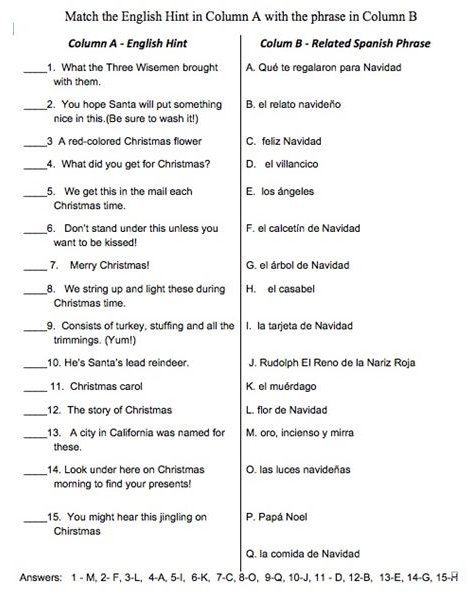 Downloadable Word List and Matching Quiz
Download the Christmas word list and matching quiz from Bright Hub Education by clicking on the link for Spanish Christmas Terms.
This post is part of the series: Spanish Vocabulary for U.S. Holidays
Students can build vocabulary through specialized Spanish vocabulary lists. This series lists Spanish Vocabulary words related to holidays in the USA and has downloadable Spanish vocabulary word lists and matching quizzes.