Spanish Vocabulary Practice with Thanksgiving Terms: English to Spanish, and Spanish to English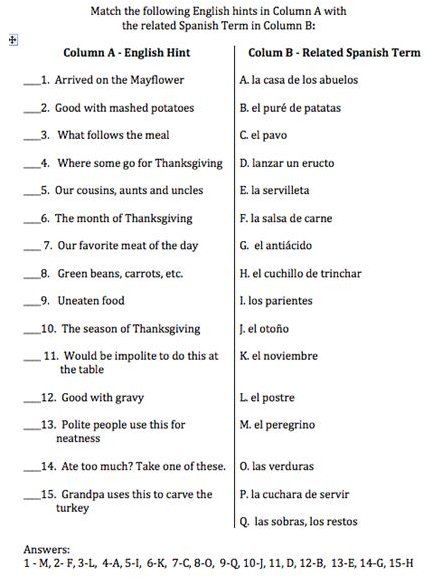 English to Spanish, Spanish to English
The two Thanksgiving vocabulary lists that follow have been split for use in a class activity. Each term in List 1 can be matched to one or more terms in List 2, and vice versa. The list is also downloadable at Thanksgiving Spanish Terms.
Thanksgiving Terms - List 1
American Indian, native American - el indio, la india, el/la indígena americano/a
autumn, fall - el otoño
butter - la mantequilla
carving knife - el cuchillo de trinchar
corn - el maiz
corn on the cob - la mazorca de maíz
cranberry - el arándano rojo
dinner roll - el panecillo
football (College/NFL) - el fútbol americano
full - repleto/a
holiday - día de fiesta
mashed potatoes - el puré de patatas
meal - la comida
November - el noviembre
pudding - el budín, el pudín
pumpkin pie - el pastel (or la tarta) de calabaza
relatives - los parientes
say grace - benedecir la mesa
serving spoon - l_a cuchara de servir_
table - la mesa
to cook - cocinar
turkey - el pavo
yam - el ñame
Thanksgiving Terms - List 2
antacid - el antiácido
casserole - la cazuela
desert - el postre
dinner - la cena
family - la familia
gobble gobble (turkey sound) - gluglú gluglú
grandparents' house - La casa de los abuelos
gravy - la salsa de carne
ham - el jamón
harvest festival - la festividad de la cosecha
leftovers - las sobras, los restos
napkin - la servilleta
parade - el desfile
pilgrim - el peregrino
squash - l_a cucurbitácea_
stuffing, turkey dressing - el relleno
thankful (for) - agradecido (por)
Thanksgiving - el Día de Acción de Gracias
to be delicious - estar de vicio
to belch - lanzar un eructo
to butter - untar con mantequilla
to carve the turkey - trinchar al palvo
to eat - comer
to give thanks - dar las gracias
vegetables - las verduras
Suggested Classroom Activities
This list can be adapted to the exercises suggested in the Bright Hub Education articles on Spanish medical vocabulary building (Parts 1 and 2 - links below). Specifically:
♦ Dividing the class into two groups, having the students circulate and confer with other students, completing the worksheet. (See the suggested classroom activities in Part 1 for additional information and materials.)
♦ Pairing off the students, assigning an appropriate number of terms from list 1, and asking the students to compose sentences using terms from each list. (See the suggested classroom activities in Part 2 for additional information and examples.)
Consider adding a vocabulary matching quiz (based on these terms) to a regularly scheduled quiz. (See the suggested matching quiz below.)
Thanksgiving Matching Quiz
Downloadable Word List and Matching Quiz
Download the Thanksgiving word list and matching quiz from Spanish Thanksgiving Terms. It's a free Word doc you can save and keep.
Bonus Vocabulary
What are you thankful for?
I'm thankful for my family and friends: Estoy agradecido por mi familia y amigos.
Read More About It
Take a look at Keep Learning Spanish Over Thanksgiving Vacation, right here on Bright Hub Education by our writers.
This post is part of the series: Spanish Vocabulary for U.S. Holidays
Students can build vocabulary through specialized Spanish vocabulary lists. This series lists Spanish Vocabulary words related to holidays in the USA and has downloadable Spanish vocabulary word lists and matching quizzes.