Story and Activities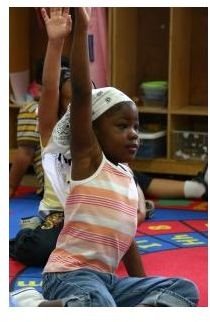 Try this preschool lesson plan for Gene Zion's character Harry the dog in your classroom. This beloved children's classic about an adorable little dog that hates baths contains many teachable elements that can form the foundation for sequencing activities, word recognition, and teaching about opposites.
Grade: Preschool
Duration: 30 – 60 minutes
Objective: By the end of this lesson plan, children learn the story, understand problem solving and play preschool activities based on Zion's story.
Teaching tools like the folk game "Duck, Duck, Goose" exercise gross motor skills and engage the senses of hearing, seeing, and touch. An interactive reading of the story furnishes a multi-sensory adventure.
Prior Knowledge: This lesson plan builds on pre K curriculum core skills like following directions, listening and problem solving.
Lesson Plan Materials
Harry the Dirty Dog by Gene Zion
Flash cards for the following vocabulary words: Harry, mom, dad, little girl, pillow, basket, bath, dirty, spots, black, white, brush, play, run-away and bubbles. If you prefer, a picture illustrating each word can be glued to the back of the flash card, and the cards can be used for sequencing practice.
Props for retelling the story: brush, toy dog, pillow, basket, tub, girl doll or puppet.
Teaching Method
Point to the author's name and pronounce it. After the story is read, use the pretend play props and guide the class in recreating the story in their own words. Praise their efforts. Adding this pretend play re-enactment portion to the lesson plan reinforces learning through multi-sensory input.
Motor Activity
Instruct the class to sit in a circle. Play the folk game "Duck, Duck, Goose", but instead of tapping someone on the head and saying "Goose," say "Harry". This is a good gross motor skill exercise because the children expend pent-up energy from sitting still and listening to a story. Use this portion of the lesson to transition to a vocabulary activity.
Vocabulary
Use the prepared flash cards to quiz the class on vocabulary words from the story. If the flashcards have pictures, teach a sequencing activity to reinforce the vocabulary word recognition.
Discussion Questions
Here are some suggested discussion questions for the lesson. Add or delete questions to customize the discussion questions for your preschool class.
How did Harry get dirty?
What did you like best about the story?
What happened to the scrub brush?
How does Harry feel about baths?
How do you feel about baths?
Harry's family did not recognize him – why?
Recommended Reading
Harry by the Sea by Gene Zion
No Roses for Harry by Gene Zion
Harry and the Lady Next Door by Gene Zion
Using a preschool lesson plan is a good way to determine lesson objectives and focus on key learning concepts. Lesson plans help teachers focus on major points of a lesson. This lesson plan for Zion's popular Harry character can be used in conjunction with other activities like sequencing or building vocabulary word walls.
References
Author's experience as an educator

SXC: Stock photo: Who's Turn is it? 39 (Image ID: 602187) by anissat under royalty free license
This post is part of the series: All About Harry the Dirty Dog by Gene Zion
Here is a collection of preschool lesson plans for Harry the Dirty Dog. This series includes Harry the Dirty Dog activities and resources for preschool teachers.