Preschool Art Activities: Bedtime for Frances by Russell Hoban

Synopsis
Most preschoolers can sympathize with the desire to avoid bedtime and will also often relate to the concept of nighttime fears. Drawing on those experiences will be helpful as your students complete these preschool art activities. Bedtime for Frances, a children's classic written by Russell Hoban, serves as a terrific springboard for the entire project.
Little Frances does not want to go to bed, and she attempts a variety of distractions to avoid sleep time as long as possible. Unfortunately, drinks of milk, extra hugs and kisses, imaginary giants and tigers, and even the need to brush her teeth cannot deter her patient parents. Finally, Frances realizes she must stay in her bed - even when she hears scary noises! Triumphantly, Frances handles the problem on her own and in the end, she is finally able to fall asleep.
Discussion
Encourage the children to access their prior knowledge by spending some time talking with them about their bedtime routines, and what they might do if they have trouble falling asleep. Drawing on personal experiences will be instrumental when it is time to create the preschool art activities. Bedtime for Frances should be shared as a read-aloud once the discussion is complete.
After the reading, invite students to share the kinds of things they imagine when they hear "bumps" and other sounds in the night. If the concept of monsters is not part of the discussion, bring it up on your own. Describe a "monster" you have imagined yourself, and then show them a picture that you created of that monster. When you have finished, explain to the students that they will be doing the same thing - creating an image of a monster they have imagined. If students protest that they do not have any imaginary "monsters" then tell them they get to be even more creative and make one up as they go along!
Materials
Here are some possible materials for preschool students to use as they craft their art: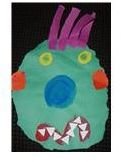 Construction paper in a variety of colors
Pre-cut circles and triangles of various sizes and colors
Googly eyes
Yarn
Buttons
Paint
Crayons
Markers
Colored pencils
Glue
Blunt scissors
Encourage your students to be creative, but remind them that their monsters should not be too gory.
Not So Scary
When students are finished, allow time for sharing. Some of the children may even have additional information about their monster - like, "My monster has big teeth…that's because he can make them go 'chomp chomp', and it's a scary noise!"
Once each preschool student has had the opportunity to present his/her monster, revisit the book, Bedtime for Frances. Ask the children if they recall how Frances handled the scary noises all by herself so that she could finally fall asleep. Explain to the children that the best way to make monsters less scary is to turn them into something silly, which is what they will be doing in the next step of these art activities!
Provide the following materials, in addition to the materials listed above:
Silly or happy stickers (stars, smiley faces, hearts, and so on)
Large sequins
Colorful pom-pons
Plastic jewels
Have the students transform their scary monsters into not-so-scary monsters by using the above items to make the monster look silly! Remind children that this is one way they can take control of their nighttime fears all by themselves - just like Frances took care of her nighttime fears by herself. When the projects are complete, congratulate the students on a job well done and allow them to share their preschool art activities. Bedtime for Frances, and this simple monster project, may just be the tool they need to make their own bedtime rituals less trying!
Continue reading at Bright Hub Education for a cute pillow craft idea!
References
The information offered in this article is based on the author's personal experience as an early childhood educator.
This post is part of the series: It's Pajama Time!
If you are looking for fun and interactive ideas, activities, snacks and games for a preschool pajama party, then read on, because, "It's Pajama Time!"