Preschool Beach Theme - Lesson Plan and Beach Activities for Preschoolers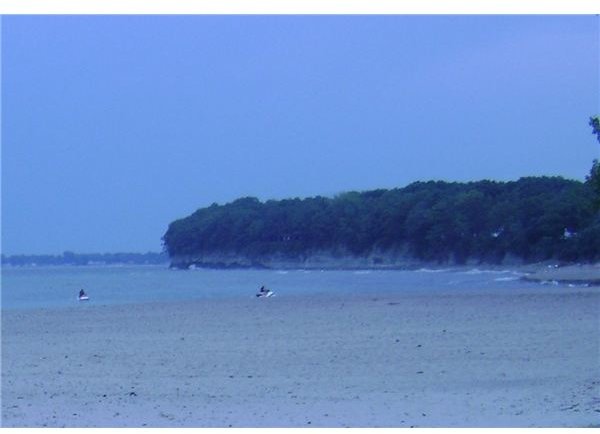 Planning A Preschool Beach Theme
Some students enjoy a day at the beach with their families, but for some preschoolers, visiting the beach is a new event. While learning in the beach center, the students will examine sand and its special properties when it is wet and dry. The experiences they have will expand their understanding of the elements of the beach. Besides, who wouldn't love having a preschool beach theme for class? To begin: Hide a specific amount of sea shells in the sand table (for example 10-20 shells). At circle time, ask the students to count and report how many shells they found and guess what center is opening. [caption id="attachment_130298" align="aligncenter" width="640"]
Preschoolers love the beach![/caption]
Suggested Props for the Beach Theme
Below are some suggested props for your theme day.
beach chairs, umbrella
wading pool
shells
beach towels
sunglasses
mini surf boards, floats, beach balls, and sand toys (buckets, shovels, rakes)
beach hats or visors
empty sun lotion bottles
Beach Song
Tune: The Farmer in the Dell I'm walking to the beach; (Walk in place.) I'm walking to the beach. (Walk in place.) I think I'll find a shell in the sand. (Pretend to dig.) I'm walking to the beach. (Walk in place.) Repeat with different motions for physical activity (running, stomping or marching). Song - words by Laurie Patsalides
Beach Activities for Preschoolers
1) Beach Ball and Towel Game: Have two students hold the sides of the towel, and make the beach ball move from side to side. For an added challenge, see how many times students can bounce the ball on the towel without it falling to the ground. 2) Sand Castles: wet the sand and put it into the wading pool. Have students use sand toys and cups to make a sand castle. For an added challenge give the students parameters on items that must be included in their castles (doors, windows, driveways, moats, and so on). On another day, wet the sand and give students some items to make imprints (shoes, cans, wheels, sand dollars, shells and starfish). 3) Personal Beach Bag Craft: Give each student a plastic baggie, markers, paper and craft materials (fabric, pompoms, sequins), and glue. Each child decorates a bag to store items they find at the beach. When dry, collect some items from a local beach and fill the wading pool. Allow students to take some treasures home in their baggies. 4) Make Miniature Palm Trees: Have students twist and roll brown paper bags into tube length. Tape the bags shut, leaving a hole at the top. Students tear green crepe paper and glue to the inside of the roll. 5) Tropical Snack: Make fruit smoothies with the students using milk and fresh fruit. 6) Hear the Ocean: Listen to the sounds of a shell. Provide students will large and small conch shells. As the students listen to the shells, they describe what they hear and they dictate to the teacher, write or draw what they heard. This makes a great display of the sense of hearing as well. 7) Play in the Sand: Provide both wet and dry sand in tubs. Give the students Popsicle sticks and let them write in the sand. Let them share the differences between textures. 8) Learn Letters: Label beach balls with alphabet letters (capital or lowercase) on each color of the ball. As a large group activity, students throw the ball to one another. They name the letter (and/or letter sound) between their two hands when they catch it. 9) Pictures of the Beach: take pictures of students at the beach party and center. Have students cut out pictures of the real beach from magazines. Incorporate the classroom pictures and magazine pictures in a collage or storybook. 10) Create a Mini Photo Album: take pictures of the students in the beach centers and either put them into a small album or make your own by putting the photos on index cards and putting a whole punch in the top corner of each index card. Tie the cards together for a cute album. Call it, "Our Day at the Beach." This will make a great display at graduation. More about creating beach pictures, beach crafts, and a lighthouse theme, to go with a beach theme can be found here on Bright Hub Education.
References
This post is part of the series: Beach, Water or Luau Parties in Preschool
Read for more ideas from Laurie Patsalides for fun summer preschool ideas and parties.