Fun Sand and Water Activities for Preschoolers: Stations of Sand and Water Play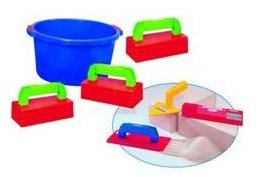 Make a Day of It!
Toddlers and preschoolers enjoy playing in the sand and water, making activities for sand and water play a fun learning experience. Students will rotate through various stations to let them explore the properties of sand and water while using their discovery skills.
It is a good day to elicit help from classroom volunteers to supervise the activities as working with sand and water can be dangerous.
Materials for Sand and Water Stations
Materials required for these activities are few and most classroom teachers have the necessary items on hand.
For each station, you will need:
At least 7- large tubs; kitchen dishpans or wash tubs work well; sand tables or small wading pools (if you are going to use smaller tubs, then provide 2)
a source of water to fill the tubs
play sand
Towels and dry clothes will be necessary, as well.
The rest of the materials needed are broken down by station.
Students will rotate through each station. Time management is necessary to be sure every student has a chance to participate at every station. Provide at least 15 minutes per station. This sand and water theme can certainly be carried over for a few days of class if needed.
Image is courtesy of Amazon.com
Wet Sand Play
This station will contain wet sand, beach toys, such as a sand brick building set (pictured), ice cube trays, bowls and/or a beach set. Sand tables or a small wading pool is recommended for the most creativity. Children will create structures using the damp sand and can compress it between their hands to form shapes.
Image is courtesy of Amazon.com.
Dry Sand Play
This area will contain dry sand for play. Use a couple of tubs, a sand table or a small wading pool. Include sand toys with wheels, such as trucks, measuring cups, scoops and spoons so that the fluid property of dry sand can be explored.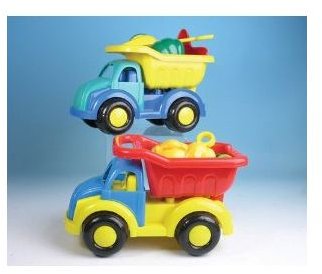 Image is courtesy of Amazon.com.
Find the Buried Treasure
Here you will set up a tub or two of sand, which can be damp or dry. Items are buried for the children to locate using their hands. Items to bury in the sand include plastic dinosaurs or animals. Have a set number in each tub for the student's to find and count to include counting.
Fish Gravel Station
This station will include fish tank gravel or pebbles (rinsed well to remove any dust or reside) cups, scoops and buckets. The bright colors and the smooth texture of the gravel is fun for the kids to explore. Using a couple of tubs works well for this activity.
Soap Float Station
At this station students will learn: Does soap float? How do you know?
You will need assorted soaps, a pumice stone, at least one bar of Lava and Ivory soap. Talk about the importance of washing hands and keeping the soap clean so germs do not grow. Ask students to explain why they think pumice floats. If desired, provide some plastic blocks for students to wash. Likewise, a couple of tubs will work. Be sure to rinse residue soap off of the students' hands and provide a towel to dry their hands.
Float or Sink Station
At this station students will learn: Do rocks float? Why or why not? What makes an object float? What makes it sink? Hand each object to a child and ask them to predict what the object will do.
Plain Water Play
Here, the water can be colored for fun if so desired. Include water and water toys, such as plastic boats, ice cube trays, cups, small squirters, small balls and plastic fish. It is best to use a small wading pool. Be sure to provide adult supervision. Allow for free water play to explore the properties of water. Can you hold water in one hand? What about two hands?
Extend the Learning
Have students draw a picture of their favorite station. Hang the pictures around the room.
Also, take plenty of photos for graduation and your memory books.
Discovering the properties of sand and water through a Sand and Water Day are sure to be activities toddlers and preschoolers will enjoy - not to mention learn a lot from!
This information is provided by Laurie Patsalides, M.S.Ed. and her experience teaching in a preschool setting.
This post is part of the series: Beach, Water or Luau Parties in Preschool
Read for more ideas from Laurie Patsalides for fun summer preschool ideas and parties.