Make Easy Pumpkin Cupcakes: Recipe for the Preschool Classroom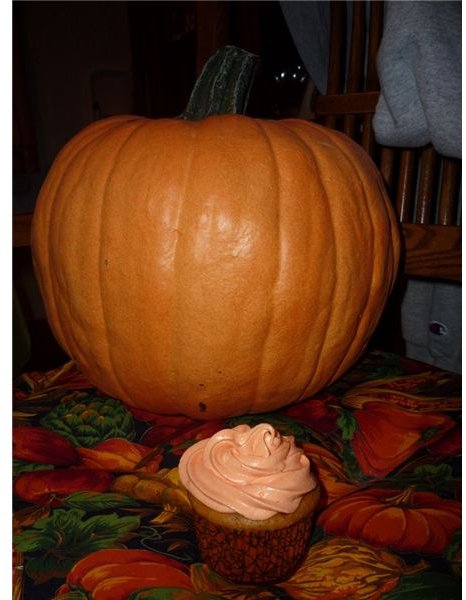 What combines art, math, reading, creative thinking, science, sensory experiences, and social skills? Cooking! As you cook in the classroom children learn by seeing the changes from simple ingredients to a delicious finished product. These easy pumpkin cupcakes use a fruit (pumpkin) that is widely popular during the fall season and reminds us of harvest celebrations.
Before cooking, show a real pumpkin to the class and explain how it grows on a vine. Identify the color orange. Ask the children to think of other things that are orange. Talk about the pumpkin's shape and let the children feel it. Explain that pumpkins can be cooked and eaten like other fruits. Show the children the canned pumpkin and explain that this is just like the real pumpkin but already cooked and easier for this project in the classroom.
Materials Needed
Oven or toaster oven
Muffin pan
Mixing bowl
Large spoon and spatula
Measuring spoons and cups
Paper muffin cups
Small pot to melt butter
Sifter
Real pumpkin to display
Ingredients for the Cupcakes
1 1/2 cups all purpose flour
1/2 cup sugar or honey
2 teaspoons baking powder
1/2 teaspoon salt
1/2 teaspoon cinnamon
1 egg
1/2 cup milk
1/2 cup canned pumpkin
1/4 cup butter or margarine, melted
1/2 teaspoon nutmeg
This is a basic recipe for making twelve muffins (which we are calling cupcakes). Let the children help as much as possible to measure the ingredients and stir the batter.
Procedure
Preheat the oven to 400 degrees F. Use caution when cooking in the classroom and anything having to do with heat must be done by an adult.
Make sure hands have been washed.
Have the children place paper muffin cups into each section of the muffin pan.
Together measure and mix the ingredients. Let everyone have a turn to stir the batter. The batter will be lumpy.
Fill the cups two-thirds full.
Bake for 18-20 minutes. Check with a toothpick to make sure the cake is cooked through.
Let cool completely.
Prepare the Frosting
Muffins can be eaten plain, whereas cupcakes usually have frosting. Here is an easy recipe to make cream cheese icing.
You will need:
8 ounces cream cheese, at room temperature
4 tablespoons unsalted butter, at room temperature
2 cups confectioner's sugar, sifted
1 teaspoon lemon juice
Add a few drops of red and yellow food coloring to make orange
Raisins (optional)
What to do:
Using an electric mixer or by hand, beat all of the ingredients together until smooth. This makes 1 3/4 cups of frosting.
Frost each cupcake. Let children use a plastic knife to help ice the cupcakes.
Use raisins to make a jack-o-lantern face (optional)
There is an art to cooking and by doing projects together in the classroom, children will learn to combine ingredients and create delicious food. These easy Pumpkin cupcakes are a favorite during this time of year.
References
Disney's Family Cookbook by Deanna F. Cook [Hyperion, 1996]
Year 'Round Activities for Two-Year-Old Children by Anthony J. Coletta, Ph.D. & Kathleen Coletta [The Center for Applied Research in Education, Inc., 1986]
Photo Credit: www.flickr.com/photos/dawnviolet/3028397163
This post is part of the series: Nutrition and Healthy Foods for Preschoolers
A simple study of nutrition to promote healthy eating habits is important for preschool children.Teach them to make healthy choices. Help your group become aware of how food influences their everyday lives with these articles.