Preschool Pumpkin Theme: All About Pumpkins with Cooking, Art and Literacy Activities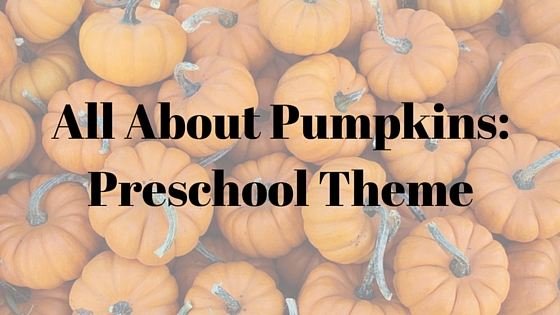 Pumpkin Craft
Make these paper plate pumpkins with your students after reading Apples and Pumpkins by Anne Rockwell or another pumpkin story.
Materials
A book about pumpkins
White paper plates, one per child
Orange tempera paint
Sponges cut into small pieces, one piece per child
Stem and leaf shapes cut out of green construction paper, one per child
Glue
Procedure
After reading and discussing a book about pumpkins with your class, tell them that they are going to be making their own pumpkins. Give each student a paper plate and a small piece of sponge. Put small containers of orange tempera paint at each table. Show the students how to carefully sponge paint the plates so that the whole plate is painted orange. After the paint dries, model how to glue a stem and leaf to the top of the plate to finish the pumpkin.
Extend
Use the finished pumpkins to make a cute pumpkin patch bulletin board display. Cover the board in brown paper and put the pumpkins on it. Around the pumpkins add large leaves and twisted green paper to make vines to complete the pumpkin patch..
Pumpkin Pudding
This pumpkin pudding makes a yummy dip for graham crackers.
Materials
One box of vanilla pudding
One cup of milk
One can of pumpkin puree
One tablespoon of pumpkin pie spice
Large bowl and spoon
Measuring cup and spoons
Graham crackers
Paper bowls and plastic spoons
Procedure
Gather your student around you for a cooking activity**.** As you make the pudding try to let as many students as possible help you. Students can help with the pouring measuring and stirring. You can also have a few students help pass out the snack after it is finished.
In a large bowl mix together, the pudding mix, milk, pumpkin and pumpkin pie spice. Stir until all of the ingredients are mixed well. Serve in bowls. You can either crumble the graham crackers on top or use graham crackers sticks and let your students dip them into the pudding.
Books about Pumpkins
Read these great pumpkin books as part of your preschool pumpkin theme!
This cute book tells the story of a brother and sister preparing for Halloween by planting pumpkins in the garden. It follows the life cycle of a pumpkin from seed to blossom to a pumpkin that is picked and carved into a jack-o-lantern.
A nonfiction book that will tell you everything you ever wanted to know about pumpkins. It's a great choice for a science lesson on pumpkins.
Another book that is all about pumpkins. It has beautiful photographs of all stages of the pumpkin life cycle and pumpkins of all shapes, colors and sizes. It's sure to become a class favorite.
References
Photo By Drilnoth (Own work) [Public domain], via Wikimedia Commons
This post is part of the series: Pumpkins for Preschool
This is a series of articles about pumpkin activities and lessons for preschool students. You will find book links, math, science, art and cooking activities that will fit into a pumpkin theme for preschoolers.