Preschool Spring Theme Food Activities: Food Construction for Kids to Make and Enjoy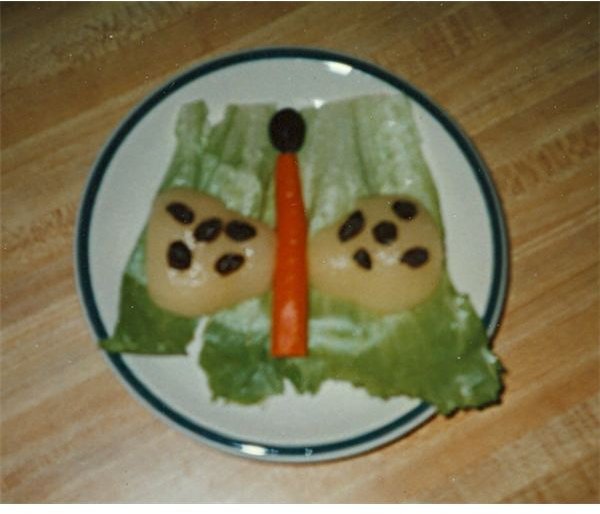 Snack time is a favorite amongst young children whether at school or home. Kids love to do small cooking projects where they stir, sniff and taste their creations. Other edibles are foods that are put together to resemble a character or object that is part of a thematic unit. Children will love making these food creations with you. I'm sure several of these spring recipes will warrant a photograph to savor the memories of these projects before eating a fun snack.
Create a Butterfly Salad
Celebrate the spring season with a beautiful butterfly salad that is fun to make and a nutritious lunch as well. Invite the children to help you assemble this edible construction.
Ingredients:
Carrot stick

Olive (pitted)

Lettuce leaf

Pear halves (canned or fresh)

Raisins and or small cinnamon candies
Preparation:
Place a carrot stick in the center of a lettuce leaf on a plate. This is the butterfly's body.
Add an olive to the top of the carrot stick for its head.
Arrange two pear halves along the sides of the carrot stick for the wings.
Decorate the wings with raisins or small cinnamon candies.
Fluffy Cloud Potatoes
On a clear spring day, look in the sky for fluffy white clouds. Replicate what you see with this fluffy cloud recipe the kids will enjoy making.
Ingredients:
Instant mashed potatoes along with the necessary ingredients found on the package
Toppings such as bacon bits, shredded cheese, chives, etc.
Preparation:
Invite the children to help you prepare the instant potatoes according to the package directions. They will enjoy placing the ingredients into a pot or bowl and taking turns to stir the mixture.
Place a few spoons of the potatoes on each child's plate. The children can spread the potatoes to resemble fluffy clouds.
Let them choose their own toppings and sprinkle these onto the clouds.
Hard-Boiled Bunny Salad
Bunnies are synonymous with spring, so prepare some hard-boiled eggs and let the children construction an edible bunny salad.
Ingredients:
1 hard-boiled egg per child

Lettuce leaf

Carrot, thin strips

Red pepper

Black olives, pitted and sliced

Two pineapple wedges, canned or fresh
Preparation:
Carefully peel a hard-boiled egg and slice lengthwise.
Place one-half of the egg on a lettuce leaf with the yolk side down.
Slice the other half of the egg into halves. These will become bunny ears and have the children arrange these on the lettuce above the egg face.
Decorate the bunny face by using olive slices for eyes. A piece of red pepper can become the nose and attach thin carrot strips for whiskers.
Two pineapple wedges can be arranged to look like a bowtie.
Serve this bunny salad plain or add a favorite dressing.
Rainbow Parfait
Use fruit to make a fun snack or lunch that looks like a spring rainbow.
Ingredients:
Fruit in season
Cottage cheese
Clear plastic cups
Plastic spoons
Preparation:
Invite the children to layer fruit and cottage cheese in their clear plastic cup. Older children can help to slice the fruit with plastic serrated knifes under the supervision of an adult.
Alternate layers of fruit and cottage cheese until the cup is full.
Pick seasonal fruit or use canned fruit. Think of fruit that resemble the colors in a rainbow. Choose strawberries, mandarin orange slices, bananas, green kiwi, blueberries, and plums.
For a variation, yogurt can be used instead of cottage cheese.
When doing a preschool cooking and food construction theme, spring-theme food activities are a great introduction to the unit. The children will enjoy preparing these whimsical snacks or lunches. They will also learn about fruits and vegetables and how these foods can be presented in a fun way. They will be introduced to food they might not always choose or like, reinforcing eating a variety of food.
Sources
Cooking With Kids: Recipes for Year-Round Fun by Tania Kourempis Cowling [Fearon Teacher Aids, 1999]
Channels to Children: Early Childhood Activity Guide for Holidays and Seaons by Carol Beckman, Roberta Simmons & Nancy Thomas, 1982
Photos by Tania Cowling, all rights reserved
This post is part of the series: Nutrition and Healthy Foods for Preschoolers
A simple study of nutrition to promote healthy eating habits is important for preschool children.Teach them to make healthy choices. Help your group become aware of how food influences their everyday lives with these articles.