All About Bunnies: A Preschool Lesson With Books, Crafts, and Games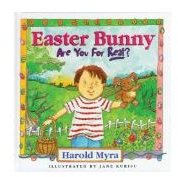 Discussion and Language Arts
Bunnies come out in the spring and this time is synonymous with the Easter Bunny as he visits many children. This is a great time to
explore rabbits with good books and activities that will enhance a bunnies preschool theme. Begin by reading Easter Bunny, Are You for Real? by Harold Myra to learn how rabbits became associated with the coming holiday. You can give the children as little or as much information from this book as you think will interest them.
As a non-holiday theme, introduce bunnies to your class with books like The Tale of Peter Rabbit by Beatrix Potter or The Velveteen Rabbit by Margery Williams. Reading bunny books will enlighten children and give them ideas what bunnies do, eat, and how they live. As you read, emphasize that the word bunny starts with the letter B. Have the children follow you as you use your finger to draw the letter B in the air.
Turn your classroom into a regular bunny burrow for loads of learning experiences. Fill your book corner with a variety of fiction and nonfiction books about rabbits. Display photographs and illustrations of rabbits in the classroom. Provide bunny puppets and stuffed rabbit toys in your dramatic play area. And if possible, arrange for a pet rabbit to visit your classroom or tour a local pet store to see some rabbits.
Hold a discussion with the children about rabbits, telling them we also call rabbits 'bunnies'.
Have you seen a real bunny?
Have you touched one? Is it soft? Furry? What color is it?
After talking about bunnies and getting the children familiar with this animal, begin to incorporate bunnies in your preschool plans and projects.
Bunny Science
Facts about bunnies:
Rabbits are fast-moving mammals with very powerful hind legs which they use for hopping and digging burrows (their homes).
They have very long, floppy ears.
There are about 25 different species of rabbits that live on every continent except Antarctica.
Rabbits live in a variety of environments, including deserts, swamps, marshes, forests, grasslands, and prairies.
Bunnies are herbivores (plant eaters). In the wild they eat grass, leaves, bark, and twigs. A rabbit at home will eat vegetables.
Rabbits come in a variety of colors, from white, to tan, black, and brown. Sometimes you may come across a gray one.
Teachers can explain the bunnies' anatomy and invite the children to draw a picture of how the bunny looks.
Music and Creative Movement
Invite the children to pretend to be bunnies as you sing these songs together.
I'm a Little Bunny to the tune of "I'm a Little Teapot"
I'm a little bunny, with a cotton tail,
See me hopping down the bunny trail.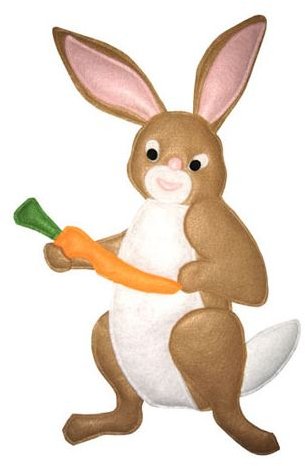 My ears then shake,
And then of course,
A bite I take.
CRUNCH!
______
Sing See the Bunny to the tune of "Here We Go 'Round the Mulberry Bush"
See how the bunny hops along, hops along, hops along, (children crouch and hop)
See how the bunny hops along,
On this (spring, Easter) morning.
Other verses:
This is the way he wiggles his nose… (children take their fingers to wiggle their noses)
See how he jiggles his cotton tail… (children put one hand behind them and wiggle it)
(Original Author Unknown)
Fine Motor and Math Play With Bunnies
Promote pretend play by providing light brown play dough and rabbit-shaped cookie cutters in a center. In advance, make homemade play dough. Knead in food coloring, equal portions of red and green make brown. Challenge the children to make free form bunnies too! After the children have made their bunnies, practice counting them together. Store the dough in an airtight container for future use.
Bunny Whiskers Art
As you make this cute bunny face, the children will become familiar with a rabbit's facial features.
Materials:
White paper plate or circle from poster board
Strips of construction paper
Construction paper for ears
Markers and crayons
Child safety scissors
White school glue or stapler
Thin elastic (optional)
Procedure:
Help the children draw the eyes, nose, mouth and teeth on the rabbit's face with markers or crayons. See image at right.

Make two bunny ears and attach these to the top of the circle with glue or staples. If you use a stapler, cover the metal staples with tape to prevent scratches to the child's skin.

Have an adult make 3 slits into the circle where the whiskers should be. Invite the children to insert the construction paper strips in through the slits to make whiskers.

This craft can be made into a mask if the eye holes are cut out and elastic is attached to the sides to hold it around the child's face.
Pin the Tail on the Bunny Game
The teacher can cut a large bunny shape from poster board and hand it on the wall at the child's eye level. To play the game, give each child a cotton ball with a loop of tape on it. Show the children where the bunny tail should go. Let them take turns closing their eyes and putting the "tail" on the bunny. See who gets the closest!
End the Lesson With a Pear Bunny Lunch
The children can help you prepare this pear bunny for lunch which is fun to eat and healthy too!
Place a leaf of washed lettuce on the plate.
Arrange a pear half (canned or fresh) on the lettuce, cut side down.
Add a scoop of cottage cheese for the tail.
Attach two raisins for the eyes and two almond slices for ears.
Enjoy!
Access
Show the children a picture or have a stuffed animal rabbit with you. Ask the children to tell you about the bunny, how it looks, what it eats, its movement, and any other characteristic that the child wants to share about what he knows about bunnies.
Sources:
National Geographic, Cottontail Rabbits
Enchanted Learning, Lagomorphs
This post is part of the series: All About Bunnies for Preschool!
Here you will find all you need to teach preschool students about bunnies! From a theme, to books, to crafts and activities we hope your class has a "hoppy" good time!