Clifford's Halloween Lesson Plan: Activities for Clifford the Big Red Dog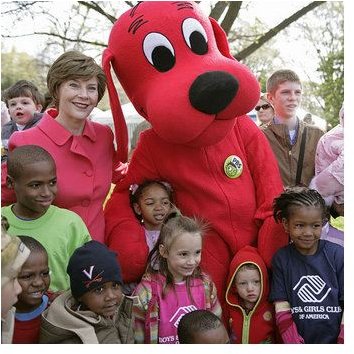 Lesson Overview and Objectives
This lesson on Clifford's Halloween is designed for students who can read and write with minimal help. It's easy to teach, takes about 45 minutes, and requires little pre-class preparation.
The educational objectives are:
Learning about holiday celebrations
Using remembered information to complete assignments
Answering simple questions about story material
Students demonstrate comprehension of the material by completing several lesson activities and worksheets.
Learning Activities
The following Dolch sight words appear in this story: a, and, big, I, is, it, little, me, red, the, we. Use index cards to make flash cards for the sight words, and let the students select a card to hold. When they hear their sight word in the story, they stand and hold up the flash card. Let them point to the word and pronounce it, and then sit back down.
Show the the cover illustration and ask for predictions about what Clifford the dog will do in the story. Point to the book title, say it, and then do the same with the author's name.
Try these discussion questions:
How was Emily Elizabeth dressed? (cat costume)
Clifford wore what kind of costume? (clown)
Why couldn't Clifford wear a clown costume when he was a puppy? (The costume was too big.)
What did Clifford eat while Emily Elizabeth was putting on her fairy costume? (her halo)
What did Emily Elizabeth use to make Clifford's ghost costume? (tissue)
Who carved the Halloween pumpkin? (Daddy)
Why did the jack-o-lantern bark? (Clifford was inside.)
Why did Emily Elizabeth have to give Clifford a bath? (He got stuck to the candy apple.)
What happened in the haunted house? (A giant hand scared the kids.)
What did the hand turn out to be? (Clifford stuck in a glove.)
The discussion questions can be woven into the natural flow of the story or used at the end of the book to test reader recall and comprehension.
Teaching Activities Vocabulary Development
Copy and paste the Halloween activity sheet into a word processing program and print copies. Let the children fill in the blanks and then read the sentences aloud.
Read each sentence. Use a word from the word bank to fill-in each blank.
Emily Elizabeth dressed up as a _______.
Clifford wore a _______ costume.
When Clifford was a puppy, he wore a _______ costume.
Emily Elizabeth made his costume from _______.
Daddy carved the _______ into a jack-o-lantern.
Emily Elizabeth gave a _______ party.
Clifford got stuck on a _______ apple.
The giant hand _______ the children.
The scary hand was really _______.
Clifford ate a _______.
Halloween is a _______ holiday.
Word Bank: candy, cat, scared, clown, ghost, Clifford, pumpkin, cupcake, special, Halloween, tissue
Teacher Answer Key: cat, clown, ghost, tissue, pumpkin, Halloween, candy, scared, Clifford, cupcake, special
Teaching Activity – Halloween Craft
For a simple but effective Halloween craft that ties in nicely with the story line, use tissues to cover kid-friendly lollipops. Secure the tissue with orange or black yarn, and then use a black marker to make ghostly eyes and mouths. If time permits, read the story about Clifford the dog again.
By the end of this lesson, the students have heard the story of Clifford's First Halloween. They reviewed sight words and completed a vocabulary development assignment. To round-out the lesson plan, an easy art project was finished. For more lesson plans based on Clifford books, read "Teaching Math with Clifford the Big Red Dog."
Recommended Reading and Book List
Reading books on related topics is a great way for parents and teachers to extend a lesson and reinforce learning. Here is a list of some other books about holidays and celebrations featuring Clifford the Big Red Dog learning themed activities:
Clifford's Christmas, Norman Bridwell, [Scholastic Inc., 1984]
Clifford's Thanksgiving Visit, Norman Bridwell, [Scholastic Inc., 1993]
Clifford's First Valentine Day, Norman Bridwell, [Scholastic Inc., 1997]
Image Credit
Image, Wikimedia Commons/Public Domain
This post is part of the series: Clifford the Big Red Dog Learning About Holidays
Here is a series of teacher lesson plans about Clifford the Big Red Dog learning about holidays with Emily Elizabeth. This series includes autumn, Halloween, Thanksgiving, Christmas, and Valentine's Day holiday lesson plans. Printable teacher worksheets are included.