Teaching Reading With Picture Books: Pat Hutchins, Changes, Changes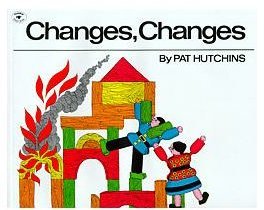 Changes, Changes, by Pat Hutchins
One of my favorite children's authors, Pat Hutchins wrote a beautiful model to children showing that a story can be told orally, without print. I use this book early in the year for Kindergarten students, but this lesson could be used in a PreKindergarten-2 grade class.
In this lesson teachers will use the picture book, Changes, Changes, by, Pat Hutchins to teach children how to read and write a story without words.
Summary of text:
In this wordless book, wooden people cope with every adversity they face, imaginatively. The wooden block people, make a home, but the home catches fire, so they build a fire engine, and flood the house, so they build a boat and sail away, they land ashore and build a truck and a train, they relocate and eventually build a new home. It has a story line that could be reflective of a real life situation, where the characters stay together through the adversity and help one another to eventually find happiness again. Without words, Hutchins has magically included a story line and elements. For another lesson plan using Hutchins' work, click here.
Lesson Plan: Changes, Changes
Materials: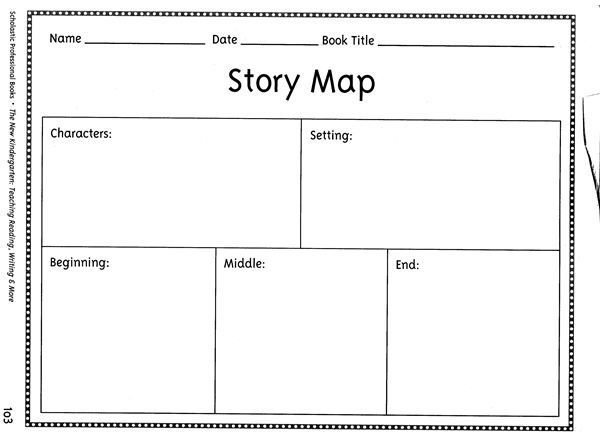 A Story Map
Wooden blocks
Crayons
Small writing books, one for each child
Pencils
Prior Knowledge:
Reference to other wordless picture books. Have a small display of wooden blocks made into a house. Ask the students, what you have created with the blocks. Tell a story about the house, that is different from Pat Hutchins', Changes, Changes, to model to the students use of imagination. Be sure to include characters, a setting, a problem and a resolution.
Teach:
As you read the story to the children, point out the story line and elements. Tell the students that Pat Hutchins was able to include all of this information with pictures alone. Also, create a story map with the students (sample below), about the story. Show the students how to transfer the information from the story map to the little books.
Procedure:
This lesson could work as a center time activity or as a whole group activity. Give the students plenty of time to build with the blocks and create a story. Math block, manipulates work well. If there are not enough blocks for each student, then this can be changed into a center time activity. Give each student a story map to draw their pictures (in order to remember their story line). Review the story map of each student.
Have the students use the story map to create little books with pictures alone.
Display the books.
Assess:
Can the students use the manipulative to create an object?
Can the students use the story map to outline their story?
Can the students transfer the information from the story map into a little book?
Can the students orally retell their stories?
Extend:
This lesson would compliment a math unit about 3-dimensional shapes, a transportation unit, and when working on story elements.
I am including a picture of a reference book for teachers that I have referred to in my other articles, The New Kindergarten: Teaching Reading, Writing & More, by Constance J. Leuenberger (Scholastic, 2003). This is also the reference for the story map below.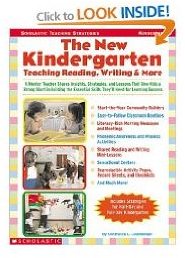 This post is part of the series: Teaching Reading: A Series for the Kindergarten Teacher
Below is an outline of some of the reading lessons that I have prepared for this series. Come back and browse again, as more are likely to be added. I have many more in other reading series that I cannot include here. Click on my name to read more, if interested.