Types of Disability Sports for Special Need Kids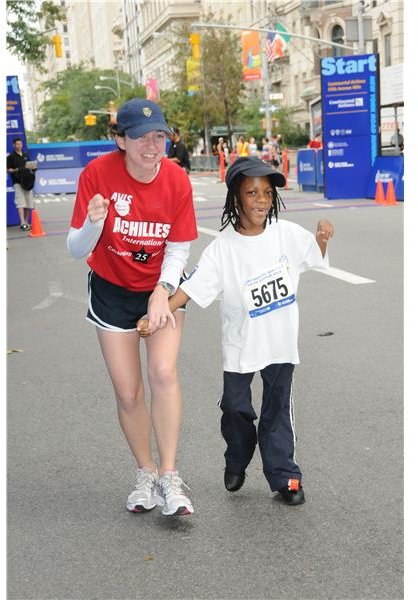 Address the Problem
When Scottie Felts' 11 year old special needs daughter asked about playing sports, this young mom's first reaction was "How can we make this happen, and where do we even begin?" Looking around her area, there were ample opportunities for typical physical education and sports recreational activities, but not any organized programs for the disabled. This family is not alone, and across the country more and more parents are beginning to address this important issue and seek answers. The good news is that there are many great options, but finding the sources and getting geared up to implement these sports activities calls for dedicated parental, community and educator support!
Get Moving
Regardless of the disability, in today's society, there is no excuse to leave any child or adult behind when it comes to achieving goals that will enhance his/her overall health and well-being. "I believe it must be stressed that all kids, of all abilities, need to be included in recreational activities and physical education…with many adaptive measures available, they can play in a similar fashion to their peers," says Meghan O'Keefe, Certified Therapeutic Recreation specialist. "Let's see them for what they can do instead of what they can't," she adds. Below are some of the most popular sports enjoyed by the special needs population, both children and adults.
Bowling (special ramps and other adaptive devices)

Golf (specially designed clubs, gripping devices and many other assistive devices)

Yoga (tremendous fitness techniques with very little adjustment needed for the disabled)

Fishing (one of the easiest activities to adapt to anyone's special needs…accessibility ramps primary)

Swimming (provides great recreational, competitive and therapeutic opportunities)

Soccer (with modifications in team size and playing field dimensions, this one has all kinds of potential)

Tennis (ambulatory and wheelchair sport with rule modifications and assistive devices)

Basketball (growing in popularity/ambulatory and wheelchair possibilities)

Hockey (wheelchair sport with rule and some equipment modification)

Baseball (various ways to play softball/baseball depending on the ability level…includes beep ball for the blind)

Horseback Riding (excellent for improving posture, self-confidence and independence)
Since disabilities and their severities vary, it's important to find and contact sources who can properly assess specific needs and assist in implementation. An individual's doctor should be consulted before beginning any strenuous physical program; after that, get in touch with local recreational programs and ask what, if any, special needs indoor/outdoor activities are available year round. If there are no suitable offerings, there are organizations who specialize in assisting community recreation departments and school systems in the facilitation of great sports incentives.
Adaptive Sports Are Gaining Momentum
With more demand for special needs physical fitness programs, the term "adaptive sports" is taking center stage. Simply stated, adaptive means "changing in order to deal with new situations." So it is in the field of adaptive sports for special needs kids. Whether it's adapting the basketball court to meet the need of the wheelchair player, using adaptive equipment or other sensory devices to make playing baseball a reality for a blind person, or simply to make a few minor P.E. adjustments to enhance a special needs student's class participation – all are adaptive measures which bring sports alive!
According to Barry Trent, Physical Education Coordinator for Roanoke, Virginia County Schools, "the best case scenario for any school system would be to have more certified adaptive P.E. teachers on staff to work with the special needs students." However, with most schools facing tighter budgets, and even staff reductions, he notes that this goal is not yet attainable. Other ways of providing additional assistance in schools is to have outside intervention from trained professionals or volunteers who would first be thoroughly screened. Most P.E. instructors agree that P.E. is as much about teaching good fitness habits for life as it is about day to day exercises and drills. Qualified help is always welcome, they say.
Marc Sickel, Founder of "Fitness for Health" based in Rockville, Maryland, has proved the value of outside help with his work in the Washington, D.C. area public schools. "With proper credentialing and with permission from the schools, we look at the year's physical education curriculum and use that to work individually with the disabled student." Sickel's staff may work once a week or more if advised, and until students get comfortable with each skill set being taught. Motor clinics are a big plus in his programs, and "seeing the empowerment these kids get from our work together is absolutely amazing!" Featured on NBC's TODAY show and other national forums, Sickel is recognized for his ability to think out of the box when working with the disabled and at the same time teach valuable, lasting life skills "while we're having fun with the kids."
Other resources may be to utilize consultants who help to provide new ideas for incorporating special needs methods into the P.E. curriculum. Rob Sawyer with Roanoke, Virginia's City Schools went that route when he brought in the expertise of the Achilles Kids, a specifically designed marathon program for those with disabilities. Karen Lewis, its founder, is herself an athlete with a disability and has completed four marathons using crutches and a handcycle! As an adaptive P.E. teacher, Sawyer has seen great positive outcomes since implementing the Achilles Program locally. Using the organization's training materials, he continues to prepare his students for reaching annual goals. "It's truly fantastic to watch their hard work turn into such accomplishment," he adds.
More Options
Including the family pet in sports activities is a great way to enhance a child's (or your) fitness goals. Therapists have promoted this option for years citing case after case with positive results. No one know this better than Mark Lukas who launched his Soccer Collie Program for Kids after losing his own son in a tragic accident several years ago. Lukas used the passion his son had for soccer (and his favorite practice companions, collies) for something to benefit others. He's taken these playful and talented soccer players all over the country entertaining and playing with both typical and disabled kids. "They're a hit everywhere they go," he says. Smiles and good outdoor exercise are a great combination.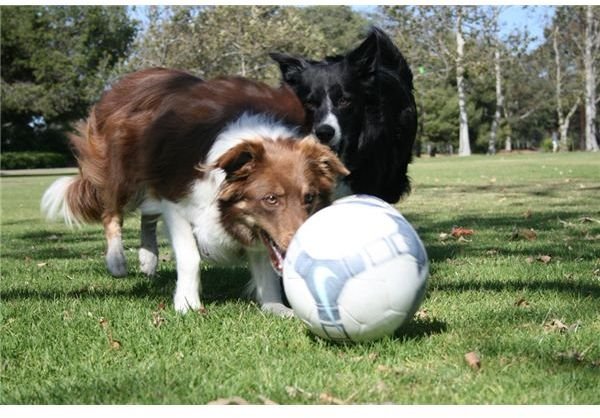 Other ways for a child or teen to get involved in sports doesn't even involve physical participation. Many high school and middle school athletic programs have special needs kids who are valuable to the team as managers, scorekeepers and in some cases even assist in coaching. Coaches and teammates alike admit that more often than not, these team players teach life lessons not easily taught by the regular coaching staff.
In addition, there are summer camps specifically designed for special needs campers. Victory Junction, started by NASCAR Driver Klye Petty in memory of his son, Adam, and "The Hole in the Wall Gang Camps" founded by the late actor, Paul Newman, are just two examples of unique experiences available for the disabled or medically challenged child. Other options in most communities can be found through visiting local YMCAs or contacting parks and recreation departments. If your area is not up to speed on any of the above, take the initiative yourself and check out websites, contact other parents with similar interests, and don't hesitate to ask for help from special needs sports organizations in nearby cities or towns. Most of these groups are anxious to share expertise, experiences and even equipment to assist those who want to get started.
Resources
Sickel, Marc. Founder, "Fitness for Health." Rockville, MD, www.FitnessForHealth.org
Trent, Barry. Roanoke County Physical Education Coordinator; Shutt, Barbara, Special Education Coordinator. Roanoke County, VA (Phone Interviews, April 14, 2011)
Sawyer, Rob. Roanoke City Schools. Roanoke, VA, https://achillesinternational.org/programs/kids/overview (Phone interview, April 15, 2011)
O'Keefe, Meghan. CTRS, Fox Valley Special Recreation Association. Aurora, IL, www.fvsra.org
Houser, Cindy (MS, BS, NCTRC, CLP). "What's Hot in Adaptive Sports" (online article), https://www.lib.niu.edu/1997/ip970137.html
Virginia Commonwealth University: Adaptive Sports and Recreational Games, https://www.vcu.edu/partnership/C-SAL/downloadables/PDF/Adaptive_Sports_and_Recreational_Activities.pdf
Felts, Scottie. Parent of special needs child. Hillsville, VA
Author's Personal Experience
Image Credits:
Jahvid_5th_Ave_miles.jpg from Achilles International, permission granted by Barret Swatek, April 18, 2011
IMG_2400_JPG from Soccer Collies, permission granted by Mark Lukas, April 18, 2011
This post is part of the series: Special Education Activities
With many innovative approaches to teaching children with disabilities, educators, coaches, and volunteers alike can find exciting, rewarding ways to share expertise with the special needs population!