Recycled Sculpture Ideas to Do with Kids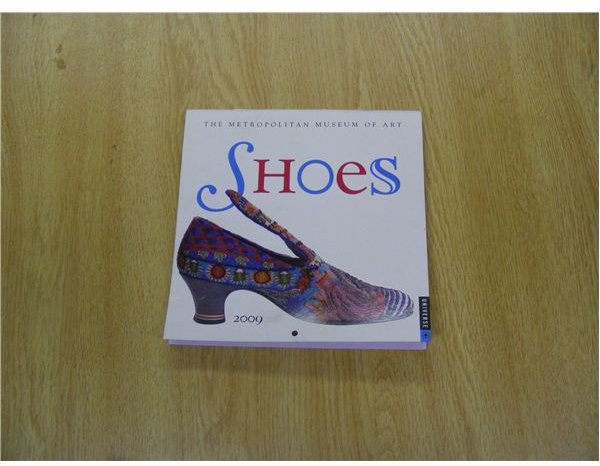 Recycled or redesigned shoes are easy to create. Students can create beautiful, interesting sculptures and discover that using recycled materials is fun. This art project is for students in grade 4 - 8. Teachers can teach about alternative forms of transportation as a conservation art project. This is an easy recycled art project.
Materials:
Shoes, shoelaces, newspaper, paper mache, pop cans, paint, wire, hot glue, glue gun, scissors, buttons, etc.
This shoe sculpture uses an old shoe or to create a shoe out of other recycled materials. Students should bring their own materials. Teacher can demonstrate shoe ideas from art books on shoes displayed in museums. The students need basic cutting and gluing skills to make it.
Step 1 - Preparing the Students
Brainstorm with students about how conservation ideas can be displayed. Conservation of resources means lessening our carbon "footprint" by using alternate forms of transportation. Ask students how their shoe sculpture might demonstrate they are "walking the walk". Does their shoe shine? How will their shoe shine a light on conservation? Demonstrate shoes designed for art galleries, such as the Metropolitan Museum of Art. Ask students what they would envision in a perfect, green world in the future. Once their ideas are focused, ask them to create a shoe and mount it on a path, or the earth to teach a conservation lesson.
Images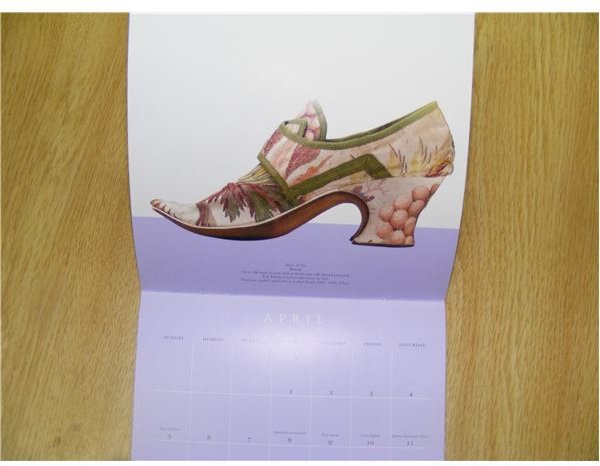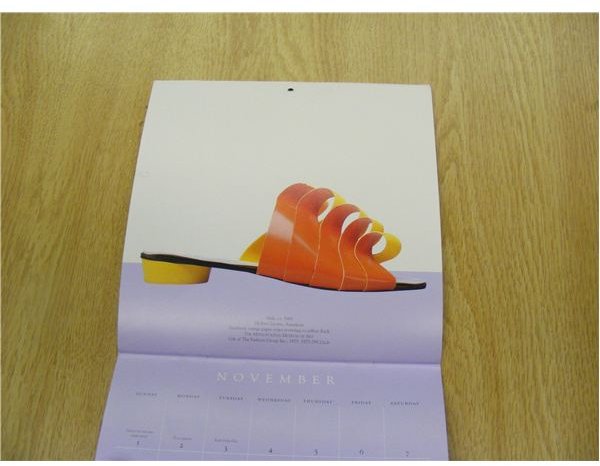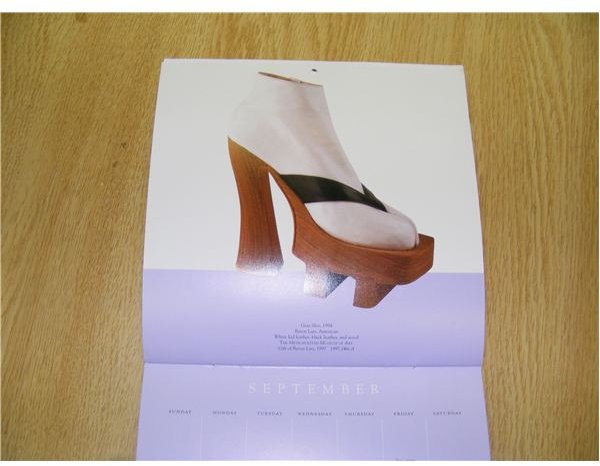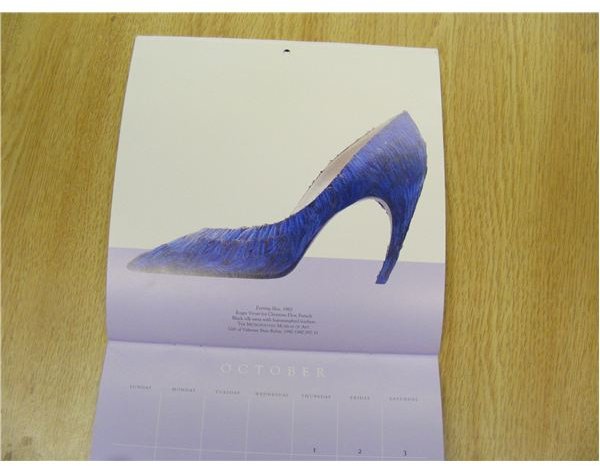 Step 2 – Cut out and create materials
Cut apart pop cans, juice boxes, newspaper or other recycled materials to shape a shoe. Create a wire shoe shape, a foam sandal, or a paper mache sculpture. Paint an old shoe in an artistic way or add buttons, flowers, magnets, screws, lace, feathers or other materials using hot glue. Use a hole punch to make holes in pop can pieces to tie them together. Use a leather or shoe lace to sew together pieces. Add a pedometer to keep track of steps made. Add a tape measure to measure the carbon footprint. Tape or glue other pieces as needed to create a sculpture.
Step 3 - Mounting
Show students that what they mount the sculpture on is also a statement. What is the "footprint" they want to leave on the earth? What step is this in the steps needed for creating a green world? Think outside of the shoe box, so mount the shoe on an unbalanced world. Show how people are "walking a fine line" by mounting the shoe on a tight rope. Hang the shoe by its laces to show the "hang ups" people have about recycling.
Images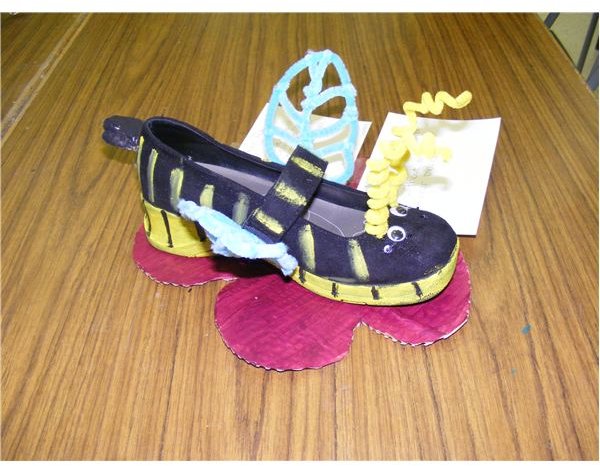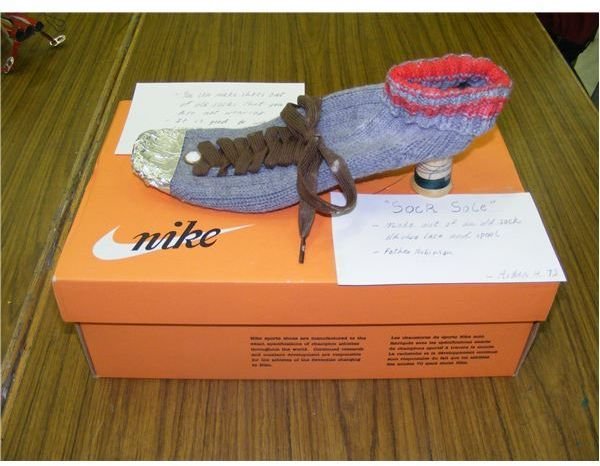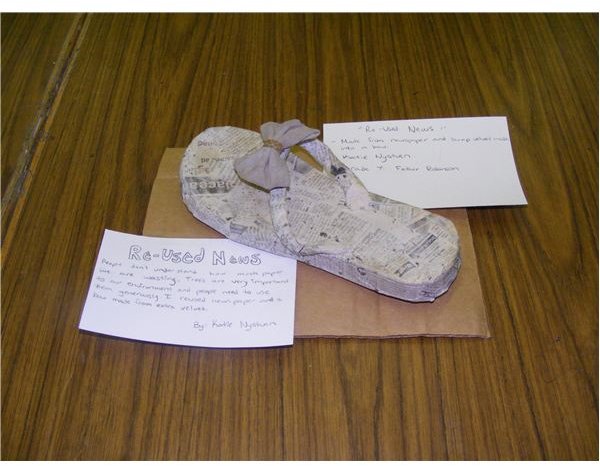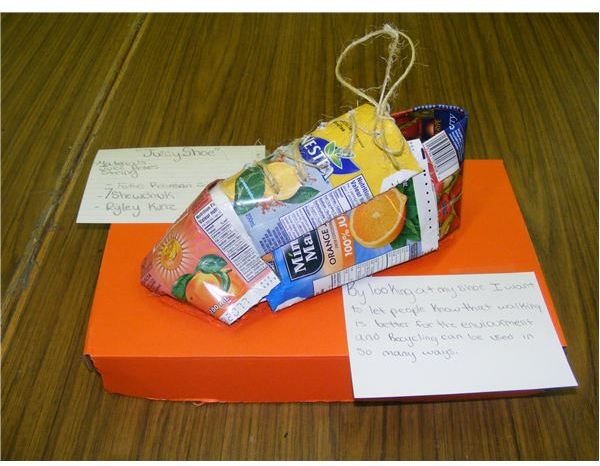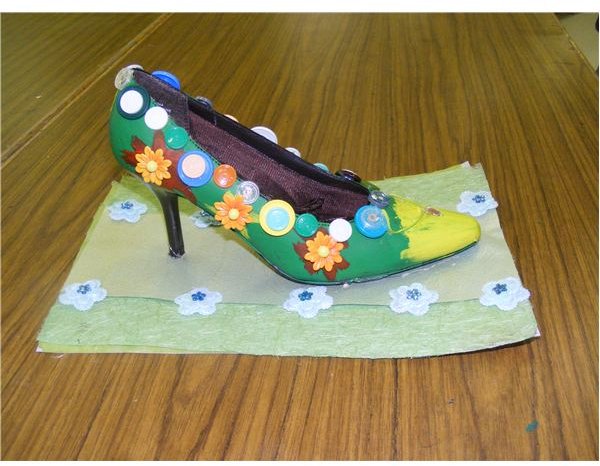 On a 4 x 6 index card, have students create a title for their shoe. For example, a paper mache shoe made of newspaper could be called "ReUsed News". Then the art medium should be listed as well as the student's name and grade.
Then ask the students to write on a 4 x 6 index card what they want people to learn from their recycled art project. The students should teach that conservation may mean using an alternate form of transportation, recycling and reusing materials. They may simply ask the question, "What is your carbon footprint?"
Step 4 – Displaying the Art
Remember to display the student work together in a showcase or on tables with the index cards they've written. The title could be "What Footprint Will You Leave?" or "Conservation: Thinking Outside of the Shoe Box" or "Don't Throw Shoes, ReUse!".
Images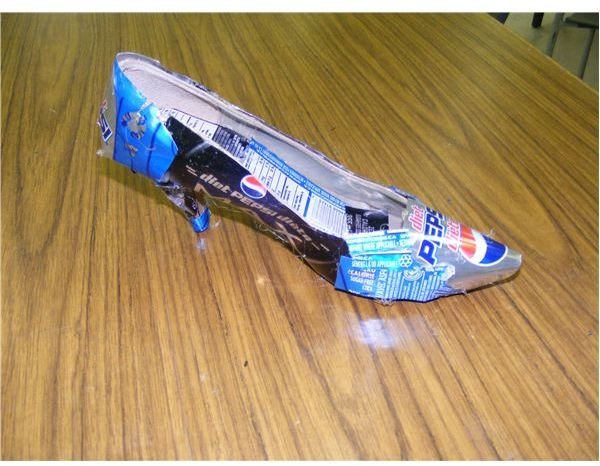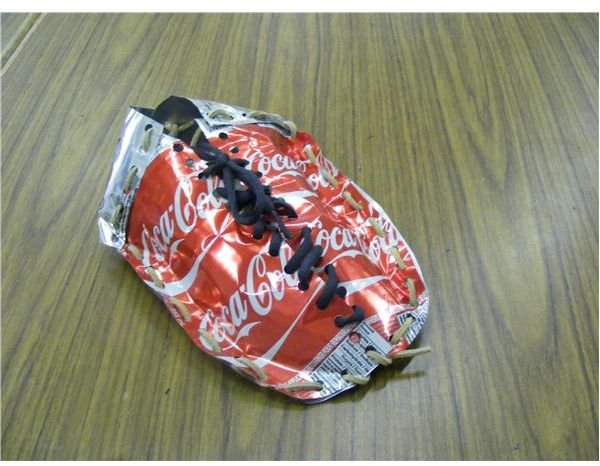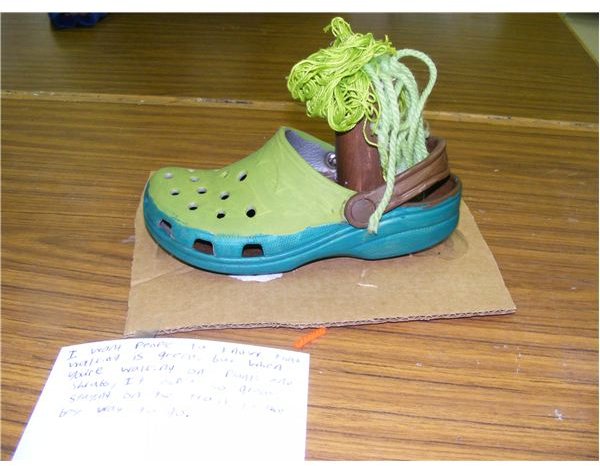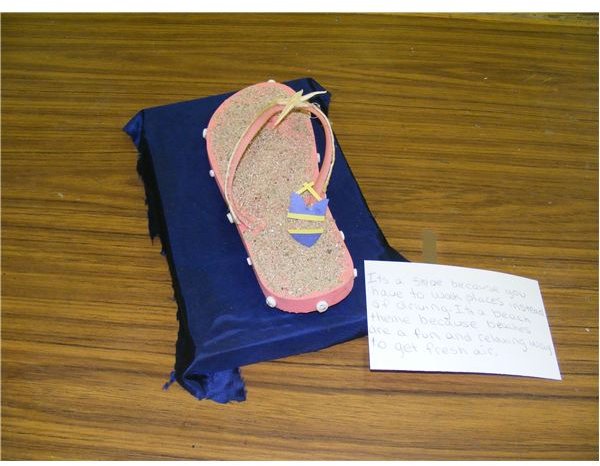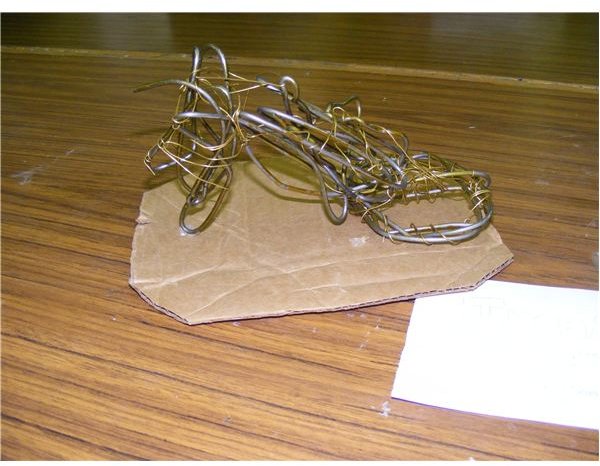 Hints and Tips
Use old shoes and add on extra features to them such as a pedometer.
Create shoes out of old pop cans to match purses and hats made of the same materials.
Use the alternate transportation theme but allow more than shoes to be displayed. For example, create shoes, busses, bus stops, bikes, paths etc. The sculptures may or may not be usable. For example, a shoe covered in pop cans is usable more so than a shoe made from only pop cans.
Create houses or articles made out of the shoes, such that the shoe looks large compared to the size of the people using it. A shoe house shows how large the problem is to get people to think outside of the box. A shoe containing a plant shows both alternate transportation and growing your own food.
Use the lesson to teach students the benefits of recycling. Ask them how the project may help the environment by recycling or re-using materials in a new way. Demonstrate can, bottle, paper and cardboard recycling when doing this project by recycling in the classroom and school, daily.
Use the lesson to teach about how shoes are made. Create shoes from other types of materials to be used again. For example a sandal made from recycled rubber and a material strap can be used again rather than tossed out.
Use the lesson to demonstrate or display other cultures that create art and crafts from recycled materials. For example, recycled rubber sandals are created in India. Some of this art may be sold in stores or online. Discuss what fair market value or fair trade is. An example of a website for recycled art from other cultures may be found at: www.tenthousandvillages.com
This easy recycling art project is creative and open to many ideas. Students will find it easy and fun to redesign and paint on shoes. They can create useful and beautiful art from recycled materials. Conservation and recycled art is a science and art project where students can reuse resources, teach others a useful conservation message, and see recycling as an art form.
This post is part of the series: Recycled Art Projects - Creating Beauty from Recycled Materials
This series will be about easy to create art and crafts from recycled materials. Each project will use recycled materials in a new way. Kids will learn easy art projects to create robots, shoes, purses, and bowls from recycled material.