Superfudge by Judy Blume: Lesson Plan and Activity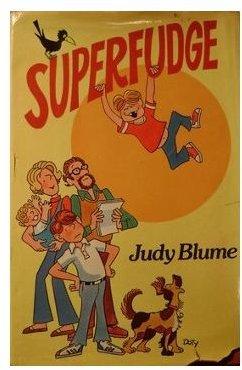 A Growing Family
As if having a younger brother named Fudge wasn't stressful enough for Peter, his parents have just made a big announcement. They are having another baby!
The Hatcher family is happy to welcome their third child, a little girl nicknamed Tootsie. Peter is quite nervous at first, but soon comes to love and value his baby sister. Fudge however, takes a great deal longer to adjust, offering to sell the baby, give her away, and when all else fails, he even tries to pay people to take her.
A Season of Changes
Life in New York City becomes even more complicated when another big change is announced. Peter's father Warren decides to take a year off from his job to write a book on the history of advertising. The family leaves Manhattan for 12 months, moving to Princeton, New Jersey where Warren will work on his book.
While living in Princeton, Peter and Fudge have both individual and joint adventures, including a worm selling business with Peter's friend Alex, the training of Fudge's bird, "Uncle Feather" and newfound friendships for both of them.
While Peter adjusts well to his new school, Fudge has some initial issues with attending school for the first time. These difficulties will amuse students and teachers alike as they read about them.
Throughout the course of the book, the family experiences ups and downs including a serious scare. In the end, the Hatcher clan survives the year in Princeton with grace and humor.
Teaching Guide
Use the downloadable book guide, complete with several discussion questions and a mini project to spark interest in reading the novel in class. The vocabulary list provided offers 10 words students need to know in order to read the book, which will make reading comprehension easier for all students. Happy reading!
References
This post is part of the series: Superfudge Reading Guides
This five-part series includes downloadable guides to help teachers lead students through author Judy Blume's series.