Why Publish a Yearbook?
When it comes to homeschooling, many parents are concerned that their children may suffer from a lack o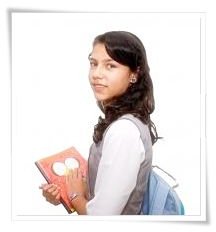 f socialization or miss out on some of the things they might get in a traditional school environment. This couldn't be further from the truth. A willing homeschool educator can find many creative ways to make all types of experiences available to their students – including making a yearbook. Find some tips in creating your own with common computer software.
Planning Your Yearbook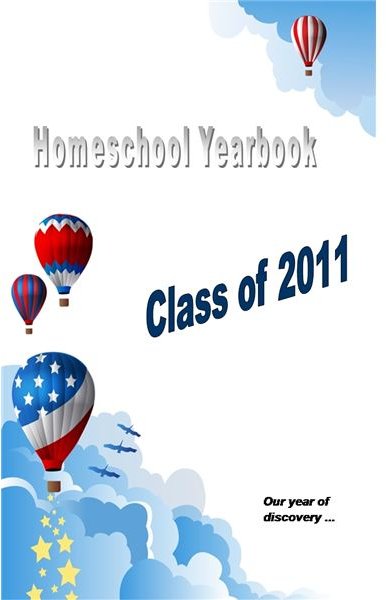 Yearbook planning is essential and is best done before the school year starts. You'll want to make sure you cover all the functions required to put together a terrific yearbook filled with treasured memories. That means assigning who will do what. Since a homeschool yearbook team may be smaller than the traditional school unit, many of the responsibilities and tasks may be combined for assignment.
Here are the functions that need to be covered for yearbook publishing.
• Editor and Producer
The yearbook editor and producer are responsible for planning, designing and publishing the yearbook. They collect all the photos and information from the photographers and writers and pull it together into the final product.
• Photographer
The yearbook photographer has a full-time job all year long. The best photographers always have a camera handy to snap a candid shot of anything that has to do with the homeschool experience. Equipped with a camera, they capture the moments to be remembered.
• Writer
The yearbook writer puts names with faces and sets the words to the pictures. The writer collects all the information on the people, places and things throughout the year.
Collecting Photos and Information
Once you've established who will be doing what, it's time to start collecting photos and information that will be assembled later to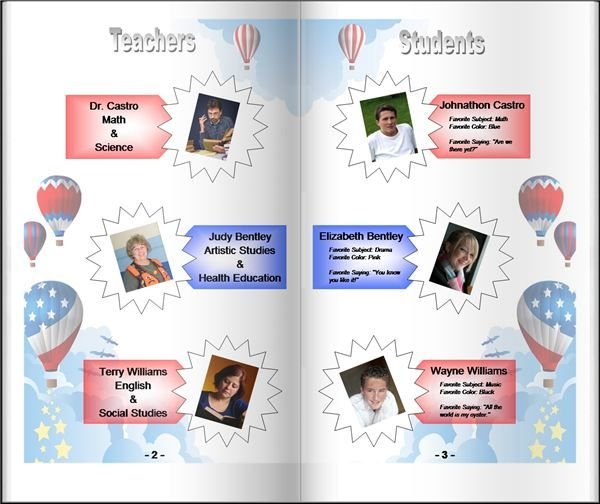 create your yearbook. Here are the basic homeschool yearbook pages that you will need to plan, pictorialize and write about.
Cover
Introduction or dedication and index (pictures optional)
Teachers
Students
Awards (pictures optional)
Activities
Photo (montage)
Signature (pictures optional)
In addition to taking headshots for the teacher and student pages, don't forget to gather photos from activities and events throughout the year. Remember to shoot pictures of sporting events, field trips, recitals or other performances. Take random photos for the photo montage pages where anything goes (well, almost anything – using your discretion, of course).
Creating Your Yearbook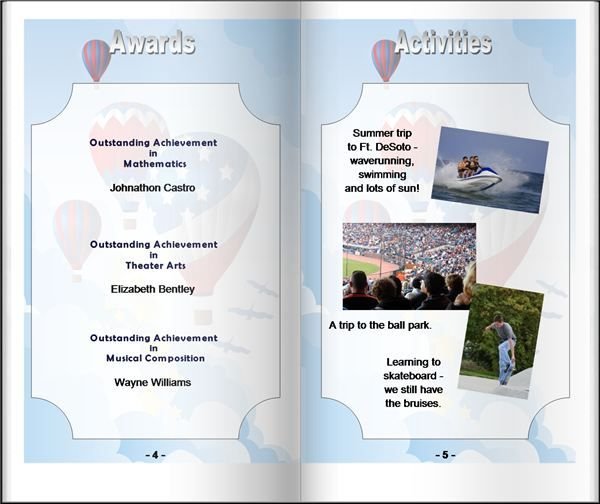 At the beginning of the year, you'll want to pick a template and theme. If you haven't already done so, this might be a good time to think about selecting a homeschool name or mascot so it can be included in the templates and theme of the yearbook.
You can create your templates from scratch in almost any software package that includes clipart or the ability to insert a picture. That includes Microsoft Office products like Publisher, Word, Paint, Excel or PowerPoint. Or use free shareware software like Open Office to create your templates and pages.
You'll also need basic graphics or photo editor software like Microsoft Paint or a free package like Photoscape to crop and size pictures or graphics. Each software package comes with an easy tutorial or help function for anyone using them for the first time.
Free themes, borders, clipart and layout pages are available all over the web. Cropmom.com has a yearbook gallery with great ideas and Microsoft Publishing offers a free yearbook template that can be customized in many ways. You're also welcome to use the quick yearbook example I created in Microsoft Excel (click here). Just replace the pictures and words for your own homeschool experiences and you'll have a wonderful homeschool yearbook filled with memories to cherish for all time.
Once you pick a theme, it's time to layout the pages. You can create pages first and insert pictures later – or create pages around the pictures taken. After you get the pictures into the pages, complete your project by having the homeschool yearbook writers add information and captions to the material.
Proofreading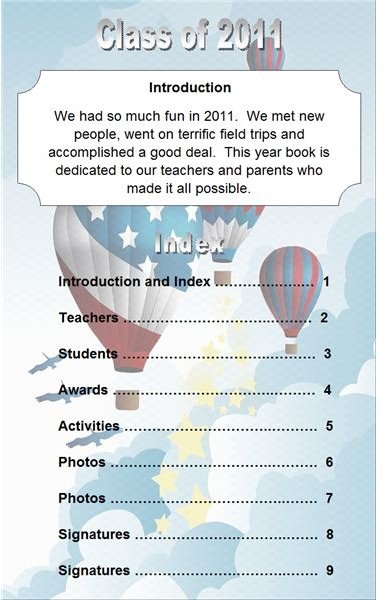 The last step before publishing your yearbook is proofreading. Each member of the yearbook team should read the entire book for typographical errors, layout and completeness. Also ask the teachers to proofread the first copy. All markups should go to the editor who will make the final changes and ready the yearbook for publishing.
Publishing a Masterpiece
Yearbook publishing has come a long way in recent years. Digital cameras and software platforms allow you to publish your yearbook in electronic or hardcover form. Creating a yearbook PowerPoint or scrapbook-style product can be published (shared) electronically for free on scrapbook and social media sites like Flickr or Facebook.
However, if you want a hardcover yearbook, it's now easier than ever to upload your yearbook pages to Print On Demand (POD) sites like Lulu,which allows you to print as few as one to one hundred or more, as required.
Image Credits:
Article Images:
• Female student, Image by sxc.hu.com/memoosa
• Examples of homeschool yearbook, Images by Terry Mulligan
Images in Yearbook Example/Template:
• Teacher #1, Image by sxc.hu.com/MikLav
• Teacher #2, Image by sxc.hu.com/lhumble
• Teacher #3, Image by sxc.hu.com/arinas74
• Student #1, Image by sxc.hu.com/black-dog
• Student #2, Image by sxc.hu.com/aditzugh
• Student #3, Image by sxc.hu.com/Sammyless
• Jetski photo, Image by sxc.hu.com/tam oliver
• Ballpark photo, Image by sxc.hu.com/Schwab
• Skateboard photo, Image by sxc.hu.com/jnewsted
References:
This article is based on my personal experience:
• Homeschooling my daughter and freelance writing as the Clearwater Homeschooling Examiner for the Examiner.com
• My work on the committee for the Brentwood North Junior High School yearbook
• My work as an artist at Terry Mulligan Gallery
Homeschool educators and students can use these resources for learning how to put together a yearbook plan, layouts and publishing:
• Yearbook Syllabus by teacher, Ms. McGrew; https://oak.cats.ohiou.edu/%7Ekm196506/yearbook/yb_syllabus.htm
• Student yearbook for junior high and high school (template) download from MS Office; https://office.microsoft.com/en-us/templates/CT010281922.aspx?tl=2#pg:3%7Cai:TC010362759%7C
• Yearbook Gallery from Cropmom; https://www.cropmom.com/Digital_Scrapbook_Layouts/Gallery.aspx
• Open Office Download from Cnet.com; https://download.cnet.com/OpenOffice-org/3000-18483_4-10263109.html?tag=mncol;6
• Review of Free Photo Editor Software From Photoscape; https://www.bukisa.com/articles/421616_review-of-free-photo-editor-software-from-photoscape#ixzz1J8y6mtOD
• Microsoft Office; https://www.microsoftstore.com
• Lulu; https://www.lulu.com
• Taylor Yearbooks; https://www.tayloryearbooks.com