How to Develop Writing Workshops: What to do After the Final Draft?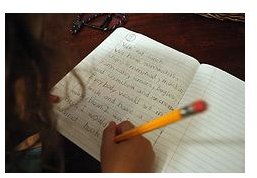 Illustrating and Writing Activities
Teachers often wonder how to do writing workshop, but you have to figure out what works best in your classroom!
As adults, when we finish a piece of writing, the last thing we want to hear is, "Okay, go get started on the next one." We want time to take a breath and let our brains relax a little before starting the next piece. Most of your writing workshop students will feel the same way. After students finish their final drafts, here are some writing process lesson plans you can do with them:
Illustrating their own published copy: Students can draw illustrations to go with their stories or essays. Depending on the subject, they can also take photographs of material that would fit with their story. For example, if a student wrote an essay on why the playground needs a new piece of equipment, she could take a picture of the old equipment with a digital camera and print the picture out on a printer. She could find a picture of the new equipment on the Internet and print that out for her illustrations.Ask students to study illustrated books or magazines and plan what types of illustrations will go with their writing workshop piece.
Illustrating a peer's final draft: Another illustrating activity is for students to draw or find pictures to go along with another student's text. This is the way an actual illustrator often works in the real world, which you can fit into your writing process lesson plans. Two students, who finish their final drafts around the same time, can switch papers and be responsible for illustrating their peer's work. This is how to do writing workshop.
Brainstorming/Listing: Instead of prewriting a new piece by filling out a graphic organizer or planning paragraphs, students can sit with a blank sheet of paper and make a huge list of any topic that comes to mind with this writing activity. They can also create word webs or anything else that helps them come up with ideas. You probably talked about different prewriting strategies in your writing workshop lesson plans. Allow students who also recently finished a final draft to brainstorm together. Again, this is a time for students to work on a writing activity but also allow their brains a little relaxation and freedom.
Celebrate that Final Draft!
How to do writing workshop with celebrations!
Completing a piece of writing from the prewriting phase to the publication phase during writing workshop needs to be celebrated. Allow students to feel excited when they finish their final drafts instead of worrying about your next writing process lesson plans. Here are some ideas for celebrating:
Arrange for your students to read their published pieces outside your classroom. Students could read to the custodial staff, school nurse, secretaries, librarian, lunchroom staff, their previous teachers, a siblings' class, the principal and so on.
Keep refreshments at school for a "writing" party. When you have several students who have finished final drafts around the same time, let them enjoy some snacks (they can even bring their own if you wish) and share their pieces with each other.
Ask students to plan a celebration of writing toward the end of the school year. Whenever students take a piece of writing all the way through the writers' workshop process, they can spend a certain amount of time working on plans for this celebration. They might be designing invitations, creating posters, putting together a program, or brainstorming what the celebration will look like.
This post is part of the series: Writers' Workshop Tips
Writers' workhshop is a great method for teaching writing, but it can be difficult to implement in the classroom without support and a few tips. This series will give you tips on organization, different steps in the writing process, and help with implementation.