Problem Solution Essay Structure: How to Write a Problem Solution Essay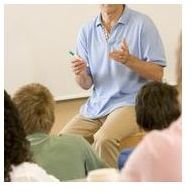 The Dilemma
I assigned a problem/solution essay and couldn't wait to see the results. After reading 143 illogical solutions, I realized I hadn't really
shown my students how to write an effective essay of this kind. I needed to be punished for not explaining the key principles of this essay structure. I opened the wardrobe cabinet in my classroom, wedged my head in, and began opening and slamming the door until I passed out…. Before you follow a pattern similar to this one, I'll share with you the lesson plan I developed to make sure my students knew how to present logical answers to problems in an essay format.
Problem/Solution Essay Structure
For a problem/solution essay to work, it must present a clearly defined problem in the introduction, present and explain possible solutions in the body, and restate the problems and the benefits of the solution in the conclusion. Instruct students to copy the following points:
A successful problem/solution essay:
Clearly states the problem and explains its significance.
Explores all aspects of the problem, especially its causes and effects.
Offers one or more solutions and how to implement those solutions.
Uses supporting details: anecdotes, facts, examples, and statistics.
Uses logic to persuade the audience.
Explains what readers can do to solve the problem.
Prewriting and Drafting
Whether you assign it as a formal essay or a timed-writing assignment, you can help students plan their problem/solution essay with the following tips:
Brainstorm problems. High school students are great at brainstorming problems. Teenagers are best at brainstorming problems about their school. Community, national, and international problems make for better essays with more capable classes.
Think about the problem. Jot down its causes and effects. Write down why it's a serious problem that deserves attention.
Brainstorm solutions. Use a cluster map to discuss how the problem can be solved.
Evaluate potential solutions and eliminate impractical ones. Find the best solution by examining whether people will support it.
Identify the audience. Address the concerns of the essay's most likely readers.
Research the facts. Find data and expert opinions to support your solution.
After solutions have been evaluated, researched, and organized, it's time to draft. Use the following organization:
Identify the problem and explain its significance.
Explain causes of the problem, effects of the problem, and present data to support your assertions.
Address likely concerns.
Conclude by describing how to achieve your solution.
This post is part of the series: Different Types of Essays
Implement these strategies for different types of essays.