Resources to Teach Sight Words and Spelling Practice: A Guide For Children & Parents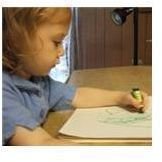 When it comes to reading and spelling, there are three key areas in which you can provide support to your child at home. These include
helping your child to recognize, read and spell common words in the English language. The goal is for these common words to actually become "sight words." With this in mind, we offer a guide to sight words and spelling practice that you can use with your child.
What Are Sight Words?
In their most basic form, sight words are simply words a reader recognizes automatically, on sight - without guessing or decoding. When it comes to reading, sight words typically comprise more than half of a child's reading tasks. For this reason, comprehension of what is being read hinges on the student's ability to read the text accurately.
Sample Sight Words: Lists for Practice
While there is no "official" list of sight words, there are two lists that are generally used in education. The first is the Dolch List of Basic Sight Words. This list of 220 words was compiled by Edward William Dolch, PhD. The second is Fry's Instant Word List, created by E.B. Fry, J.E. Kress and D.L. Fountoukidis. This list contains 1,000 high-frequency words divided into groups of hundreds. Here are several sample lists of sight words which may be used for practice at home.
Suggested Practice for Sight Words
One of the easiest ways to practice sight words with your child is through the use of games. Games make learning fun, and the friendly competition can be a motivating factor for many children. Another way to practice sight words is by highlighting them in favorite stories or familiar poems. The goal of learning, is to make sight word recognition and reading automatic.
Sample Spelling Lists for Practice
Learning to spell is another important skill which parents can reinforce through work at home. Here are several sample lists of spelling words which you may use as a guideline for developing your own spelling program, or simply for practicing the words at home with your child. Again, while these lists are not meant to be all-inclusive, they are a good starting point when looking for benchmarks to use in developing your own review or lessons.
If you are not simply working off of a list sent home from school, but are devising your own curriculum instead, it is advisable to test your child on words slightly below and slightly above the level that would be considered age-appropriate. From there, you can determine which words he or she already knows or needs to review. Once the age-appropriate words have been mastered, you can begin to work on the next level up.
You should also spend time teaching or reviewing words which are encountered as part of your child's day-to-day life. Is he involved in soccer? Then you will want to work on familiar words related to the game. Does your child interact with extended family on a regular basis? Then learning to spell their names would be important. Does your child have a favorite TV show, video game or book? Spending time learning how to spell related words will help to improve his writing skills.
Spelling Practice
The goal of spelling practice is for mastery to occur both in isolation and in written work. In other words, it is not enough for the child to simply memorize the spelling of a word for their test on Friday. Instead, they should be able to consistently use the correct spelling of a word in their written work once it has been learned. This can only be accomplished through repeated practice. Here are suggested activities which you can use at home, regardless of your child's age, grade or skill level.
Spelling Games Online
Another fun way for your child to practice their spelling skills is by using an online game, program or application. Here are several ideas to try. Each has been reviewed by members of the Bright Hub writing community, and these articles offer insight into using them.
Spelling Help for Struggling Learners
Everybody needs help once in a while. For some, spelling proves to be an exceptional challenge. Does your child have special learning needs, struggle with memorization, or simply have trouble transferring conventional spellings into his or her everyday writing? Consider trying alternative methods of spelling instruction and practice. Here, you will find tested tips from teachers, along with learning strategies developed by classroom specialists.
Reinforcement Activities
Being able to collectively recognize, read and spell high-frequency sight words is a necessary skill that will help your child become a strong reader and writer. You can find additional opportunities for your child to practice using these skills together through activities like the ones detailed below. By working to the point of mastery, you can ensure that your child becomes a fluent reader with good comprehension.
Do you have other suggestions for activities or resources which can be added to our guide on sight words and spelling practice? If so, be sure to visit the comments section below.
References
The information offered in this guide is based on the author's extensive experience as a classroom teacher and homeschooler.