Looking for Games to Learn Sight Words? Play Er-u-di-tion!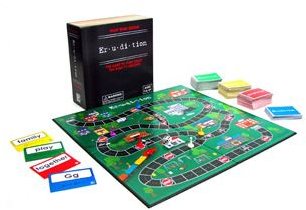 Reading is Fundamental
The ability to read is one of the most important skills a child will acquire. Why? The answer is simple. Reading is the key to all learning, especially in today's information-driven society. Literacy, however, begins at home. As a parent, there are many things that you can do to help your child become a successful reader. One is to play games to learn sight words. Games are a fun, practical and easy way to incorporate the entire family in the learning process! Even older children can join in the fun!
Make Reading Fun
A new and exciting game that you can play at home with your child is Er-u-di-tion. This fun reading game was developed by Denise and Kelly Bossard - mom and dad to Connor and Emma. Recognizing how important high-frequency words were to son Connor's school curriculum, they were looking for games to learn sight words that would make the process both easy and entertaining. The solution (and idea for Er-u-di-tion) came during a family "game night." Why not use games to learn sight words?
How It Works
According to the developer's website, "Game cards comprise up to 90% of beginner level reading material and over 50% of all English text," which is why games to learn sight words (such as Erudition) are successful. Through exposure to the letters and sounds of the alphabet, as well as over 300 of these sight words, children and students can increase their vocabulary and improve their reading skills. Er-u-di-tion is able to accomplish this because the game:
Teaches children to automatically recognize high frequency words.
Promotes instant recognition of common phonetically irregular words.
Provides definitions to foster both vocabulary learning and reading comprehension.
Provides syllabication to promote word decoding.
Instills confidence to enable reading development.
Look Mom, I'm Reading
Having my own son who is learning to read, I was excited to give Er-u-di-tion a try. As a former elementary school teacher with 10+ years of experience, I understand the benefits of mastering high-frequency sight words early on. I also understand how important it is that games for sight words keep learning playful, fun and informal so as to encourage a child's natural "curiosity about language and their experimentation with it." (Yopp, 1992.)
The game itself is colorful, attractive and well-designed. The layout reminded us of a cross between Candy Land and Shoots and Ladders. Since these are two family favorites, my five year old couldn't wait to give it a go! Luckily, the directions were simple, easy to follow, and well articulated. There is nothing worse than telling a small child they will have to wait to play a new game while mom deciphers how!
Here is what the Sight Word Games website says about play:
"Er-u-di-tion jump-starts the road to reading. The game takes players on a fun adventure through literacy land, complete with common land marks and street signs. You will enjoy an ice cream cone, encounter a construction site, ride a train and play on a playground. Recognize a sight word and you earn a bonus roll. Be the first player to reach the library and you are a winner!"
The creators left no detail overlooked. They even mention that the board is designed to "move your child's pawn in the same direction we read," and encourage parents to "please note this to beginner level players to reinforce that we read left to right and top to bottom." Also included with the game was a pamphlet of "Teaching Tips" for extending the play. The Bossards must really understand that with children, even games provide opportunity for a "teachable moment!"

My son and I played several rounds of the game right in a row, and soon even my 9 and 11 year old sons were joining in. The best part? We could all play the games for sight words practice, because the cards are categorized by reading level. Children of different ages and abilities can play together while each working on the skills they personally need to develop - be it letter/sound recognition, word recognition, vocabulary development, word comprehension or even spelling practice. It is easy to see why Er-u-di-tion received the 2009 Creative Toy - Game of the Year Award.
Thumbs Up for Er-u-di-tion
After trying several different games to learn sight words, our family gave Er-u-di-tion a big "thumbs up." If you are looking for fun games to learn sight words, look no further! This has all of the components you need. For more information about Er-u-di-tion, or to find where you can purchase the game locally, visit the Sight Word Games website.
References