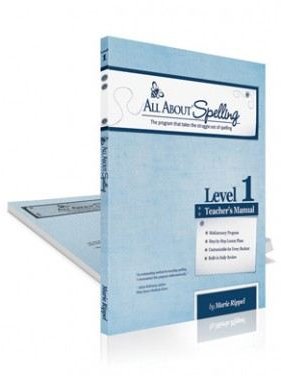 As an educator, parent and "afterschooler," I have long struggled with a balanced approach to spelling instruction. My experience has been that the "one-size-fits-all" approach of most programs simply fails the majority of my students. After years of trying various curriculum options, I am excited to say that I believe the All About Spelling program, designed by literacy expert Marie Rippel, provides all of the components I have been looking for – and then some!
A Multisensory Approach
It is important to first note that the activities are designed to maximize learning by "teaching spelling through the three main pathways to the brain: visual, auditory, and kinesthetic." (All About Spelling, 2007-2009) This approach is based on the understanding that children learn best by doing. Therefore, every lesson incorporates activities based on sight, sound and touch. (Parents and teachers working with special-needs learners will find this aspect of the program particularly helpful.) Since each of these areas is a critical component of learning, none should be overlooked or skipped.
The Components
The required components for using the program include the following:
Starter Kit (with the 105 color-coded phonagram letter tiles, attachable magnets and interactive phonogram CD-ROM that are necessary for teaching Levels 1-6)
One Teacher's Manual
One Student Packet per student
Each Student Packet includes1:
Four sets of flash cards printed on card stock and ready to be cut apart. Flashcards are designed to help the student learn and review phonograms, words, and spelling rules.

Phonogram Cards for learning to read the phonograms
Sound Cards for learning to write the phonograms
Key Cards for learning the spelling rules
Word Cards for mastering the spelling words
A set of five colorful tokens that provide your student with a fun, tactile way to segment words and identify individual sounds.
A progress chart and completion certificate that allow you to track and celebrate your student's success.

Laminated, color coded divider cards are available sold separately from the Student Packet.
Mastery-Based Levels
A key component to the program is that it is master-based instead of grade-level based, which is a distinct difference when comparing the lessons to other spelling programs! This means that your student does not move on until he/she has achieved mastery of the skills introduced – and are not held back if he/she is ready for a more difficult challenge or advanced pace. Each lesson builds on the previous lesson, and continual review is incorporated directly into the program. For these reasons, the program is an excellent choice for both remedial and gifted instruction and learning.
Designed for all ages – preschool to adult – there are currently five levels. A sixth level is due to be released shortly. By the end of Level Six, your student will be spelling at the high school level. Level Seven continues the learning into the high school level.
All About Spelling Makes Teaching Easy
The most beneficial component of the program is the scripted lessons. Each plan is clearly laid out and easy to follow. Not only are the necessary materials readily identified, but so are the different components of each lesson. I know exactly which portion of the lesson is review, new teaching, practice or reinforcement. While I am no longer in the classroom, I can easily see that this would be an added bonus for teachers preparing lessons for substitutes, classroom aides, support staff or student-teachers. Having the scripted lessons means that you are assured your students are receiving accurate instructions offered in a manner which is already familiar to them.
The All About Spelling program has been a blessing to our family. I am successfully using it with all three of my boys – each with their own learning styles, challenges and successes. If you have been looking for a truly effective spelling program, your search is over. All About Spelling is the key to your student's "spelling success!"
References
To learn more about the All About Spelling program or place an order, visit the author and creator's website at www.allaboutlearningpress.com/all-about-spelling
1 Information regarding the All About Spelling program components was obtained from the All About Spelling website (research conducted 11/10/09), and is also based on the author's personal use of the program in a homeschool setting
Images Credits
Image courtesy of the All About Spelling website
Disclaimer
Offered as a disclaimer: I did receive a free copy of the lower-level program to assist with the review, and as an enthusiastic supporter of the program, you will find my testimonial on the creator's website.