Interventions for Violent Behavior in Schools: Tips for Teachers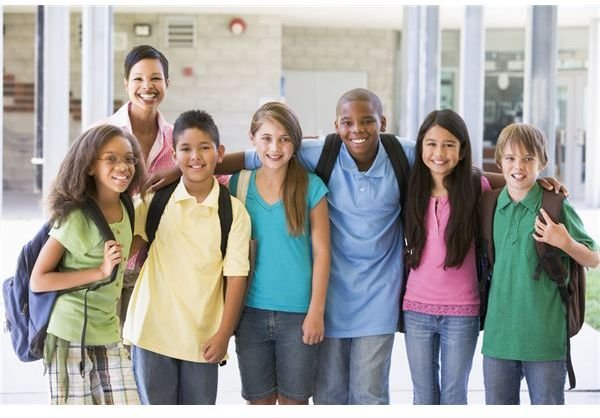 When students are at a risk for violent behavior, the time to act is before an incident of violence occurs. Observing students at risk on a regular basis who have a tendency toward violent behaviors is paramount in importance in preventing a violent incident. In addition, it is important to have a plan in place so that everyone involved is accountable and knows what to do to help prevent problems.
Here are a few tips to remember which are applicable to most public schools. Each school should adjust these, according to what works the best in their situation.
Know Who the "At Risk" Kids are Beforehand
---
This is probably the most important factor in preventing and working through violent behaviors at your school. The primary objective should be first and foremost to prevent violence. Identification of previous offenders from other schools, referrals from psychological services, and parent calls for help should be a few of the ways schools are made aware of students who bear watching.
In addition, any students with a tendency toward violence, either on or off the playground should also be carefully observed, as well as anyone who has ever made a verbal threat. While the goal is not to create a "big brother" society within your school, knowing the probable issue will be the greatest deterrent to preventing violence in your schools.
Have a Counselor On-Hand Every Day
---
Some schools are so involved in other activities that their counselor is either not present or unavailable. This is a recipe for disaster. Should a problem occur, an effective counselor should be on hand every school day in which students are present, to intercede in a potentially volatile situation. Teachers and counselors have often been able to thwart a potentially violent act or plan the day before it was to be carried out. Knowing what is going on and having intervention specialists on campus daily is a necessary component of intervention.
Have a Crisis Intervention Plan with Yearly Meetings to Update
---
Most schools have a crisis intervention plan, but they do not know where it is or who is responsible. Often, when teachers or even administrators are asked, they cannot locate the plan. Knowing where the plan is and how to implement it, is of dire necessity, in order to prevent and intervene in crisis situations.
Not only that, it is the law. Know your state legislation that applies to your district and who is responsible for various aspects of the plan and keep it up to date. This responsibility falls primarily with the counselor, but the entire school is usually involved. Parents and the community should be involved also and should be invited to the meetings.
Prevention is the Best Cure
---
It is much easier to prevent an issue than to fix a problem once it has occurred. What would the faculty and staff of Newtown, Connecticut have done had they known the plans of the misguided young man on that fateful day last spring? What steps would they have taken to have prevented such a tragedy? What steps should your school take?
Look into ad hoc groups and crisis prevention groups which specialize in this area of school interventions. This is a very popular topic right now on the internet as well. You can easily search to see what plans other schools are using for ideas on what should be included in your own.
Know the Kids
---
This is perhaps the single most important factor in preventing violence before it starts. There has never been an incident of violence, to my knowledge, which took place where there was not some talk or planning about it beforehand. Listening to kids' conversations, being aware of threats made, even in jest, and other tell-tale signs will be the greatest weapon we have against school violence. If each teacher knows their kids and what they are thinking, refers them to appropriate services or counseling, as needed, and works together as a team, the number of incidences will go down.
In the final analysis, being proactive with students with problems, knowing how and when to refer them to outside services, regular conferencing with parents and other support staff, and active listening will all go a long way toward preventing future violence in our schools. Once violent behavior has occurred, the student should be referred to the appropriate agencies for help, and returned to school only when they can be deemed safe to do so. If the primary goal is prevention, and everyone is dedicated to making safety first, it can happen.
References
This post is part of the series: Students with a Criminal Record or Violent Behavior: Solutions
Teachers in any school may eventually encounter a student who is at risk of violent behavior, or who may even have a criminal record. What is the best method of working with these students? Read this series for tips and solutions.