2 Easy Paper Craft Projects for Toddlers: Paper Plate Cats & Hand Print Flowers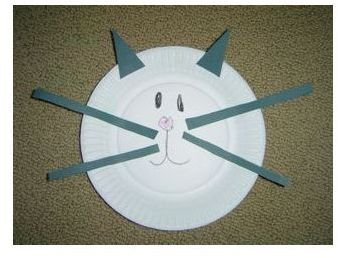 Toddler paper craft projects are both entertaining and educational for children ages 18 months to 3 years. These two crafts are made with common classroom materials:
Paper Plate Cat Face
This paper plate craft gives toddlers practice in drawing the eyes, nose, and mouth of a cat. Older toddlers will be able to glue the ears and whiskers to the paper plate, while younger toddlers may need some guidance from an adult. Teachers can show the toddlers a completed project for reference and encourage them to use different colors for decorating the paper plate face.
Materials needed:
crayons
paper plates
construction paper (pre-cut into triangles for cat ears and strips for cat whiskers)
glue sticks or school glue
Step 1: Give each toddler a paper plate and some crayons. Ask them to draw eyes, ears, and a nose for their cat face. Children can also add markings such as patches or stripes to the paper plate.
Step 2: Hand each child two pieces of pre-cut construction paper triangles and four pre-cut paper strips. Instruct the toddlers to glue the ears to the top of the paper plate (on the back side), and assist as needed.
Step 3: Ask each child to glue two strips of paper on each side of the cat's nose to make whiskers.
Allow glue to dry. This toddler paper craft project can also be turned into a cat mask by using a hole punch on each side of the face and attaching string to accommodate each child's head.
Hand Print Flower Picture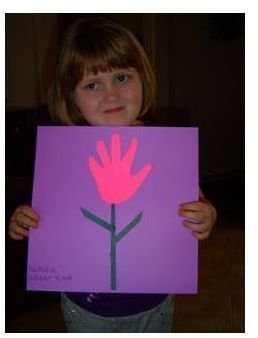 This paper project makes a nice keepsake for parents of toddlers, as each child uses his or her hand print to make the top of the flower. The flower and background paper can be any color that the teacher or children prefer.
Materials needed:
construction paper for background
construction paper (any color) for flower
green construction paper strips for stem
glue sticks or school glue
pencil
scissors
Step 1: Trace each child's hand print onto the construction paper lightly with a pencil. Cut out the hand prints and give each one to its owner.
Step 2: Instruct the toddlers who have gluing skills to attach their hand prints to the center of a piece of construction paper. Assist toddlers with glue as needed.
Step 3: Hand each toddler a strip of green construction paper and ask them to glue a stem onto each flower.
Allow glue to dry. Write the date and each child's name on the paper for parents to keep.
Whether at home or in the classroom, toddlers will love to make a cat and flower paper craft while using fine motor skills and learning to follow directions. These paper craft projects will prepare young children to make more advanced paper projects in preschool.
References
Ideas and activities come from the author's twenty-five years of teaching experience.

Images are provided by the author.
This post is part of the series: Easy Toddler Crafts
Here you will find fun and easy toddler crafts including instructions on how to make a cat face and handprint flowers. These easy toddler crafts make great gifts. We hope your toddlers enjoy them!