First Day of Preschool Advice & Lesson Plan Ideas From an Experienced Preschool Teacher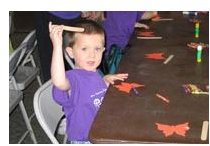 Welcoming Your New Students
As students begin to arrive on the first day be sure that you are prepared. They will be more at ease if you are ready and waiting to welcome them, instead of running around finishing up last-minute plans. Try and greet students at the door and guide them into the classroom. I found that if the students had a routine when they arrived at school, it helped with the transition. I set up an attendance center where the kids checked in upon arriving at school. I used a pocket chart and wrote the kids names on small cards. The back of each card had a smiley face sticker on it. The students found their name, turned it around in the pocket to show they have arrived. This also is a great way to teach name recognition.
If you have a student who is having a hard time separating from a parent, it is really best to not invite the parent into the classroom. You need to set the standard right away and make a clean break, for both the parent and child. If you set the precedent that if the child cries, mom will stick around awhile, you will have hard time helping the student feel confident enough to separate from mom. That said, if a parent is insistent, you also don't want to make a scene and kick them out! If you have an orientation meeting before school begins, you may want to share this with the parents at that time. Then they are prepared to be hurried along if they have a crying child.
Setting the Standard
One thing that is a necessity is setting a high standard for your students. Establish a routine on day one, and stick to it. When it comes to your classroom rules, let your class know from day one what the rules are and enforce them. At this age, the rules should be basic and you don't need too many; make sure you share them, post them, and enforce them. Each day at circle time, review the rules and have the class share some ways they can help be good listeners or helpers. Some basics that should cover just about everything at this level include:
Be nice to your classmates
Listen to your teachers
Clean up our classroom
Getting to Know Each Other

One very simple game we would play to help learn names just needs a small ball. Have the students sit in a circle and the teacher begins by saying a name and them rolling the ball to that student. That student says another name and rolls the ball to them. It is very simple, but effective.
Also, a bulletin board with pictures and names can be helpful. An easy first day of school activity that can be turned into a bulletin board just involves tracing each child's hand 4-5 times. Cut out the hands and arrange them into a flower. Make stems and leaves out of green paper. Take a picture of each child and put their photo in the middle of the flower. Write their name on the stem or a leaf. Title the board "Garden of Friendship". This gives visual reminders of the students and their names. It may help the teachers as well.
Starting a student-of-the-week program also helps the students learn about their classmates. Each day, assign the student a new activity. For example:
Monday: Student brings in 5 pictures to put on the student-of-the-week poster. He can then share the pictures with the class.
Tuesday: Student brings in their favorite book for the teacher to bring to the class.
Wednesday: Student brings in their favorite snack to share with the class.
Thursday: Student gets to choose their own seat at snack time.
Friday: Student can bring a special toy from home for show-and-tell.
This allows the child to be special each day, and gives the class a chance to learn something about their new friend. By allowing them to share about their pictures, book, and toy, you are also giving the child a chance to become more comfortable talking in front of the class.
When these young ones are entering your room for the first time, compassion and patience are in order. If your students have never been in a classroom setting, you must take baby steps when the year begins. From walking in line to how we sit on the floor for story time (criss-cross-applesauce!) With the proper amount of planning, you can ensure a smooth transition for your students, their parents, and yourself!
References