Middle school students generally need to learn the correct way to do a research paper. They have been "researching" for years.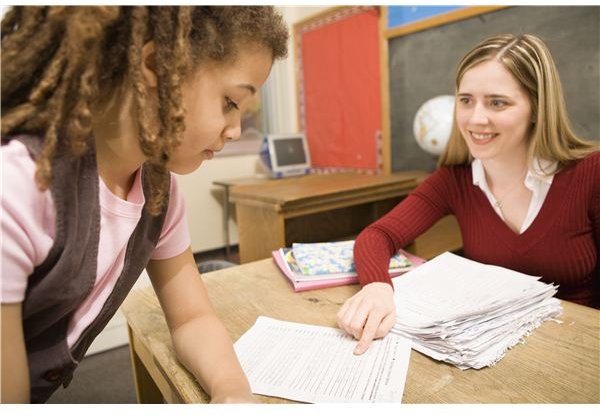 However, they don't always know how to do it properly. When students are asked to research and not given instruction on the proper way to format a research paper, teachers might receive unusual papers.
Common Mistakes
Students can clean up their mistakes when teachers are clear about what they expect and give examples. However, when students are simply told to research and turn in a paper, blunders will happen. An almost "laughable" mistake made by middle school students was listing Google.com as the only source.
As for plagiarism, students go to great lengths to get away with it. Or, they mistakenly do it. A middle school student copied a whole section from an online encyclopedia and thought that it was okay because he listed the source on the works cited page. One student who was trying desperately not to plagiarize placed the whole text of her research paper in quotation marks. These types of errors will continue to happen if teachers are not clear about their expectations.
Teacher Preparation
Teachers need to gather together resource books or examples of research papers, find acceptable paper format websites, write a step-by-step project sheet and put together a grading sheet or rubric for the research project. Teachers need to decide what format they want their students to follow: MLA, APA, Chicago, etc.
The following are tips to help with the planning:
For the first research paper, assign a short one (1-3 pages) so that the format is the focus.
The Writer's Inc or Write Source book by Great Source is a great reference book that includes example research papers. However, there are many online resources as well.
The works cited page, reference pager or bibliography require a great deal of class time. Instructing students to make a proper reference page with all of the periods and spacing correct can be a maddening experience. The Son of Citation Machine website is a very helpful website.
Give students a rubric or grade sheet

before

they begin working on the research paper.
Example Reserach Paper Grade Sheet
Format (25 points)
Correct title, page header, page number
Spacing and margins
Sections in correct order
Proper works cited page, reference page or bibliography
Structure & Organization (25 points)
Strong thesis statement
Attention-getting introductory paragraph
Topic sentences relates to thesis statement
Main points are in a logical order
Main points flow well with transitons
Conclusion wraps up paper
Grammar 25 (points)
Correct grammar, spelling, usage and mechanics
Content (25 points)
Not repetitive, fresh, interesting
Not copied from original source
Proves and/or supports thesis statement
Provides enough credible information
Writing the Research Paper
Students need to begin their research project with an interesting topic. However, they need to select one that is not too broad. They should come up with one sentence that tells what the paper will be about or a thesis statement to focus their research.
Teachers can require note cards or have students highlight printed notes from the Internet. Students should create an outline to organize their information. Then, they should write a rough draft. Teachers can read the rough drafts and check that students did not plagiarize. Last, students need to type their research paper in the correct format by using the resources they have been given.
Research projects are a time consuming unit. The more organized the teacher is before embarking on this activity, the better the papers will be in the end.