Helping Your High School Students Identify Valid Resources and Cite References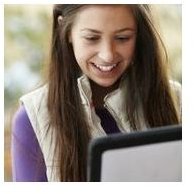 Getting Started
Students spend so much time online today that one would think they would be confident, competent, online researchers.
Unfortunately, this is not always the case. As educators, it is our job to help them discover how the Internet can be so much more than a social networking tool.
Some teachers assign research topics. This is a mistake. Students are much more likely to become involved in their research if they are able to choose a topic they are interested in. I tell my students they have to come up with a question that cannot easily be answered; something that has no definitive answer. I want them to be able to find articles offering opposing view points.
After students come up with a question, the fun begins. It is important to make your students understand they aren't going to find the answer to their question after a few moments online. Your school should have an online database available that offers access to EBSCO or a similar database. My students are required to find at least five resources for use in their research: two articles from EBSCO, one book, an interview and a website. I suggest scheduling multiple trips to the computer lab to aid students in their research. If you are monitoring their research, it will be that much more difficult for them to plagiarize. Give separate due dates for each source and repeatedly check their notes along the way.
Websites and Citations
It is also important to give students instructions to help them evaluate the website they choose to use as a resource. Whatever information they receive from the website should have a valid author proved to be an expert in the field he or she is discussing. You can have your students review a PowerPoint presentation created by Samantha Silag entitled Becoming a Web Detective.
There are several helpful websites available to assist you and your students when it comes to citations for their research paper, both in the text and on the work cited page. EasyBib is user-friendly and will actually format the citations for the students. Other websites that instruct students how to correctly cite their work are the Purdue Online Writing Lab for MLA citing as well as help for APA citing.
Make it clear from the beginning what your expectations are for your students. Use these research paper tips when assigning and helping your students with the writing process, and you'll see how your class will be research experts in no time!
For a quick visual reference, your students may find this infographic helpful.