Prepare the Classroom for Going Back to School
Summer is coming to an end, so teachers need some great back to school ideas and activities. The students will be full of energy, and teachers need to change their focus from a pool on a beautiful summer day to a classroom full of students. That means that teachers need to get organized to have a successful first week of school.
Classroom Bulletin Board Tips
Organizing the classroom takes time and planning, especially the bulletin boards. After making 18 years worth of bulletin boards, I have some time-saving tips. Fun themes can include student favorite cartoon characters. Middle school and high school students like cartoons just as much as elementary students. The cartoon characters can be made rather large so that they take up a great deal of space. The cartoon characters can be cut out from big coloring books. That means that there are fewer items that need to be planned, cut, colored, laminated and stapled.
In addition, it is helpful to laminate die-cut letters so that they can be used every year. The letters can be arranged in alphabetical order in a recipe box or note card organizer.
Classroom Desk Arrangement Suggestions
As for seating arrangements, teachers need to decide if they want a traditional room with rows or a more progressive room with pods for group lessons. One of the most important decisions is to decide where the teachers desk is going to be placed. After trying a variety of desk arrangements in the classroom, I found that the placement of the teachers desk can make a great deal of difference in the way that I take on the task of classroom management.
I like to have my teacher desk connected to the student computers. In addition, my teacher desk is in the back of the room facing the students. I make an L-shape with tables and my desk. On the tables, I place the student computers and tuck all of the wires behind the table that are against the wall. The student supplies are placed by the teacher desk and students turn in their work to baskets on the table beside the teacher desk. My favorite desk arrangement is included in this lesson.
As for the student desks, I like to have a U-shaped configuration. It can be used effectively for direct instruction and cooperative group lessons. And, I can see what all of the students are doing from my desk. My orneriest students are placed in the back of the room. They think it is a great thing until they realize they are very close to my desk.
Classroom Arrangement Example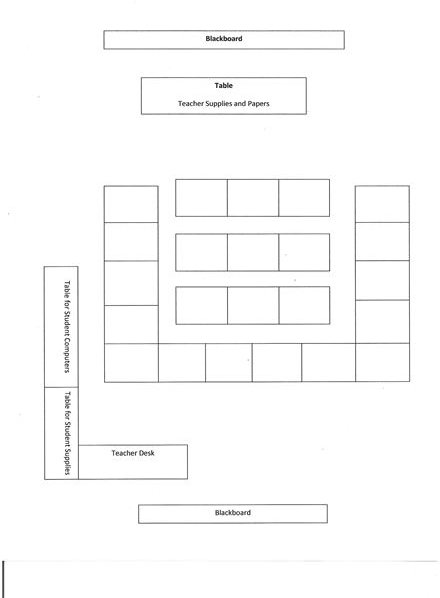 Activities for the First Days of the School Year
On the first few days of school, students excited to be with their friends again and are full of energy. The teacher has to have a carefully prepared plan so that students get the right first impression about the teacher.
First Day Checklist & Ideas
I have a checklist for the first day. There are so many things to do and quite frankly, I am not used to getting up at 5:30 in the morning, so my brain is not totally in gear. I don't usually have a step-by-step set of plans on my desk every day, but on the first day I do. Even after many years of teaching, my stomach is still all butterflies before the students enter. I want to appear confident and in control the first day, so I am super organized.
Games are a great idea. Some teachers like to be stern and jump right in with heavy content and homework. I like to do a little bit of both. I like to have a game for students to get to know each other and then complete a writing activity so that I can assess their writing abilities. Having a good back to school writing prompt is important. Do not do the cliché' "Describe what you did over the summer?"
Learn Students' Names & Send Home a Parent Letter
After the first day, the next day needs to be well planned as well. Teachers need to learn their students' names as soon as possible to create a strong rapport with them so that they will want to learn. Games help with this as well as student decorated table tents.
Another important thing to do in the first days of school is to send home a letter to parents. Parents have many forms that must be filled out and signed that takes a great deal of time to get completed. It is best if the parent letter goes home the second or third day. Usually, the letter will have a better chance of being read. Another tip is to have parents sign a "rip-off" section of the letter so that you know that the letter was read. Also, giving 10 bonus points for bringing in the signed part of the letter is a huge motivator to getting the letters read.
As summer comes to a close, try to plan a little at a time so that the first day of school is not too stressful. The more planning the better the first day. Everyone wants to walk out of the classroom on the first day feeling like it was a success.