Creating a Lesson Plan: Sample Formats for New Teachers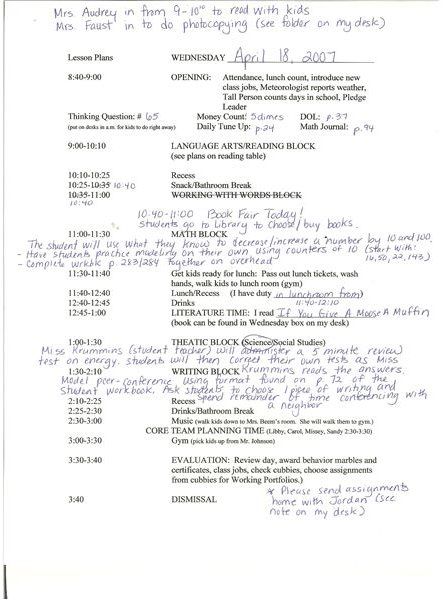 One of the most important aspects of teaching is creating engaging lesson plans. Writing lesson plans that are clear and concise plays an important role in effective classroom management.Not only do they keep the teacher organized and on schedule, they make it possible for a substitute to step in and lead the class without missing a beat.
There are many different types of lesson forms and books available for purchase, but I have some tips for new teachers: The easiest method to writing lesson plans is to create sample lesson plan formats that are tailored specifically to your own classroom schedule.Here is just one example of what such a form might look like:
Lesson Plan Example:
Notice that events which repeat on a weekly or daily basis - like the specialists' schedule, the recess times and even the end-of-the-day "Evaluation" routine - are a permanent part of the lesson form.This eliminates the need to re-write the same information over and over again.Space has been left under each subject block so that the teacher can include details about the lessons and materials for the day.Also note how easily changes to the schedule are made within the form.
While the lesson plans offered above are geared toward the elementary classroom, a similar process may be used for middle school and high school classrooms by identifying which portions of the classroom lesson are repeated on a regular basis.
Knowing how to write sample lesson plan formats which are easy-to-read makes it possible for a substitute to effortlessly follow your normal routine and classroom visitors (like support staff) to step into lessons with minimal interruptions. It also enables you to provide copies to your principal or specialists when required. Here are more valuable tips for new teachers…it is even possible to provide parents with a photocopy of your lessons when students are faced with a long-term absence to due to illness or vacation.
Creating lesson plans does not have to be difficult. It also does not have to be time-consuming.By spending a little time at the beginning of the year putting the framework of your lessons in to place, and learning how to write plans which are both simple and concise, you will be free to concentrate the rest of your time on the most important part of your job – teaching!
References
Information offered in this article is based on the author's experience as a classroom teacher. All forms are original.
This post is part of the series: Successful Classroom Management Tips for New Teachers
The secret of your success is utilizing effective classroom management strategies from the start. This series of articles will provide you with easy and efficient classroom management tips for new teachers to implement in your classroom this year.