Elementary School Music Games: Online Resources for Music Teachers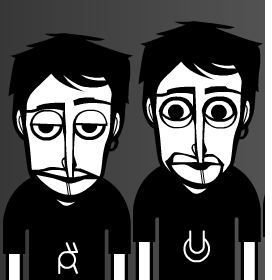 Using Music Games
Although these elementary music games will be used primarily by music teachers, they need not be used exclusively by music teachers. For instance, I always love to incorporate some of these sites into our science unit on sound. Other elementary teachers may find similar cross-curricular links that would suit their educational goals. These games are great when used with the whole class on a projector or interactive whiteboard, but the mixers and composition games are better suited for individuals or small groups.
Incredibox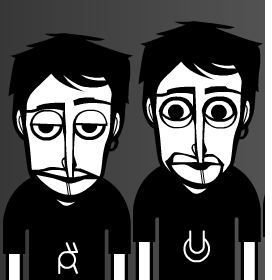 Incredibox is one of those websites that really have to be seen to be believed. It encourages composition skills in students, but in a fun and user-friendly way. Basically you create your own a cappella group song from a list of chosen voice generated sound effects. It is incredibly addictive and even has bonus bridge sections that can be earned from creating a worthwhile composition. Everything is guaranteed to match musically so you can use this with any age of elementary students and still get great results. Try it and you will love it.
Classics for Kids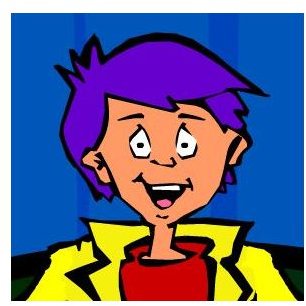 There are four music games on Classics for Kids, and each of them is based on solid musical theory. The Match the Rhythm game encourages children to listen to and repeat drum beat rhythms, while the Note Name game is all about naming notes on a staff. The composer time machine offers musical samples from great musicians, and a simple composer lets students create music as long as they keep four beats to every bar. The games open in a small window, so if you use Firefox, I would recommend the Flash Game Maximizer plugin in order to make them full screen.
Fat Boy Slim Mixing Game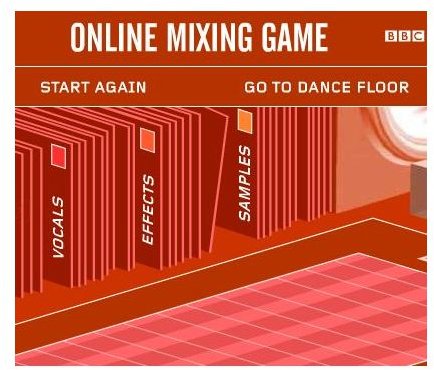 Recreate the sounds of an award-winning DJ with this great Fat Boy Slim online mixing game. Choose from a variety of well chosen samples and loops, and mix them together to create a dance floor tune to be proud of. The clever thing about this game is that success is measured by how many people you manage to get dancing to your tunes. The students I work with always enjoy this, and see it as a challenge worth working towards. It is also one of the more popular elementary music games that I have used.
MTV's Sound Factory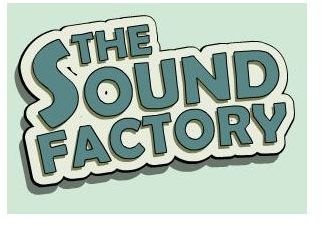 The emphasis here is more on games than music, but it was created by MTV so you can be sure that there is still a strong musical element. The Sound Factory starts as you join our hero on his way to work at the tire factory, but it soon develops into a cacophony of industrial sounds that combine effortlessly into a foot stomping melody. Sounds can be turned on and off as required, especially when the boss checks up on you, but it is your job to entertain the workers, so you need to try to please everyone with your musical prowess.
Learning Games for Kids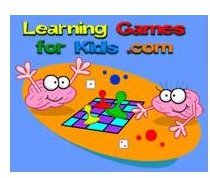 Although they are grouped with the art games, Learning Games for Kids definitely has some worthwhile elementary music games. Many link out to other sites, but they are all student friendly and have content that is school appropriate. Music Match 'em, for instance, has students match the sound of an instrument with a picture of what they think made that sound. Boom Thang is a fun and easy to use composer game, while Music Memory is a tone matching game based on the doh ray me scale. All in all, there is a good mix of education and fun, but that is exactly what we have come to expect from LearningGamesforKids.com.
JamStudio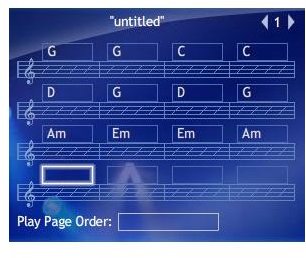 Jam Studio is an online mixer like MyBytes, only it has far more options that will help customize and fine tune your composition. You can pick what key you want your tune to be played in, decide between three or four beats to a bar, select from a large variety of instrument genres, and adjust the tempo to suit your needs. For this reason, it is best reserved for upper elementary students, but don't ignore it altogether because it can be a very effective tool when used correctly in the classroom. If you are looking for a mixer that requires a deeper understanding of musical theory, then this is the one for you.
So, the next time you are looking for some worthwhile elementary music games, take a look at the ones on this list. They are not the only ones out there, but they are some of the best ones.
Images
All screenshots are taken from the websites listed in each section and were created by the writer.
This post is part of the series: Educational Games for Teachers
A collection of the best educational games to use with your class.