Reading List for 4th Grade: High Interest Books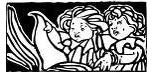 All across the country, 4th graders sit at their desks daydreaming and drooling. Some smell. Parents, notwithstanding the odor, love their children and want what's best for them. Teachers, notwithstanding the need to disinfect desks every Tuesday, love their students and want what's best for them. Anyone with sense, regardless of their affinity for children, knows that children who read succeed. The challenge, therefore, is how to motivate them to do it.
The answer: good books.
That's why I've created this 4th grade reading list. It is by no means an exhaustive list, but based on my experience, most 4th graders are very interested in these books.
Recommended Reading for 4th Graders
The Misadventures of Maude March by Audrey Couloumbis - This Wild West novel narrates the plight of Sallie and Maude March: two orphans who live with their aunt when their aunt who is accidentally shot and killed. Unhappy in their new home where they're treated like unpaid servants, Maude and Sallie set out on their own. The sisters encounter rattlesnakes, outlaws, cougars, and a lack of food as they search for a long lost relative to take care of them.
The Cricket in Times Square by George Selden - Ever wonder what takes place in those newsstands in the New York City subway at night? Mario Bellini knows. That's because he rescues and befriends Chester Cricket, a resident at the Bellini family newsstand, who introduces him to his friends Tucker Mouse and Harry Cat. Most friendships with anthropomorphic subway dwelling animals has its ups and downs. This one is no different.
The Miraculous Journey of Edward Tulane by Kate DiCamillo - What's so miraculous about Edward Tulane's journey? Well, he's a ceramic rabbit who ends up at the bottom of the ocean, a landfill, a hobo camp and a doll maker's shop and that's not the only miraculous journey to which the title refers. The miraculous journey involves the journey Edward takes in order to understand the importance of love. I bet you didn't even know ceramic rabbits were capable of love.
The Tale of Despereaux by Kate Di Camillo - Despereaux is a mouse. Despereaux is also a freak. He's small (even by mouse standards). He has giant ears. He enjoys music. He loves to read (most mice do not). He falls in love with the princess (common for men, but not mice) Chiaroscuro is a rat. He, too, is a freak. He enjoys light. He enjoys music. He loves soup (most rats do, by the way). He causes the queen to have a heart attack by falling from a chandelier into her soup. He hates the princess and hatches a plan to kidnap her. Only Despereaux can save her.
James and the Giant Peach by Roald Daol - James' life sucks. He lives with his aunts who are mean to him. One day, a wizard gives him some magic trinkets that will give him a life of joy and happiness. He trips on the way home and spills the magical contents near a peach tree, a peach tree that's grown nothing for quite some time. The next morning there appears a giant peach (hence, James and the Giant Peach). James takes his peach and has the adventure of a lifetime.
Charlie and the Chocolate Factory by Roald Daol - Willie Wonka is a freak. He owns a chocolate factory that has been closed off for years. He gives five children a chance to have a tour of the factory. One of those five children is–you guessed it–Charlie. As the five tour the factory, Charlie remains grateful, but the others are complete brats who are painfully and humiliatingly expelled.
Charlotte's Web by E.B. White - Pigs are born. One's a runt. The farmer wants to kill the runt. The farmer's eight-year-old daughter likes the pig and convinces her father not to kill it. Wilbur, the aforementioned runt pig, is lonely. He makes a friend, Charlotte, a spider. After discovering he's to be slaughtered for Christmas dinner, Charlotte concocts a plan to save Wilbur. Will it work?
The Blossom Family Series by Betsy Byars - There are five books about the Blossom family. The first, The Not-Just-Anybody Family and the fifth, Wanted…Mud Blossom are my kids' favorites. The Blossoms crazy hijinks begin with Pap getting arrested while Mom Blossom is off at the rodeo. Junior tries to fly off the roof of his house and Vern and Maggie break into jail to stay with Pap. Other adventures include Junior's run in with the Vulture Lady, Junior's attempt to build a UFO, Vern's attempt to raft down the river after a flood and Pap's subsequent heart attack, and the alleged murder of Junior's class hamster by the Blossom dog.
Island of the Blue Dolphins by Scott O'Dell - After my son and daughter read this with their mom, we went camping. Throughout the entire camping trip the two of them acted out scenes from the story using sticks, giant trees, and the family dog. What more of an endorsement do you need than that?