Backyard Fun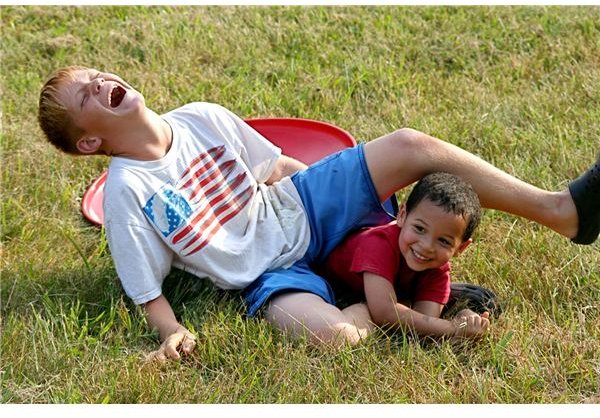 The kids are out of school, the sun is shining and you have two and a half months of activities to plan in order to keep your kids entertained and maintain your own sanity. Turning the TV on and putting on movies might make for easy, no-fuss entertainment but movies do not promote creativity or physical activity and do not take advantage of the warm summer weather. Encourage outdoor play this summer with adventures that can take place in the comfort of your backyard.
Forts
Kids love to build forts. Turning blankets and chairs into secret clubhouses indoors is a time-honored past-time. While this makes a great rainy-day activity, there's also no reason not to bring the fun outdoors when the weather is nice. Take blankets or sheets into the backyard and drape them over the branches of a tree to make a fort in the shade, or make a larger fort by stringing a rope between two trees and draping the blankets over the rope. Widen this structure with the use of outdoor furniture or sticks driven into the ground that the blanket can drape over. The Family Fun website offers some further insight into building an outdoor fort, explaining why kids love forts so much.
Turn this fort-building activity into a true outdoor clubhouse and encourage tool recognition and construction safety with a trip to your local home improvement store. A few 2×4 pieces of wood, some plywood and nails can make an easy for that your kids will feel proud to have made–with the help of Mom and Dad, of course!
Camping
Kids love to camp, but because parents don't get summer break from work finding time for family camping trips can be difficult. Why not turn normal summer evenings into camping adventures? Set up the family tent in your backyard and get the kids ready with pillows and sleeping bags. Make sure to give them flashlights or battery-operated lanterns too. Campfires might not be a good idea if burning is illegal in your neighborhood, if you don't have a proper fire pit or if you plan the kids to be unsupervised. However, s'mores are good even without the fire-melted marshmallows. Provide plenty of graham crackers, chocolate and jumbo marshmallows and let your kids enjoy this traditional camping treat in the backyard. This activity works best with adult supervision or in a fully fenced yard to ensure proper security of your children.
Backyard Safari
Encourage creativity with a fun outdoor game that turns your backyard into a safari adventure. Hide small stuffed animals in your yard, give your children binoculars or a camera and have them see how many animals they can spot. You can also turn this into an animal treasure hunt by making a map with clues as to where the animals or located. Depending on how many animals you hide and how difficultly you hide them, this activity can last a half hour or more. Kids will also love to take turns hiding the animals themselves once they have found the critters you hid.
Do you have any more ideas to keep kids occupied in the summer? Share them in the comments.
Resources
The Kids' Nature Book: 365 Indoor/Outdoor Activities & Experiences
Outdoor Activities for Children Ages 6-10