Art Activity Ideas: Summertime Fun for Kids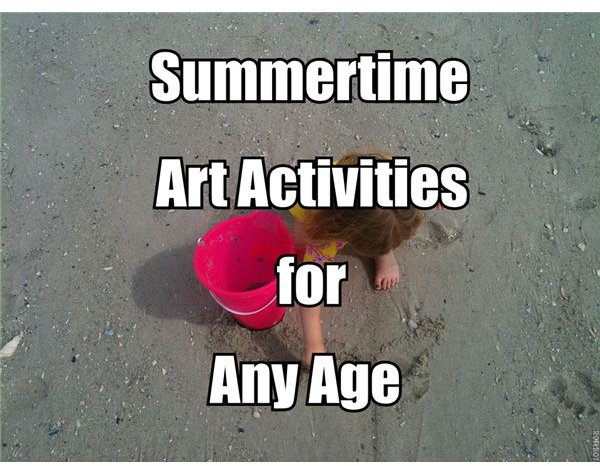 Seashell People
If your summer activities include trips to the beach, make sure your kids bring home some seashells. Then, show them how to decorate a handful of shells to look like little people.
Glue several seashells together, using flat shells for the face and body and pointed shells for arms and legs. Give each of the seashell people a set of googly eyes. Allow the kids to add faces, hair, clothing and other features to their summertime creations using thin paintbrushes and tempura paint.
Alternatively, they can make other designs from their shells. For instance, they might want to make seashell pets, forming the seashells into the shapes of different animals. Let their imaginations run wild.
If you do not have any seashells available, try making rock people using the same techniques. The rock people can also be used as paperweights.
Sunny Memory Book
Taking pictures is a great way to record memories of a fun-filled summer. This fun art idea will give kids their own way to record their summer memories.
Use a stencil (or the rim of a bowl) to cut out identical circles from yellow tagboard. Glue strips of yellow tagboard around one of the circles to represent the rays of the sun.
Show your child how to decorate each circle with drawings of a different aspect of the summer. When he finishes decorating each of the circular pages, punch a hole in the side of each one and tie them together with a piece of yarn.
Alternatively, provide printed photos of recent family activities. Allow them to cut and glue the pictures onto the sunshine pages.
Your child will love reading through his sunny memory book again and again.
Decorate a Summer Hat
Turn a white hat with a wide brim or a baseball cap into a summer masterpiece.
Older kids can use fabric paint and stencils to decorate their hats. Younger kids can use crayon transfers (available at most craft stores).
After painting on the basic design, kids can cut out pieces of craft foam (using stencils to cut shapes from the foam will make the hat look more put together), glue on craft jewels with a glue gun or fabric glue or attach other waterproof art supplies to their hats.
Alternatively, you can skip the paint and tie-dye the hat instead. This works best with soft brimmed hats. To tie-dye a hat, place your left finger into the center of the top of the hat. Make a circle with your right thumb and forefinger and slide the circle around your left finger, pulling downwards, until the hat is pulled into a long, thin shape. Wrap rubber bands tightly around the pulled hat at regular intervals and pour different colors of tie-dye over each section.
After the hat dries completely, take off the rubber bands to see your new tie-dyed hat. You can glue craft jewels to these hats as well for extra decoration on this summer time fun art project.
Think about the parts of summer that your kids enjoy most and come up with some fun art projects of your own. Together, you can create unique crafts that will also become fond memories.
References