Preschool Summer Camp Lesson & Activities: A Theme for the Day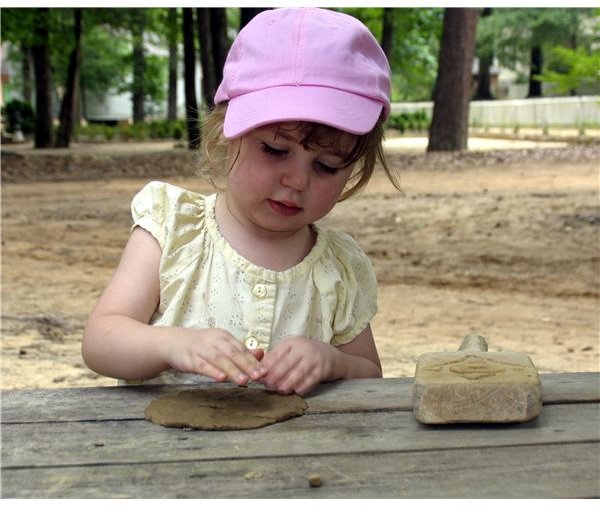 If you want to conduct a fun camp theme but don't want to venture outside your own playground, there are many neat things you can do to get the feel of the "great outdoors" but have the secure nearness of school. So pick a good day, and turn your playground into a camp setting. The act of camping isn't just a good way to learn about nature; it's a wonderful way to learn about each other.
Getting the Camp Site Ready
Outdoors, you could set up a few tents. If you don't have access to the real thing, drape sheets or blankets over a clothesline, picnic tables, off the playground, or some chairs. Every camp needs a campfire; this is the place for stories, songs and grub (snacks). Create a campfire by nailing or gluing three or four logs together. Insert strips of red foil or cellophane to resemble flames.
Indoors, group tables and chairs together into clusters to make imaginary cabins. These are especially useful during extreme heat outdoors and rain. Identify each cabin by giving it a color. Cover the cluster with a colored sheet or hang a colored flag at each cabin. Assign the students to individual cabins.
Create a Logo
Gather the entire camp group to choose a logo and mascot. For example, if you choose "Blake's Bears" (school or teacher's name) you could decorate the campground with stuffed bears. Hang logo signs around the preschool summer camp.
To make tee shirts, have each child bring in a clean white shirt from home. Purchase a box of fabric crayons (they are sold at craft and fabric stores). Make cardboard stencils of your chosen logo design. The children can trace this stencil using the fabric crayons on white all-purpose paper. Color and fill in all the features. After the drawing is complete, the paper is placed face down on the tee shirt and pressed with an iron by an adult. The design will transfer to the shirt. NOTE: Follow the box directions and be careful using letters and numbers; unless you mirror image the letters these will transfer backwards.
Early Morning Orientation
Begin your camp morning with the sounding of reveille (recording or use a real trumpet). As your campers gather together, prepare to raise a flag and sing your favorite patriotic song. Continue with a sing-along of popular camp songs around the campfire. Research children's music books or gather recordings of these songs. Announce the schedule for the day; events like projects, games, nature studies and eating at the "mess hall".
Nature Walks
Take the groups outdoors for a nature walk. This will serve two purposes; studying nature in its beauty and collecting objects that can be used in craft projects. Do this in the form of a scavenger hunt. Preplan a list, give the kids a bag and send them searching for each item around the grounds. The first group to finish the list with all the correct items wins the hunt.
Suggestions for the list:
3-5 different types of leaves
Pinecones
Dried weeds
Small twigs
Acorns
All types of rocks
Flowers
Blades of grass
Other items common to your area.
To the Mess Hall
Have the children drop by to pick up their lunch at the Mess Hall (kitchen or place where lunch boxes are placed). Have parents pack their child's lunch in a shoebox on this special day. Tape the boxes shut and address them to the child, c/o "the camp's logo name". The teacher can pass out the boxes and eat lunch around the campfire, outdoors, in the cabins or tents.
After lunch, proceed to play a game or two. Here are two ideas:
Touch Blue
This is a quick and fun game to play in an open space. Gather up all your campers. Have one person as the instructor. On command, ask the group to touch something blue on anybody they see. Quickly run through a variety of instructions such as touch red, touch a white sneaker, touch a hair ribbon, touch as wristwatch, touch buttons and so on. A great game to get the "giggles" going!
Animal Clues
Pin a picture of an animal on the back of each child. Have the children try to guess what animal is on their back by having the other campers give helpful clues. For example, if a bear picture is displayed:
He is very big.
He could be black or brown.
He is furry.
He lives in the woods.
He loves to eat honey.
Who am I?
End of Camp Ceremony
At the close of the day, ask the campers to clean up their cabins and campgrounds. This is the time to put the furniture back to the original floor plan, or clean the yard.
Preprint special certificates by hand or computer. Award these to your students for participating in a very special preschool summer camp.
References
Personal experience in the classroom
Games: Beckman, Carol; "Channels to Children" 1982
Photo credit: anitapatterson- Morguefile