6 Invaluable Summer Jobs That Will Help Your Child Keep Learning Over Break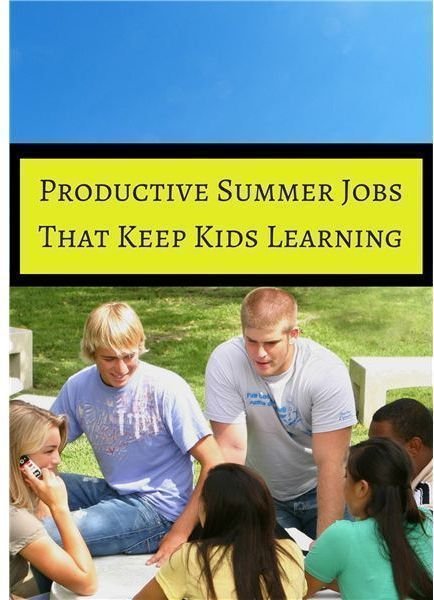 Educational research shows that the gaps during summer months are among the biggest contributors to later achievement gaps on standardized tests and in classwork. Something about being away from any instructional materials for 10 weeks creates a learning barrier when kids return to school in the fall.
One way to keep kids learning and productive while also allowing them to make money is to help them find educational jobs. Parents can take numerous approaches and many different types of jobs can help kids stay active and mentally alert during the breaks.
Types of Jobs That Keep Kids Learning
Babysitter/Pet Sitter
One job that many girls do (but that guys can also do) is looking after children or pets. These job require a basic knowledge of how to care for young children while parents or away or to provide essential animal care. This requires listening to directions from the employer, paying attention to detail and practicing empathy.
Pets are often nervous being away from their owners and small kids can be fussy or difficult to manage. This kind of job teaches kids to be prepared for anything while also helping them deal with everyday situations that call for common sense and good judgment.
Lawn Mowing
Yardwork jobs are plentiful during the summer months. Kids can make anywhere from $20-$50 or more per yard, which is good money during the lawn season. They require kids to work hard and pay attention to details provided by homeowners. Some skills kids can learn include attention to detail, working efficiently and even basic horticultural knowledge. They must know how to use lawn equipment carefully and responsibly but lawn care jobs are a great first job, especially for younger boys or girls.
Retail
Retail jobs teach kids direct math applications such as making change, dealing with credit and assisting buyers with decisions. All of these real world skills help kids develop their math and practical skills during the summer months. In addition, the experience they gain working in retail can be valuable on their resume later.
Fast Food
While this fast-paced work environment is not for everyone, working in fast food teaches kids some valuable skills, such as thinking fast, making change and dealing with different kinds of people. They have to be good listeners, taking orders and delivering them correctly all in a short span of time. This helps their agility and may help them later both in and out of school.
Office Work
Older kids might find jobs typing or filing for busy offices during the summer. These jobs require a high degree of organization and help teach skills such as math and reading.
Computer and Tech
One of the best jobs due to the growing need for technical experts in technology, a tech-based job during the summer can help prepare kids for many industries they may go into later.
Any of these opportunities are viable choices to keep kids' brains (and bodies) active during summer break. These different jobs teach them different types of skills, but each one is valuable in its own way. Best of all, they each require skills that keep kids learning and productive during the summer months.
References