Use a Summer Vacation Writing Activity to Keep Kids Writing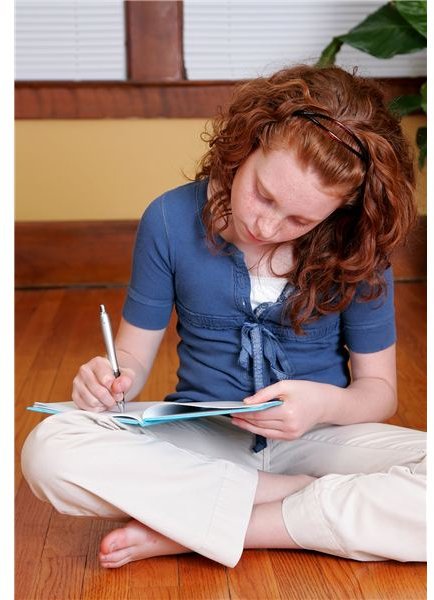 Children will be more likely to spend time writing during summer if they have some writing choices and ideas. Send each child home with a notebook to write in and add some ideas of different types of writing they can do. Let them spend time in class decorating the cover and then give each child several different types of writing ideas to glue to the inside and back covers. Parents will appreciate the ideas and children will never be able to say, "I don't know what to write."
Reading Response Journals
You want your students to read as well as write over vacation, so include a list of reading response prompts in their summer writing journals. If your students have kept a reading response journal during the school year, they can follow the same format. Many children will like the ideas of keeping track of the books they read over the break. Tell them that they don't have to write about every book they read, but if they read one that they really enjoy or that makes them think or even one they don't like at all, a reading response is a great way for them to express their feelings about what they have read. To help them type up a list of prompts and glue it to one of the inside covers of the notebooks.
Here are a few ideas for prompts:
My favorite part is
I liked/didn't like
I thought
I wonder
My favorite character is __________ because
The setting was important because
The problem was
The questions I had were
The part where ______________ reminded me of __________
If could change one part it would be
Creative Writing
A writing notebook is a great place for children to practice their creative writing skills too. They can practice all of the types of writing that they have done in class throughout the school year. Type up a sheet to place in the notebooks with types of writing listed at the top: poems, true stories, fiction stories, fairy tales, etc. Then under the types of writing write My Ideas and add bullets or numbers going down the side of the paper. Before the children glue the page into their notebooks, encourage them to list ideas for things they can write about over the summer. Tell them they don't need to fill page and that they can add to the list during the vacation as they get new ideas from the things they do over the summer.
More Writing Ideas
Finally add a few more easy activity ideas to the summer vacation writing notebook. This might be aimed more at parents so that they can encourage their children to write throughout the summer. Add ideas such as a grocery store shopping list, a list of friends to invite to a pool party or a list of things seen on a nature walk. Lists are perfect for younger children and struggling writers because they don't involve too much writing and they are real life writing exercises. Other ideas are letters, postcards and thank you notes. Children can also write down recipes they make or instructions for a fun craft activity. Signs for lemonade stands, plays and other activities the children spend their summer days doing are also great writing activities for summer journals.
Before sending the writing notebooks home for the summer, talk about all of the writing ideas in them and remind the children that they don't have to do every activity or stick to just one idea. One child might do a reading response, a poem and a shopping list in one week and another might just write stories. It is also important to stress that all of the writing doesn't have to be in the notebook. It's just one place they can write over the summer vacation. If you are up for it, offer to read the notebook of any child who wants you to, when school starts in the fall. Knowing that you are looking forward to reading their writing will be very motivating for many children. Most of all encourage the children to have fun.