Examples of Accommodations and Modifications in Science and Math for Students With Disabilities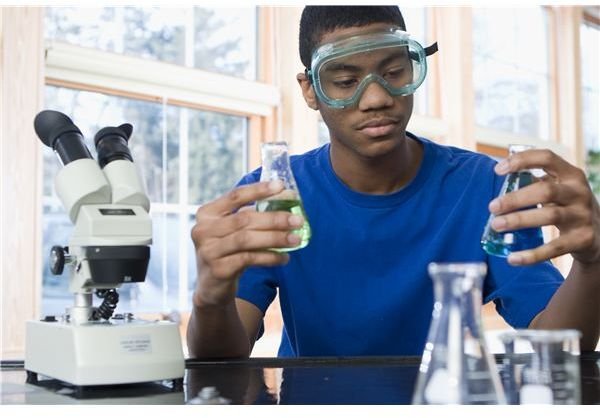 Learning Challenges for Students Disabilities
Science and math are critical subjects for students preparing for college and challenging careers. High school students with disabilities
are often discouraged from taking courses in these rigorous subjects, though.
When they do take science and math courses, students with disabilities face challenges in participating in classroom activities and in completing assignments. These challenges can affect students' performance in class and dissuade them from enrolling in college courses in science and math and pursuing careers in these fields.
Determining Accommodations
Accommodations and modifications in any type of class must be provided on an individual basis for students with disabilities. Appropriate accommodations depend on the type of disability — whether it is physical, intellectual, learning or sensory. Remember, though, that two individuals with the same disability can differ greatly in the type of accommodations needed.
One student with cerebral palsy (CP) may need a scribe to write assignments, for example, while another student with CP may be able to write, but need a wheelchair-accessible table. In determining individualized accommodations for a student, DO-IT, a project at the University of Washington, has developed a model process centered around these four questions:
What does this exercise or assignment require?
What physical, intellectual and sensory skills are needed?
What components of the exercise or assignment require accommodations?
What accommodation options exist?
List of Common Modifications By Need
While there are many accommodations and modifications in science and math for students with disabilities, some common ones include:
Note taker or lab assistant
Group lab assignments
Use of scribe
Adaptive computer to type assignments
Adjustable tables and lab equipment within reach
Classrooms, labs and field trips in accessible locations
Additional time and separate room for test taking
Additional time for in-class assignments
Additional time in lab
Health Impairments
Note taker
Flexible attendance requirements and additional time for tests
Assignments in electronic format, use of email to facilitate communication, web-based materials and assignments
Note takers or audio recorded class sessions
Captioned videos
Additional time for tests in separate room
Visual and tactile instructional demonstrations
Computer with voice output, spelling and grammar checker
Seating in the front of the class
Tactile drawings and graphs, and three-dimensional models
Assignments in electronic format
Large-print handouts, lab signs and equipment labels
TV monitor connected to microscope to enlarge images
Computer equipped to enlarge screen characters and images
Blindness
Audio, Braille or electronic notes, handouts and texts
Braille lab signs and equipment labels
Raised-line drawings, clay models, 3-D triangles and spheres for geometric shapes
Verbal descriptions of visual aids
Auditory lab warning signals
Adaptive lab equipment (talking calculators, talking thermometers, light probes, tactile timers)
Staples on sticks to indicate units of measurement
Computer with optical character reader, voice output, Braille screen display and printer output
Hearing Impairments
Interpreter or real-time captioning
Note taker
Open- or closed-captioned videos
Visual aids
Written assignments, lab instructions, and demonstration reviews
Use of email for class and private discussions
Visual warning system for lab emergencies
Science and math teachers should collaborate with special education teachers and students themselves in determining the most appropriate accommodations for individual students. Creative ideas and thoughtful collaboration can provide accessible academic opportunities for all students.
References
University of Washington. (2010). Disabilities, Opportunities, Internetworking & Technology. Retrieved June 24, 2010, from www.washington.edu/doit/