Inclusion Classrooms: Ideas and Tips for Educators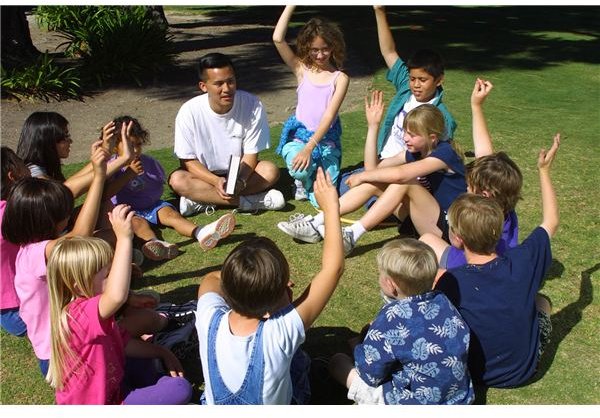 Inclusion classrooms are classrooms that enable all kinds of children, irrespective of their abilities and disabilities, to participate
together and learn. Children with disabilities have special needs, and need special accommodations. Previously it was believed that it was not possible to teach them effectively within the regular classroom setting. However, we have now learned that including children with special needs into regular classrooms is beneficial - not only for the child with the disability, but for the entire class. The rest of the class can learn to become better citizens through the experience. Together, they form a world where people are accepted no matter how different they are.
Role of the Teacher
As a teacher, you have a very important role to play. The classroom should accommodate the needs of the special child, without interfering with the learning process of the other children. There needs to be a balance, and you as a teacher will have to make difficult decisions each day about this. Remember that every child in your class has an equal right to your time, and attention. Every child has an equal right to learn. Keep this in mind as you plan schedules and lesson plans. Knowing the exact needs of the special child or children in your classroom, will help you plan effectively.
Visual Impairments
Children with visual impairments may be a part of your classroom. Ensure that they are seated in a place near the blackboard. It is also ideal to sit next to a window, where the sunlight falls on the table. If this is not possible, you could arrange a special lamp for the table of a child with visual impairment. Place another child next to him or her, to help them during class. You may need to say words as you write them on the board. Plan hands-on multi sensory activities for learning. This will also benefit the rest of the class.
Hearing Impairment
Children with hearing impairment may require special equipment to help them communicate. The teachers and the other students must be able t communicate with the child using this equipment. In some cases, the teachers and other students can be taught sign language. Plan activities that all the children can enjoy doing. Studying in an inclusive classroom makes it easier for such children with special needs to live and work independently later in life.
Wheelchairs
A child on a wheelchair in the classroom calls for some modifications in the layout and structure. Make sure there is enough space between all the furniture to move and maneuver the wheelchair easily. Make sure the classroom materials like art, stationary, books and toys are at an accessible height to the child on the wheelchair. Make sure that the child on the wheelchair has a lap board, or a table of a comfortable height for writing and working. Ideally your classroom should have at least one table under which the wheelchair fits in, and also other children can sit around it and work together on a group activity( you may need high chairs for the other children to make this possible). Make sure your toilets are wheelchair accessible. These small changes can play a huge role in promoting inclusion and equal participation.
Other Physical Disabilities
Children may have other physical disabilities which you need to accommodate for. If you have a child using an aid to walk, check the flooring and ensure that things are not lying on the floor. Help the class to cultivate a habit of checking the floors frequently to prevent accidents. Children with hand function difficulties may need a special writing board, thick pencils etc. Talking to the parents will help you understand the specific needs and difficulties of the child and will help you cater to them
Learning Disabilities
Children with learning disabilities need a hands on multi sensory approach to learning. They may not learn well enough with just blackboard teaching, and may need other adaptations for inclusion classrooms. They may also need some flexibility in terms of breaks and may learn better if allowed to alternate physical activity with concentrated learning.
Seizures
If you have a child with epilepsy in the classroom, you will need to take some precautions. Find out more about the duration, frequency and type of epilepsy from the parents. Find out if there is any emergency medication to be given in case of a seizure, if there is, keep a stock in the classroom. Help the child and his classmates to understand more about seizures and the symptoms that are seen before a seizure so that the child can be in a relaxed position before the seizure starts. Keep emergency phone numbers in a prominent place in the classroom, and let all the children know about this. You can also do pretend drills to practice what you will do as a class in case of a seizure.
Diabetes or Other Medical Ailments
Children with diabetes and other medical conditions may also need some special adaptations to cope in the classroom. Find out more about the illness, and the medication of the child. Keep parents and doctors phone numbers in a prominent place. If the child tends to get tired easily, plan some games that a few kids can stay back to play during recess time. It may also be helpful to make a small corner in the classroom where the child can rest if he is sick or very tired. Especially in the case of chronic or terminal illnesses, helping the child enjoy normal childhood experiences is one of the greatest gifts anyone can ever give that child.
Inclusion classrooms always take a little more time and effort for everyone. Sometimes it costs a little more money to make the adaptations that will benefit all your learners. However, making the effort to take this step will help the child grow up to be an independent adult.