Tracking the Growth of a Plant with Graphic Organizers & a Blog: Science Activity for Differentiated Learning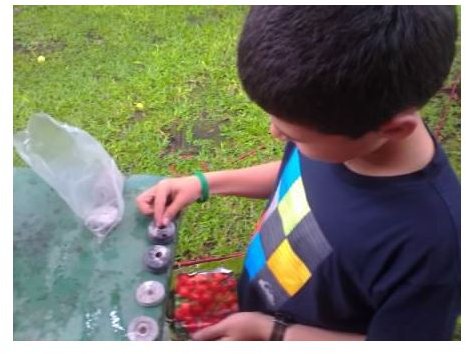 Science for inclusion classrooms is an enriching experience for all students. Each child will be investigating concepts and responding to them in the way that is meaningful and appropriate for their specific learning abilities. In this lesson plan, students will be captivated as they watch their plants grow and will be challenged as they record their learning on a blog.
Group 1: General Education students
Group 2: Students with access needs (i.e. students who receive the same curricular content, but receive accommodations in how information is presented or skills are evaluated due to a learning difficulty.)
Group 3: Students with curricular content adjustments.
Lesson Objectives:
Students will demonstrate understanding of plant growth through planting a class "garden."
Students will incorporate technology within the classroom by documenting plant progress on their blog.
Materials:
Plant Seeds
Planters
Dirt
Blog account
Pencils
Graphic organizers with varying degrees of difficulty
Lesson Procedure:
1. Group activity. Create groups with a variety of learners in each group. Bringing a variety of seed packets and planters, have each group choose the type of plant that they would like to grow. Have the groups do research on the computer about how their seeds must be planted, how much water and sun the plant will need, etc. According to the research, provide time for the students to plant their seeds and prepare their "garden."
2. Differentiated activities. To go along with this project, students will be keeping a blog to document the progress of their plants. Each student's blog will be different and will be used later as an assessment of student learning.
Group1: This group will be required to create a graphic organizer about the plant to help them plan for what they will write on their blog.

Group 2: This group will work on a pre-created graphic organizer to organize their thoughts. Assistance may be needed in some cases.

Group 3: Depending on abilities and needs, students will create a simple graphic organizer with guidance from a teacher.
Assessment:
Each student will need to write a blog post using the information they wrote down on their graphic organizer. Assessment of each blog will depend on the needs and abilities of each child. Students who are unable to physically write may be assessed on what they dictate to a teacher. Students who have content changes may only be required to label pictures that are posted on their blogs. Whatever the need, this assessment can easily be adapted for each student's personal learning abilities.
A blog is a fun way to incorporate technology in the classroom and to also motivate student learning. The fact that the students' families and friends will be able to read about their classroom projects will be exciting and rewarding for all!
This post is part of the series: Differentiated Instruction for an Inclusive Classroom
Many teachers now experience classrooms with students of all abilities. This series includes activities for language arts, social studies, science and math.