Creating a Computer Learning Center for a Student With a Disability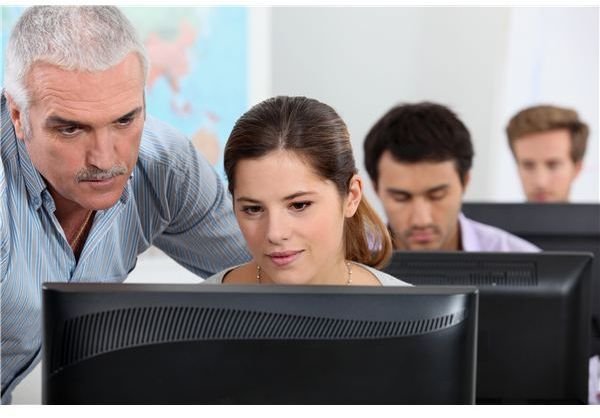 Accessibility for Efficiency and Comfort
Creating a center for a student with disabilities to access the computer requires accessibility for an efficient and comfortable
experience. The student needs to be able to maneuver within it in in order to pursue an education. Section 504 of the Rehabilitation Act of 1973 and the Americans with Disabilities Act of 1990 assure a learner with special needs will have the opportunity to participate in the benefits of "any program or activity of a public entity."
The basic formula for creating an easily accessible computer center has its roots in universal design. By employing this universal principle – making it useable to everyone – the requirements for special accommodations are minimal. An assortment of computer and software developers continue empowering students with disabilities by making technology simple for everyone.
All electronic resources, facilities, equipment and materials must remain physically available to allow the student to take part in all learning activities.
The physical environment demands that aisles remain wide and clear of clutter for the mobile and visually impaired.
Lighting can be adjusted and spaces are available with a minimal of noise and distractions.
All building entrances, pathways, parking areas and entrances are clearly labeled as wheel-chair accessible – with all learning center levels linked by an accessible travel route.
Wheel-chair accessible restrooms (clearly labeled) also lie within the proximity of the center.
Controls at the elevator are seat-accessible, readable in large print and Braille.
The service desk is accessible from the seated position (at least a portion of it).
Work stations use adjustable-height tables for those who need them.
Large print and high-contrast signs (not blocked by furniture) direct a learner with a disability throughout the facility.
Large print key labels assist students with low vision. Software that enlarges screen images and large monitors benefit those with low vision (and learning disabilities).
A trackball is available for anyone that has trouble controlling a computer mouse.
The deaf require TTY/TDD telecommunications devices.
Trained Staff
In order for a student with impairments to master the learning center, a trained staff must realize how to work with the disabled. Staff should be trained readily responsive to any requests for accommodations and be available for questions related to the disability. Computer learning staff can confer with a student to best realize necessary accommodations – letting the special learner help decide what accommodations work and what ones don't.
A facilitator should inquire about challenges and special needs directly to the student. Those who tutor students in special education classes about the center's operation must possess an awareness of any issues related to a learning disability. Before giving assistance to the disabled, ask first if he/she requires help. Instead of talking through the student's companion or interpreter, the tutor should talk directly to the student.
The preparation of staff to work with any learner with special needs is also contingent on their familiarity with assistive technology (alternate document formats, TTY/TDD, Telecommunications Relay Service and the like). Staff members acquaint themselves with computer large-text features. Any issues centering on communication with the disabled – a sign-language interpreter and other disability-related accommodations – must be realized. An important addition to the computer center is a list of available outside resources for a student with a disability.
Special Instruction
To instruct the student that's disabled, he/she is aided with handouts and information readily accessible electronically.
Those with learning disabilities require learning center note takers, more time for sessions, instructional demonstrations that are aural, visual and tactile.
A computer that features speech, grammar check and spell check especially benefits LD students.
Optical Character Recognition (OCR) software – Kurzweil 3000 or Freedom Scientific's WYNN – and a scanner is an additional feature for reading printed text.
The learner with a hearing impairment requires captioned video, visual aids, written instruction (summaries of demonstrations) – and a system in place to warn them visually in case of an emergency.
Student who are blind must be accommodated with Braille, audiotape, visual aids with verbal descriptions, optical character readers on computers, speech output, screen displays with Braille and raised-line drawings.
A student with a mobile impairment requires note takers, materials within reach and special input devices on computers like alternative keyboards or speech input.
The health-impaired student might require more time for a learning center session and learning center note takers.
Some students with a disability have difficulty integrating thoughts and ideas while writing, so concept mapping software visually represents concepts and ideas.
Speech recognition computer products offer the right tools for students with a broad array of disabilities. Even a talking calculator is helpful for some students with learning disabilities.
Accessible for Everyone
The chief goal of creating a computer learning center for a student with a disability is to make every service and all materials easily accessible. Additionally, the most important and central learning center documents should be available in other languages – not just English. Websites and all electronic resources reflect standards and guidelines adopted by S_ection 508 Standards for Accessible Electronic and Information Technology_ and World Wide Web Consortium's _Web Content Accessibility Guidelines._ The center's atmosphere is one that makes a student feel comfortable requesting accommodations that make all session activities and resources for information immediately available.
References