Names of European Nationalities in Spanish: A Lesson Covering the European Union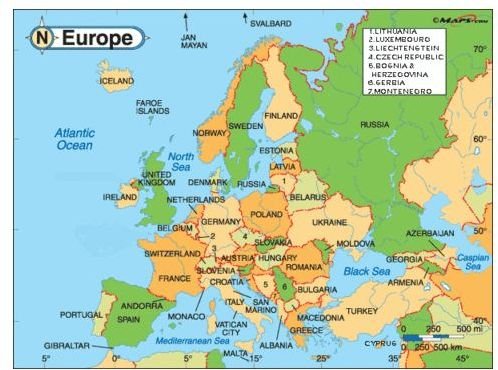 Continuing the Combination Vocabulary and Geography Approach
Learning the Spanish names for European countries can be somewhat of a challenge. Students will be familiar with Portugal, España, and Francia, but what and where is Chipre? Which people speak a language known as letón? This article continues the quest to help students enrich their Spanish vocabulary while exploring the map of Europe.
European Country and Nationality Data for Vocabulary Practice with "Factoid"
Austria - Austria
_**
Capital: Viena
Language: alemán (German)
Factoid: Dominated in the west by the Alps and by the Danube River valley in the east.
Belgium - Bélgica
Capital: Bruselas
Language: alemán, francés, neerlandés (German, French, Dutch)
Factoid: Belgium is a federal state divided into three regions that speak Dutch, French, and German.
Bulgaria - Bulgaria
Capital: Sofía
Language: búlgaro (Bulgarian)
Factoid: In the heart of the Balkans, its east coast borders the Black Sea.
Cyprus - Chipre
Capital: Nicosia
Language: griego, inglés (Greek, English)
Factoid: The largest island in the Mediterranean, situated to the south of Turkey.
Czech Republic - República Checa
Capital: Praga
Language: checo (Czech)
Factoid: Became independent in 1993 with the breakup of Czechoslovakia.
Denmark - Dinamarca
Capital: Copenhague
Language: danés (Danish)
Factoid: Denmark consists of the Jutland peninsula, some four hundred islands, eighty-two of which are uninhabited.
Estonia - Estonia
Capital: Tallin
Language: estonio (Estonian)
Factoid: The northernmost of the Baltic states. It obtained its independence from the Soviet Union in 1991.
Finland - Finlandia
Capital: Helsinki
Language: finés, sueco (Finish, Swedish)
Factoid: A land of lakes and forests, well-known for its breathtaking natural beauty.
France - Francia
Capital: Paris
Language: francés (French)
Factoid: The largest country in Europe by land area.
Germany - Alemania
Capital: Berlin
Language: alemán (German)
Factoid: The most populous country of the European Union.
Greece - Grecia
Capital: Atenas
Language: griego (Greek)
Factoid: At the crossroads of Europe and Asia, situated in the extreme south of the Balkan Peninsula.
Hungary - Hungría
Capital: Budapest
Language: húngaro (Hungarian)
Factoid: The Hungarian language is quite different from its neighbors, most closely related to Finland and Estonia.
Ireland - Irlanda
Capital: Dublín
Language: Irlandés, inglés (Irish, English)
Factoid: Ireland has undergone an economic resurgence from a primarily agricultural nation to one the the technological centers of Europe.
Italy - Italia
Capital: Roma
Language: Italiano (Italian)
Factoid: Italy's geography is essentially mountainous except for the Po River Valley.
Latvia - Letonia
Capital: Riga
Language: letón (Latvian)
Factoid: Situated on the Baltic coast, Latvia regained its independence from the Soviet Union in 1991.
Lithuania - Lituania
Capital: Vilna
Language: lituano (Lithuanian)
Factoid: The southernmost and most populous of the Baltic states.
Luxemburg - Luxemburgo
Capital: Luxemburgo
Language: francés, alemán (French, German)
Factoid: Known as the Grand Duchy of Luxembourg, it is a tiny country situated between Belgium, France, and Germany.
Malta - Malta
Capital: La Valeta
Language: maltés, inglés
Factoid: Consists of a group of seven islands situated in the center of the Mediterranean Sea.
Netherlands - Países Bajos
Capital: Amsterdam
Language: neerlandés (Dutch)
Factoid: Known as the Low Countries, the Netherlands occupy an area at or below sea level.
Poland - Polonia
Capital: Varsovia
Language: polaco (Polish)
Factoid: Poland is rich in natural minerals such as iron, zinc, and copper.
Portugal - Portugal
Capital: Lisboa
Language: portugués (Portuguese)
Factoid: Portugal is a country rich in the history of navigation and discovery.
Romania - Rumanía
Capital: Bucarest
Language: rumano (Romanian)
Factoid: The Romanian language, like others in the south of Europe, is derived directly from Latin.
Slovakia - Eslovaquia
Capital: Bratislava
Language: eslovaco (Slovakian)
Factoid: Became an independent state in 1993 with the division of Czechoslovakia.
Slovenia - Eslovenia
Capital: Liubliana
Language: esloveno (Slovenian)
Factoid: Became an independent state in 1991 when Yugoslavia divided.
Spain - España
Capital: Madrid
Language: espańol (Spanish)
Factoid: Spain is now a constitutional monarchy with a two-house parliament.
Sweden - Suecia
Capital: Estocolmo
Language: sueco (Swedish)
Factoid: Sweden is the most populous of the Nordic countries.
United Kingdom - Reino Unido
Capital: Londres
Language: inglés (English)
Factoid: The United Kingdom consists of England (Inglaterra), Wales (Gales), Scotland (Escocia), and Northern Ireland (Irlanda del Norte).
Go Beyond Europe
Part 1 of this series will teach your students the Spanish names of countries beyond Europe.
This post is part of the series: Country Names and Nationalities in Spanish
Learning the Spanish names for countries, languages, and nationalities is a good vocabulary builder for Spanish students. This series is a vocabulary-building list of world countries along with some interesting "factoids" on each.