Names of Nationalties in Spanish: A Lesson Covering Central and South America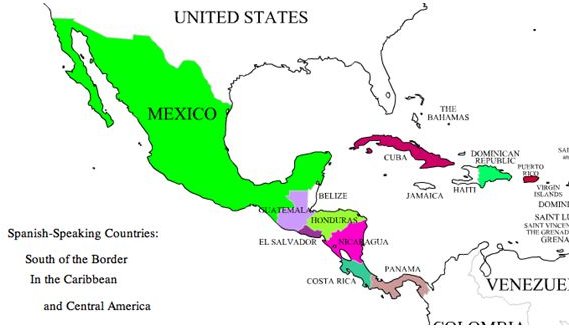 A Combination Vocabulary and Geography Approach
Learning the Spanish name for nearly all Hispanic countries is not particularly difficult. With the sole exception of the island nation of the Dominican Republic (la República Dominicana), each country is a cognate (the same in spelling and meaning) of its English counterpart. However, there is a teaching opportunity using the associated nationality with each country. For example, a person from Ecuador is called un ecuatoriano, while someone from Paraguay is known as un paraguayo. So, many of the associated nationality labels must be memorized, though there is a discernible pattern.
Likewise, teachers can use nationality vocabulary drills to familiarize students with where our Spanish-speaking neighbors are located on the map. For example, where are the tiny South American countries inhabited by los ecuatorianos and los paraguayos? This article includes a geographical "factoid" for each Spanish-speaking country in our hemisphere, along with maps.
Country and Nationality Data for Vocabulary Practice with "Factoid"
North America
Mexico
Capital: Ciudad de México
Nationality: mexicano/a
Factoid: Just south of the U.S. border
Caribbean
Cuba
Capital: la Habana
Nationality: cubano/a
Factoid: Just 90 miles south of Florida, the largest Island in the Caribbean
la República Dominicana
Capiital: Santo Domingo
Nationality: dominicano/a
Factoid: Shares the eastern half of the Island of Hispaniola with French-speaking Haiti.
Puerto Rico (Spanish-speaking U.S. territory)
Capital: San Juan
Nationality: puertoriqueño
Factoid: The small island just east of the Dominican Republic
Central America
Costa Rica
Capital - San José
Nationality: costarricense
Factoid: A lush, tropical country just north of Panama.
El Salvador
Capital: San Salvador
Nationality: salvadoreño/a
Factoid: Smallest Central American country. Located to the South of Guatemala and Honduras.
Guatemala
Capital: Ciudad de Guatemala
Nationality: guatemalteco/a
Factoid: Just south of Mexico
Honduras
Capital: Tegucigalpa
Nationality: hondureño/a
Factoid: Due east of Guatemala.
Nicaragua
Capital: Managua
Nationality nicaragüense
Factoid: South of Honduras, north of Costa Rica
Panamá
Capital: Ciudad de Panamá
Nationality: panameño/a
Factoid: Narrow country bridging Central and South America
For extra credit:
What is the only non-Spanish speaking country in Central America? What is its official language?
Answer: Belize, English
South America
Argentina
Capital: Buenos Aires
Nationality: argentino/a
Factoid: Largest Spanish-speaking country in South America. Just east of Chile in the southern most part of South America
Bolivia
Capital: La Paz
Nationality: boliviano/a
Factoid: Easternmost landlocked country in South America.
Chile
Capital: Santiago
Nationality: chileno/a
Factoid: Long, narrow country occupying about half of South America's Pacific Coast.
Colombia
Capital: Bogotá
Nationality: colombiano/a
Factoid: Located in the extreme northwest of South America.
Ecuador
Capital: Quito
Nationality: ecuatoriano/a
Factoid: Located in the northwest between Columbia and Peru
Paraguay
Capital: Asunción
Nationality: paraguayo/a
Factoid: Second of the landlocked countries, just to the southeast of Boliva and due north of Argentina
Perú
Capital: Lima
Nationality: peruano/a
Factoid: On South America's Pacific coast just south of Ecuador and north of Chile.
Uruguay
Capital: Montevideo
Nationality: urguayo/a
Factoid: On South America's south Atlantic coast, east of Argentina and south of Brazil
Venezuela
Capital: Caracas
Nationality: venezolano/a
Factoid: Located in north central South America, east of Columbia and on the south Caribbean shore.
For extra credit:
What are the official languages of the South American non-Spanish-speaking countries of Brazil, Guyana and Suriname?
Answer: Portuguese, English, and Dutch, respectively
What nation in South America is the only European overseas holding on the mainland?
Answer: French Guyana
Maps of Mexico, Caribbean, Central and South America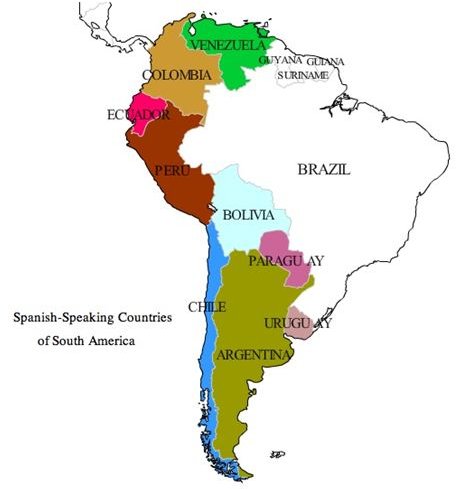 Read more about Hispanic countries and nationalities at:
About.com: Spanish Language - Names of Nationalities
Nations Online - Country Names in English-Spanish
This post is part of the series: Country Names and Nationalities in Spanish
Learning the Spanish names for countries, languages, and nationalities is a good vocabulary builder for Spanish students. This series is a vocabulary-building list of world countries along with some interesting "factoids" on each.