Preschool Theme Activities: Summer Clothes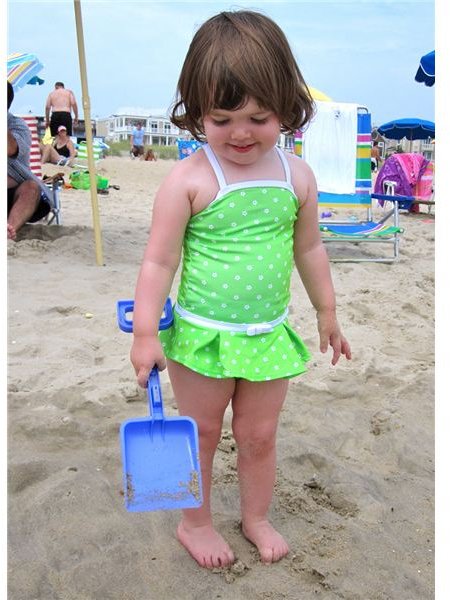 Learning about what clothing to wear in different situations is an important topic for preschool children. To introduce these activities on summer clothes for preschool kids, bring some magazine pictures or photographs of people dressed in different kinds of clothing.
Ask the children what the clothes the people are wearing can tell them. Where might they be? What activities they are doing? What is the weather like? Talk about what they can tell in each picture.
Read a book about dressing for different situations, such as "Hello Sun" by Dayle Ann Dodds. After reading the book, tell the children that you are going to be doing some activities dealing with the types of clothes people wear in summer.
What Are you Wearing Today?
This is a great preschool clothes activity for a warm summer day.
Ask the children draw pictures of themselves and the clothes they are wearing that day. Tell them to include anything they might have brought with them such as a baseball cap, sunhat or sunglasses. When all of the children have finished their drawings, look at them and ask the class questions about what they are wearing.
On a large piece of chart paper, write or draw small pictures of the following clothing items:
Shorts
Long pants
Short-sleeve and long-sleeve shirts
Coats
Boots
Sandals
Mittens
Sunhats
Sunglasses
Count how many children are wearing each item and record the numbers on the chart. (You could also make this a graph if you want.) Then, talk about the results. Why isn't anyone wearing mittens? Do more people have short or long sleeves on today and why? Discuss which items of clothing are worn mostly in summer and which are for winter. Can they think of any other clothes that people wear mostly in summer (swimming suits, sundresses, etc.).
Summer Clothes Center Ideas
Here are few preschool summer clothes ideas for center time.
Dramatic Play Center
Bring in a variety of summer clothes for the children to dress in. Some idea of summer clothes to provide are different types of sunglasses and summer hats, flip-flops, sundresses and short sleeved shirts that they can wear over their clothes, as well as camp and vacation souvenir t-shirts. Provide a mirror so that they can see what they look like.
Math Center
Sorting activities are a beneficial addition to your math center. Children can sort pictures of people dressed for winter and summer or actual clothing items for winter and summer.
Bring in real flip-flops or pictures of pairs of flip-flops and let the children practice counting them by ones and twos.
Book Center
Read books about summer clothes and getting dressed and add them to your book center for the children to look at.
"Ready for Summer," by Marthe Jocelyn
"The Night Before Summer Vacation," by Natasha Wing
"D.W. All Wet," by Marc Brown
You can also make an easy class book with the prompt "I like to wear my _________________ in summer." Help the children write their favorite item of summer clothing and have them draw a picture of it. Bind the pages into a book and put it in the book center for a book the children will want to read again and again.
These fun activities on summer clothes for preschool children will make your preschoolers experts on dressing for the season!
References
This post is part of the series: A Summer Theme for Preschool Children
Find crafts, activities, books and more for a preschool unit about summer.