Cool Off Your Class with These Summer Themes for Preschool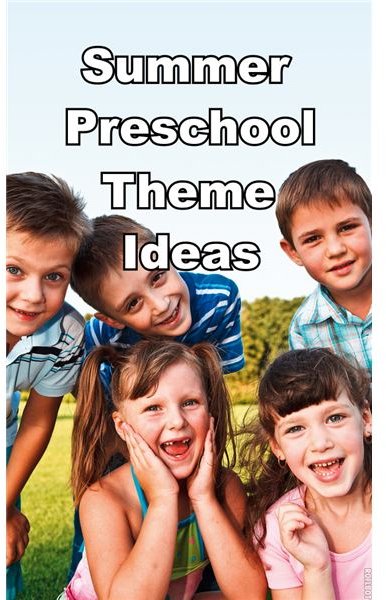 Summer Preschool Themes
Summer brings hot weather, picnics, pools and vacations. Preschoolers will love learning about this favorite season with these fun activities to create the perfect summer themes for preschool. Begin your summer theme by asking the children to help you name the four seasons. Then, ask them what season comes after spring. On a large piece of chart paper, make a list of things the children know about summer. Ask some questions to help them think about summer.
What is the weather like in summer?
What kinds of clothes do you wear during summer?
What activities can be done during summer?
After you have finished talking about summer, share a book about summer with the children. Here are some books with a summer theme that are perfect for reading aloud to your preschool students.
"It's Summer!" by Linda Glaser
"One Hot Summer Day" by Nina Crews
"Mouse's First Summer" by Lauren Thompson
Dramatic Play Ideas
Dramatic play promotes literacy, strengthens fine motor skills and helps preschoolers learn about a subject. Provide items and basic ideas for your students to take part in a summer-themed dramatic play, such as the following ideas: Picnic Students can pretend to be picnicking at the park with this fun dramatic play activity. Provide a picnic basket, large blanket, pretend food and plastic plates, cups and utensils for the children to picnic with. Camping Camping is another fun summer activity. You can add supplies, sleeping bags and even a small tent if there is room. Provide sticks or small logs so that the children can make a pretend fire for their campsite. Beach The beach is always a favorite summer vacation spot, so let your preschoolers pretend to vacation right in the classroom. To simulate a beach dramatic play area, bring beach towels, shells, buckets, pails and other sand toys to the classroom for their visit to the seashore. A nature CD with ocean wave sounds is another fun addition to your beach play area. [caption id="attachment_130444" align="aligncenter" width="640"]
Swimming is likely a favorite summertime activity![/caption]
Summer Math Activities
You can even incorporate your summer theme into math lessons. Bring summer into your math center, teach graphs and participate in summertime sorting. Graphing Give your students several choices of things they like to do during the summer, such as swimming, picnicking, gardening and camping. Then have each child choose a favorite summer activity. Make a graph to show the results. Give it a title such as "Our Favorite Summer Activities." Math Centers At your math center, provide containers filled with summery objects for counting. Some ideas are seashells, different types of seeds and sunglasses of different colors and shapes. The children can use the same objects for sorting and making patterns, as well. Sorting Cut pictures out of magazines showing people participating in a variety of activities. Invite the children to help you sort them into groups of summer and winter activities. After you have completed the sorting, give the children magazines and let them find their own pictures of warm weather activities for a collage or class book. Children will have loads of fun with this preschool theme. Summer activities provide many learning opportunities for preschool children.
References
This post is part of the series: A Summer Theme for Preschool Children
Find crafts, activities, books and more for a preschool unit about summer.